Both women and men ask in their stories, but if eco-friendly leave and call you back when it's time to return, and when is it not time?
And in fact, a lot of people running around, but ecological separation, which is done many times, is not environmentally friendly, because it looks like empty talk or training. Don't need an adult to train, you show disrespect to him, and myself, too. And in parting from you a couple of times, he'll get used to react to it indifferently.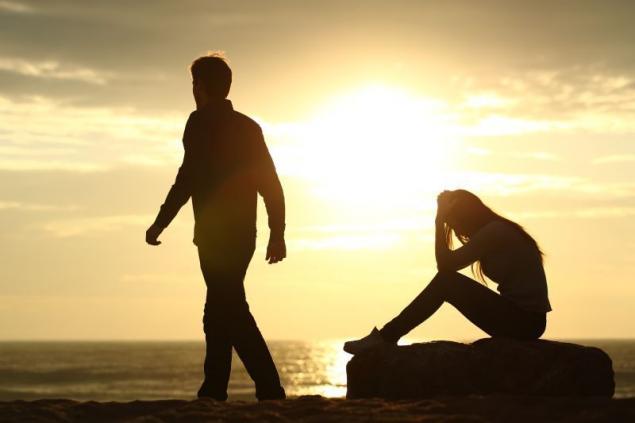 To understand when to come back, we need to understand what happens when you leave.
The two most common types of care relationships: out of the friend zone and out of the big default.
In the first case, you want a serious relationship, and you don't want, that is with you for a meet and occasionally do have sex (or not), but there is no dynamics, or have dynamics on cooling, and it brings suffering to you because you're in love. You want to leave, but to use his last chance. And suddenly some feelings for you still there and can be your care to step up?
To activate you only need to understand why they aktiviziruyutsya.
Remember how you yourself fell in love. You were pleased with the man and wanted more. You thought about him, waiting for meetings, you all the time there was little communication, I wanted more. So, gradually, working up himself and warming up dreams you've raised its importance and felt that the person you very much need. And on the other side this did not happen. None of you have dreamed of, pined for you, not waiting for meetings, not melted from anticipation. You remained insignificant.
If you're used forceps, that is, pulling themselves all the time to yourself, on the other side could and irritation even to increase, the rejection. And if not pulled, just waiting on you during the breaks was almost forgotten, and the result is that for you that person is the most important in life, and you for him — not at all. The imbalance you take.
Why eco-friendly care from the negative sometimes helps to create a balance?
Please note, this is not always but only sometimes. But the attempt to get you back is almost always. Catch the difference? When you go eco-friendly, regret feels almost any man, but to reevaluate and augment their feelings to balance people can only in some cases, if there is any reason. But you, in your proper conduct can help it.
When you go environmentally friendly, you give people the opportunity to be in a situation when nothing and no pressure, but there is something (your care, your last words) that he starts to think about it, it draws attention to your outfit, forced to be involved. And here will matter how you approach him in General that you have an objectively good for him. If there's a bone relations. If there is, meat narastet, including that of involuntary attention.
Before that, he was fleeing the position, you played the role of Stalker, and even if there was passive, he still felt that you need more than he wants to give. Now you don't, and all his thoughts are attracted to you, he remembers the good moments, he ponders the contradictions. BUT! It makes not everyone, but only the one in whose life there is a place for you. If he's in love with another, or you him well, just not right in any way, he will not be on you to think much, just grieve and let go and the importance of your care a little it will swing up, but seriously will not grow. But if the site is for, you basically have + you made the right environmentally friendly care, then he has the opportunity to start to miss you and start treating you better.
This is not manipulation (not manipulate, do not dig yourself a hole) because you don't force a man to do what he wants, you just strip him of the pressure, give him freedom, but at the same time convey to him the fact of his feelings and desires. In this situation he has the best chance to think about you without irritation, with warmth and respect, so if there is at least some sympathy, she can grow. As you thought about him and grow his love early in the relationship, so now he can grow feelings toward you. But it may not grow, and it is necessary to understand. It's just chance!
But the attempt to return to you quickly is almost always the case. It is not associated with the revaluation and increase your importance, it is associated only with the instinctive habit of a person to grab all that he takes. Wait, don't take, and I need it, let's have a look! If you understand this, you will not be hard to run at the first whistle back. You call back, that is the place where you left, on the same terms, you know? And you would like to get somewhere else, better. Thank you for this and left. So why run back? Nothing has changed yet.
When you leave great default, that is, from the relationship with irreconcilable conflict, the same thing happens. You say that claims you person no, to correct and educate him you have no right and desire you love and appreciate him, but can not live in the proposed terms, health is not enough, therefore, saved. It's thoughtful words must be sincere. If it's a lie and conditions are normal, you are in conflict is to blame and not want to leave, do not pull. After leaving to return to the same relationship will be difficult, but a new relationship with this person you can not obtain. So go only when ready to leave is an extreme measure, not a way to make the relationship. But there is a chance, so if the distance will find that people are still willing to change is impossible for you, the relationship will be to try again.
But here, too: do not resort to the whistle, nothing has changed. Why you left, if there on his first run back regret? And so you're not kicked out yet, you left yourself here, and wait for at least some change. It's not training, do not look at man as a tiger and not watch his reactions! You don't force it to change, do not pull with forceps even mentally. You on the contrary, gone, gone, you delivered him from its pressure. But suddenly he calmly think about this, weighed myself want? The desire depends on the proposed conditions. At desire it is possible to influence, changing conditions. You know? This is what happens.
It is very important to change, he decided not exclusively for you, otherwise after a short time, when you come back, it leaped pride. No. It needs to survive the first attack of regret your care in some way come to terms with it and then sober enough to think. And if he himself also does not like his behavior if he finds it incorrect, then only can he seriously offer you to try everything else (and not just to think, it must be returned, but we'll see). And here it is very important not to stick his fingers out like a fan too, no bending, and very honestly, what do you dream about the changes that you are willing to help in everything and to do everything for you, but especially do not hope, therefore, to return fear. That is honestly how it is. And wait for at least some of the evidence.
If he drinks, change, idles, let change the lifestyle a little bit, not in words, make this real steps, then you try to return. Not need to wait to bend (do not bend the man, he will spring then) and that he clearly expressed its willingness and you would here and there ran like a dog. Let him decide for himself, leave him alone, not navisite over his head with a hatchet. That's why the need for distance and the waiting. In order to see and check, start the process, whether there will be an alchemical reaction. But keep in mind, if chemicals little, not going to happen, and here you will need to accept the fate. But if the reagents enough time to heat the work for you. Not all depends on you, you just have to enclose the part and wait.
All those who are suffering, and how to understand when to come back if he (she) immediately calls back, I will give examples of the already well-known stories.
Nina agreed to return to Dima when he went to work, changing mode and quit drinking. Prior to that, she refused to go back, but not because it wanted to bend the RAM's horn, she was very afraid of this, and just took care of itself. Dima frightened her, she felt that he was much stronger and he's too attractive for her. She believed that had she been with him day after day, tie her hard, she will agree to everything, will do what his other wife: to suffer adultery, to give him all the money, even forgive the beatings. Oddly enough, a strong-willed and Nina wasn't sure that I could resist close to him (and rightly so, for they were not) she was quite modest and prudent, to see how he is charismatic and experienced part of the gradual dismemberment of the female brain. It kept the fear and lack of confidence. She wanted to believe, of course, very pleased that he keeps up with her, but she saw no reason to trust his words. Just words!
She told me that when he hadn't called, and behind it, sometimes for a month, she was sad, but the thought of calling him the most was, she knew it was immediately going to call to come, but there all the same: drinking, trash, Bohemian, and other women. She didn't want pain, so she missed out, but did not climb into the Inferno. But when he really showed that his words are not just words, hope appeared in her and she wanted to take the risk. Did you notice? She was not fighting with his desire! She just illusions was not, and was fear of pain. And with the desire to fight was not necessary. When no illusions, almost always there is a fear of pain, when talking about the big, unresolved issue in the relationship.
Sasha, under pressure of friends agreed to chat with Maxim by phone. Sasha was not just the fear of how Nina, her phobia had been caused injuries. It seemed to her that now her sweet words will return, and then hell be satisfied that it will not survive. That is Sasha not only illusions, not painted, she didn't know how to hide and where. Yes, he attracted her, but Sasha says she and desire as such did not feel (in contrast to Nina, who looked bored and sad all the same) and only the horror. More precisely, the attraction only intensified the horror of Sasha. She agreed to speak with him on the phone because all my friends began to convince that he has changed very much. But she was silent and the word was afraid to say, didn't know what to say, just listened and tried to understand what changed?
It is not necessary to simulate and build yourself serveblog. But if you caused injury of some kind, moral or physical, fear is healthy, normal, good sense. It can overcome not necessary. And especially not worth it if people did you not proven their radical changes. Pity myself.
Who do we still have?
Olya-predator — not a very good example, because other goals, but she agreed to go back with Richard, when he came to pick her up. Not before. Until he just called, come like, she did not go, did not see reason. She knew that Vyacheslav nothing prevents to come to her, if his words that he loves her and burns, true. She replied that she likes it too, but offered a good think about it, is it worth it to tear the old ties and move to Moscow. And hesitated myself. She aroused him to decisive action, as he in his desire no doubt. That is not the tongs, and something completely opposite like a cat playing tag and hide and seek. Using tongs you pull what is not yet ripe, and barely outlined. And the tactics Oli has always been to give stew or a run. This is also the way a very dangerous tactic, the person may burn out and be offended. Better never use this unless you are a super-empath. Do tactics clean better never to use it, and to act sincerely. Then it will have energy. Energy is emotion.
Ask yourself: why did you leave? Decided to bluff? 100% will repent. Left because it was unbearable? Then correctly. The person is calling you back why? To continue the same? So because you was unbearable? Or you are so hunting back, what are you willing to betray yourself? If you betray ourselves, nobody will help you. No man on earth who would bear the responsibility for you more than yourself.
A question for you, friends.
Why from the letter in a letter to the women so difficult to pause after care? The men, too. Remember how many times men wrote that they said goodbye like, and again call themselves: "how Dila that Segodnya delaesh?" And if the woman herself called and called, and they rush at full speed, even if you really wanted to get out of the friend zone, and back to the same name. What is the difference between these and the given examples, do you think?
And another question? Why ever bluff in such cases does not pass? That is why, if the person is not really ready to leave, and goes in order to be caught up and stopped, he'll be released most likely? And if it really goes away, you will likely want to stop. Why? published
Author: Marina Komissarova P. S. And remember, only by changing their consumption — together we change the world! ©
Join us in Facebook , Vkontakte, Odnoklassniki
Source: evo-lutio.livejournal.com/230184.html