Lenten recipes do not have to be boring and monotonous. Whole grains, vegetables, fruits, mushrooms, various pickles and marinades - all this is not only delicious, but also useful.
Cereal can become the basis for a Lenten table: they have a lot of valuable vitamins, minerals, and most importantly — the "right" carbohydrates that provide the body with energy, give him strength. Just do not think that porridge is boring and monotonous. First, the selection is quite large cereals: buckwheat, barley, wheat, couscous, quinoa, millet, rice. Secondly, cereals are perfectly combined with roasted and fresh vegetables and mushrooms. And to cook them separately and mix already in the bowl, you can cook together — and then grain will absorb the vegetable and mushroom juice.
We offer to your attention a delicious and flavorful soup. For me it was an unusual combination of pumpkin and barley. Nuts can take any.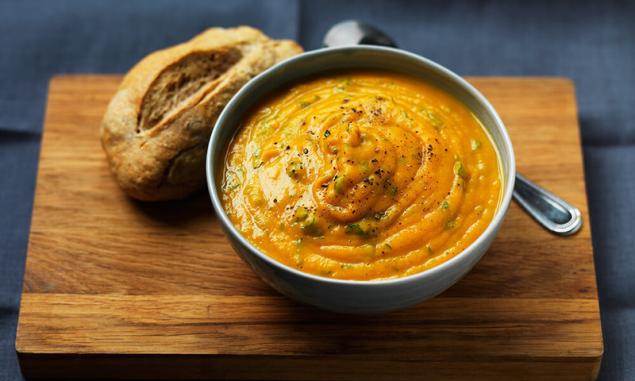 Ingredients:
Barley 1 tbsp
Pumpkin 350 g
Onion 1 piece
Garlic 1 tooth
Curry 1 tsp with slide
6 fresh thyme sprigs
Water 1,5 l
Nuts a handful
Salt and pepper to taste
Rastitelnoe oil for frying    
Preparation:
Pearl barley wash, pour water and leave overnight. In the morning drain the water and rinse the groats.
In hot oil fry until transparent onion, finely Narzan and missed through a garlic press.
Add chopped pumpkin, cereal, mix well. My pumpkin was frozen. Pre-thawed.
Add curry leaves thyme (1 sprig write for submission).
Pour water and cook until cooked cereals. I cooked in the pressure cooker Steba, Porridge mode, the pressure of 0.7, 10 minutes. After cooking, cut the heating and left for 20 minutes.
After cooking, season with salt to taste. Then right in the pot I soup was purerave blender (without fanaticism)
Pour into portioned plates, sprinkle with chopped nuts and thyme leaves.
A pleasant appetite! published  
P. S. And remember, only by changing their consumption — together we change the world! ©
Join us in Facebook , Vkontakte, Odnoklassniki
Source: postnaya-eda.livejournal.com/68242.html