Fettuccine with spinach and pesto from parsley and walnuts
With one useful trick, but one little favorite, the spinach in this recipe turns into a delicacy that is impossible to put down. Besides boiled out of it to digest the high iron.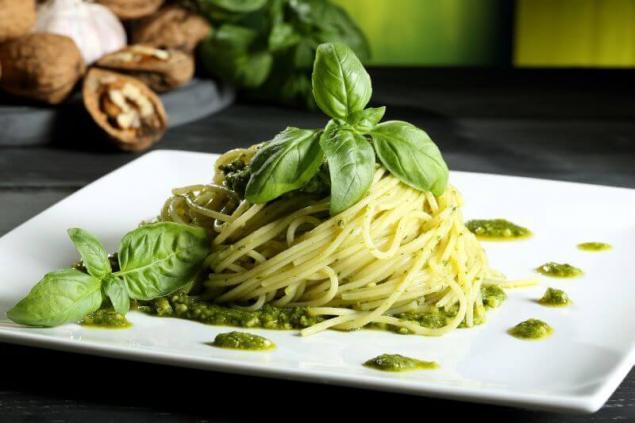 Boil 300 g fettuccine in boiling salted water, until al dente.
In a blender, mix 2-3 handfuls of fresh parsley, 1/4 Cup nuts, 1 clove of garlic, 1 tbsp lemon juice 1/4 Cup grated Parmesan and 2 tbsp water until the consistency of mashed potatoes.
Pour 1-2 tbsp of olive oil and mix for a further 1 minute.
Season the pesto with salt and pepper.
Pour 1/2 Cup of the water in which cooked pasta. Drain them in a colander and return to the pot. Add pesto, 1/4 of the remaining pasta water and 150-200 g spinach. Mix. Dilute with water if necessary.
Optional to serve with walnuts and Parmesan cheese.  
Spaghetti with a sauce of roasted bell peppers
It is impossible to break away from those spaghetti! Instead of milk/cream you can take avocado-dressing . Instead of grated cheese — chopped walnuts and a little more olive oil.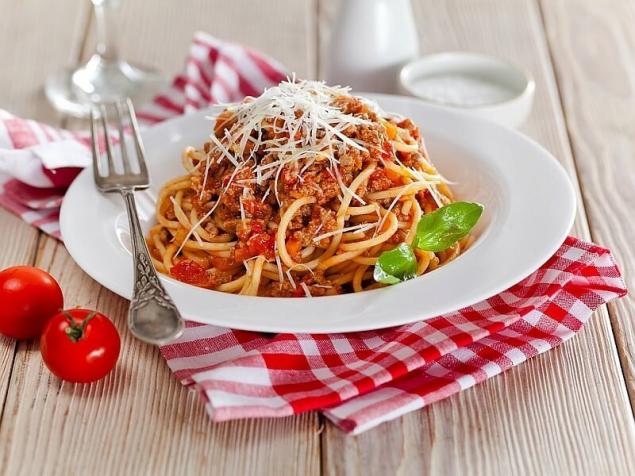 Preheat oven to 200C.
Place 2 red peppers in the form with foil and bake for 25-30 minutes. Remove and cover with foil for 10 minutes to cool.
Meanwhile, saute 1 onion and 1 clove garlic in 2 tbsp olive oil, for 5-7 minutes, until Golden.
Pour 1/2 tbsp. low-fat cream and 2/3 Cup of grated Parmesan, stir and reduce heat.
Peel off the skins from the peppers, remove the top and seeds, cut into large slices and add to the pan.
Transfer to a blender, add the chopped parsley/coriander, 1 chilli, juice of 1 lemon, salt and pepper. Whisk until the consistency of sauce.
Boil 200 grams spaghetti or linguine, drain and return to the pot.
Pour sauce over pasta, stir, garnish with greens and serve.  
Spaghetti with tomatoes and herbs "in the pot"
The easiest, fastest and flavored dinner.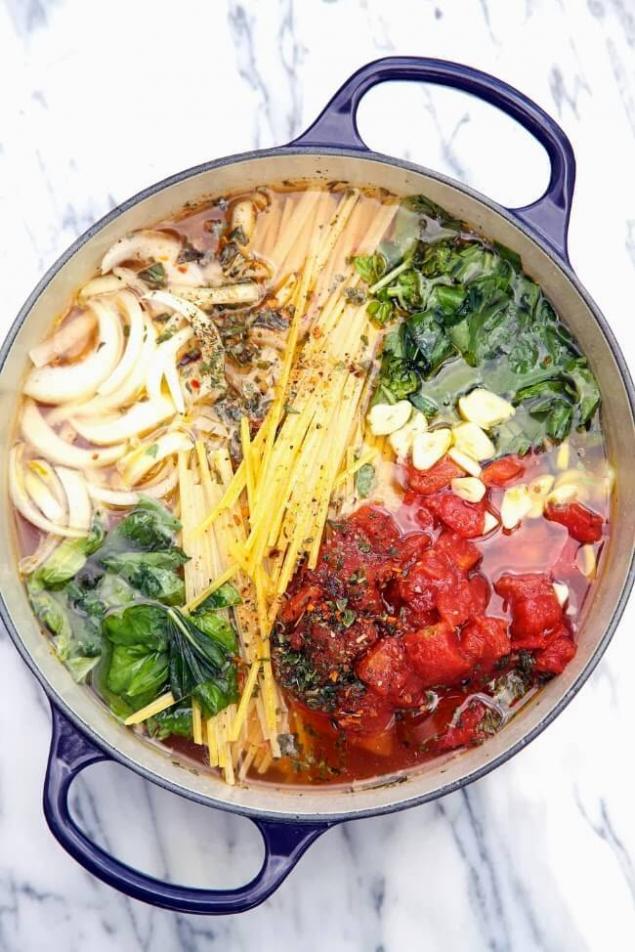 Put all the ingredients in a large pot:
350 g of pasta linguine varieties,
350 g fresh or canned tomatoes,
1 chopped white onion,
3 cloves of garlic (also minced),
2 handfuls of chopped Basil/parsley/spinach.
Pour 4-5 tbsp. of vegetable/mushroom broth or water.
Stir in 1/2 tsp ground chili peppers 2 tsp dried oregano and pour in 1-2 tbsp of olive oil.
Cover and bring to a boil. Reduce heat and simmer, stirring every 2 minutes, another 10-15 minutes.
The pasta should soak up the flavor of vegetables and herbs, and the liquid is almost evaporated.
Season with salt and pepper, stir again, sprinkle with grated Parmesan cheese and serve.published  
Cook with love!
P. S. And remember, only by changing their consumption — together we change the world! ©
Join us in Facebook , Vkontakte, Odnoklassniki
Source: smart-cookie.ru/pasta/3-superprostyx-i-neobychnyx-recepta-s-makaronami-takogo-vy-eshhe-ne-probovali/