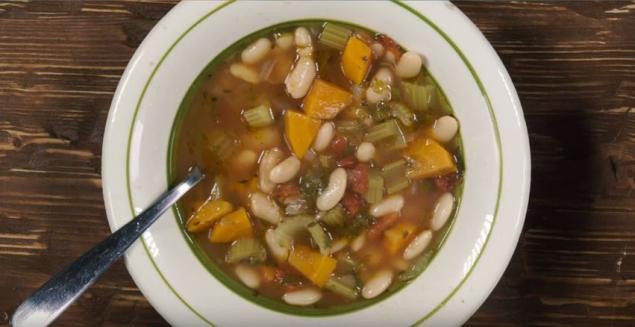 Continue culinary journey through Greece. In Greece and Cyprus very often prepare delicious bean soup (a thick soup), which is called - fasolAva or, as commonly called in Russia - fasolada). Greek fasolada - a popular vegetable dish that pleased to have in the post, and in the summer - because the herbs and lemon juice refresh, and the lack of meat in the soup does not allow to grow heavy and fall asleep in the heat. Fasolada classic recipe includes tomato puree (fresh tomatoes) or tomato paste. It is often added a carrot, bell pepper, celery, zucchini. Sometimes - hot peppers, potatoes. Classical fasolada prepared with white beans, but in some areas it is replaced by red beans. Taste soup becomes thick and rich
Preparation time: 80 minutes
Servings: 10
Ingredients for "Greek bean soup" fasolada "»:
Beans (dry red) - 80 g Tavern - 120 g Tomatoes in own juice (+ juice 150 ml) - 5 pcs Onions - 80 g Bulgarian pepper (red or yellow) - 120 g Basil (fresh or dried) - 15 g Cilantro - 20 g Carrot - 100 g Salt (to taste) Lemon (juice in a bowl) - 5 g olive oil (optional) Water (1,500ml - soup, 400 ml - to soak beans) - 1500 ml Spices ( "Mediterranean herbs" or "for the Greek salad") - 5 g

For fasolada with red beans I picked beans "pinto" from Mistral. Since the beans Pinto -. Has a soft, crumbly texture and pinto beans - is universal. Beans are best soaked overnight in boiled water at room temperature. Boiled water, which contains the beans before cooking reduces the likelihood of gas production for those who then eats the delicious meatless soup.

First, we go to sleep in the soup beans and cook for about 40 minutes. Do not salt it! Salt makes the bean shell (and other legumes) are more rigid, and it will be a long time to cook. Then add the zucchini, onions and carrots. Onions can be pre popassirovat in vegetable oil. Season with salt.

While this cooks, rubbed mashed tomatoes.

And sliced ​​bell peppers.

Add the tomatoes, the juice of a tomato and pepper and continue to cook for another 10-15 minutes.
Chopped cilantro and spices add 5 minutes before end of cooking.
Before serving in each bowl squeezing a little lemon juice and put the basil leaves. You can submit marinated olives, if they exist.

Delicious submit fasolada with fresh bread, liberally sprinkled with meatless soup greens and a little watering olive oil and lemon juice.
Bon Appetit!