For this dessert is impossible to remain indifferent: sweet curd filling in chocolate glaze ... My kids are ready to have it in unlimited quantities. But if children are useful
cheese chocolate ? Yes, if they are cooked at home!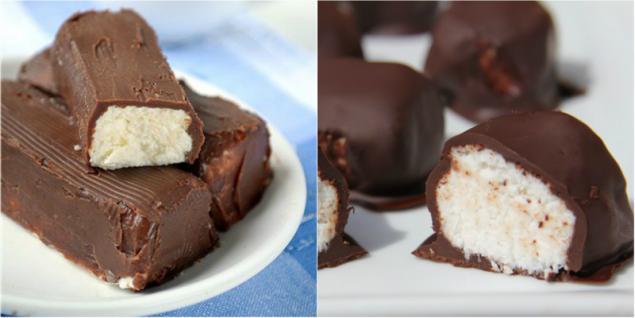 Recipe glazed cheese curds from the «Website» - this is what I've been looking for. Now you can entertain kids and regale itself without unnecessary fears. Try to cook and you!

Home glazed curd mass syrkiIngredienty for
400 g of cottage cheese average fat content 5 Art. l. powdered sugar 1 tbsp. l. softened butter 0, 5, ch. l. vanilla sugar

Ingredients for glaze
200 g of dark chocolate 50 g

Preparation
grind curd through a sieve and mix it with butter, powdered sugar and vanilla sugar. If you think weight rather dry, add a spoonful of sour cream. For delicious! From the resulting curd mass will form the wedges and send it in the freezer for about 10-15 minutes. Curd should freeze, but not frozen. In the meantime, we are engaged in cooking glaze Break into pieces and put a chocolate bar to drown in a water bath. Add to the chocolate butter, stirring occasionally, bring the icing to the necessary standard. Get the cheese from the freezer and using a fork perch each in melted chocolate. Lay finished products on a dish and place in the refrigerator until completely pour glaze.

Delicate and melt in your mouth! The beauty in the fact that you can almost endlessly experiment with additions to this dessert: jam, marmalade, prunes, dried apricots, condensed milk, nuts. Mm-m ... Yum!

Remind friends about the delicacy of childhood: to share with them this recipe

!