< Sand cake with fresh strawberries - at this modest, at first glance, the name is hiding an incredibly bright, juicy, aromatic and amazingly delicious dessert. With a recipe from the
«Website» to make it you get no worse than that of a professional pastry chef!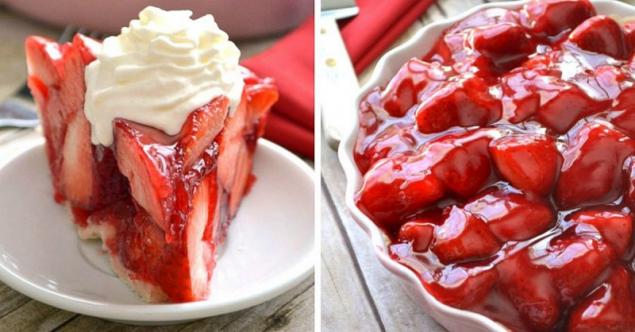 A big plus of this dessert is that it is sufficiently easy, so they will be able to feast on sweet tooth, stick to your diet.

Strawberry pirogIngredienty for the base 110 g softened butter 150 g of flour 3 tbsp. l. sugar

Ingredients for the filling 500 ml of water 350 g sugar 6 tablespoons. l. cornstarch 170 g strawberry jelly 2 kg of strawberries

Preparation mash the softened butter with the sugar , add the flour. The resulting mass is distributed fingers on the bottom of the split refractory forms Bake in a preheated 190 ° C oven for 10-15 minutes. Get the cake out of the oven without removing from the mold, cooled to room temperature. Mix water, sugar and starch , put on fire and bring to a boil. Reduce heat, stir boil until thick (about 3 minutes). Take bowl from heat, add powdered strawberry jelly, mix everything until complete dissolution of the crystals. Strawberries wash, rarely lined up for cake and jelly zaley weight. Just send in the form of a cake in the fridge to pour jelly.

Bring a jelly pie under a cloud of whipped cream - a perfect combination. Enjoy the full flavor of ripe berries in season strawberry abundance!

Share with your friends this recipe spectacular treats, it certainly would have to taste them!