If you have mobile phone manufacturers began to try his hand in the field of vehicles of the future, then why in the race did not turn on and the oil industry? Obviously, it is so judged at Shell, which is engaged in oil and gas extraction, processing, production of gasoline, motor oil and other fluids. Recently, under the Shell brand it was presented to the first car. This is only the oil and gas giant to its development has virtually no relationship.
In fact, Shell Concept Car, also known as Project M, nee called Murray T.25. It has developed a renowned designer Gordon Murray, creator definable cars and supercars McLaren F1. In 2007, he founded his own company Gordon Murray Design and three years later introduced a prototype of sustainable urban T.25 car with a gasoline engine. Since then, Murray is trying to negotiate with major concerns about the release of its creation, but a common language is found only with by Yamaha. And the Japanese are interested in not the car itself, and the body iStream manufacturing technology with a complete rejection of the expensive stamping, welding and paint production: it is based on a steel frame with composite floor panels, which are hung on the plastic body panels. According to the plan, in 2019 to begin production of microcars Yamaha Motiv.e with Murray's design, but the original layout, design and technical stuffing.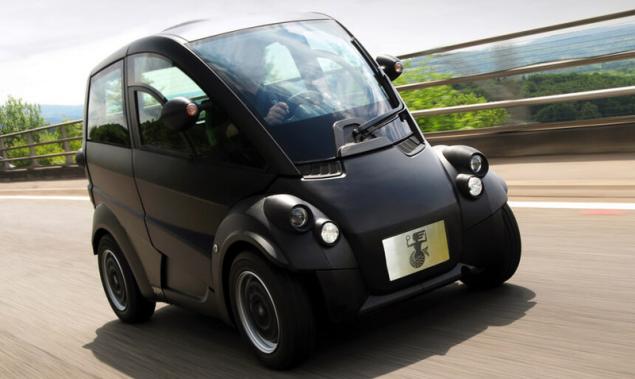 Prototype Murray T.25 2010
A source avtomobilchikom Murray T.25 is now interested in the company Shell. And it is interesting that even in 2011, Gordon Murray has rolled out an electric version of its creation under the symbol T.27, but it is, of course, the oil industry has not attracted: only gasoline
! From the initial Shell Concept Car of the machine is different in the first place appearance. From microcar how to work in the wind tunnel: with sharp edges of the body disappeared, changed the front fairing on all wheels were "solid" caps and rear and completely covered with shields. Unsightly avtomobilchik has 2, 5 m in length, 1, 35 m in width and as much as 1 to 6 m in height. Entrance to the salon opens tilt forward "lantern" cab, and inside Project M - like a little McLaren F1: the driver's seat in the middle, two passenger seats on each side of the back. The dense arrangement allowed for post-backed 160-liter boot, and if in the salon only the driver compartment capacity increases to 720 liters.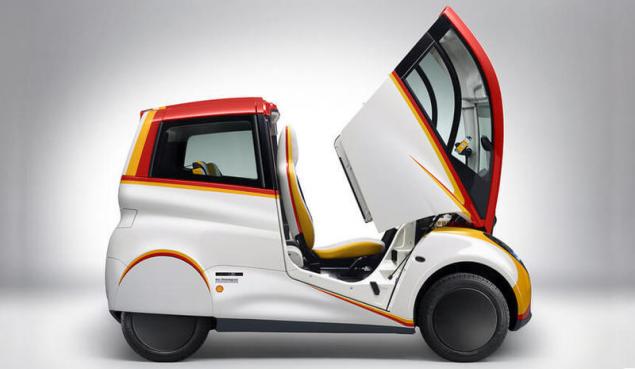 Front and rear suspension - a McPherson strut unpretentious. The three-cylinder 660 cc motor is located behind and is paired with a five-speed sequential "robot", and the refinement of the original motor commissioned by Shell Group engaged in the Japanese firm Geo Technology. As a result, power is reduced from 51 to 45 hp, but torque has increased from 57 to 64 Nm. Fuel consumption is reduced by about a third, and contribute (about 5%) in this achievement and has made a special Shell oil reduces friction. At a constant speed of 70 km / h triple machine consumes 2, 64 l / 100 km.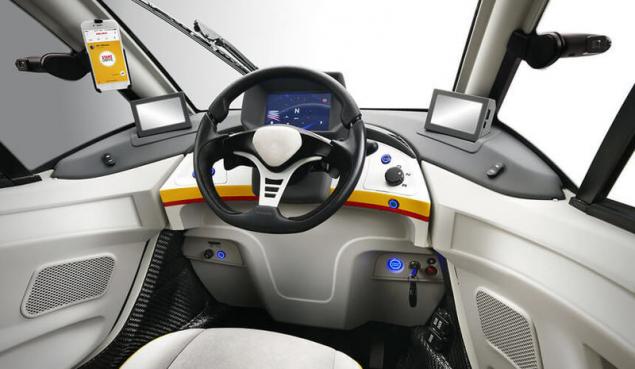 microcar Mass after all completions decreased from 575 to 550 kg, with a place to "hundred" it is dispersed for 15, 8, and the maximum speed is limited by force at 145 km / h. Tank capacity - only 22 liters, although the original prototype Murray has 30-liter tank
.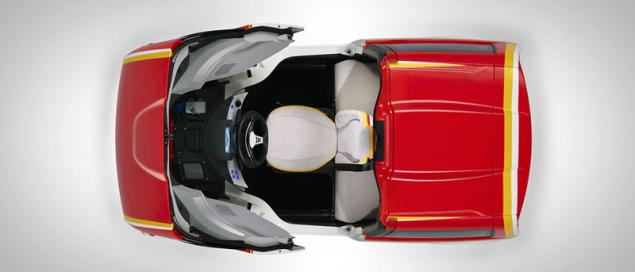 Sitikar Murray created under the British reality of megacities across the parking space can stand just three such machines in one lane side by side can go two mikromobilya and turn ProjectM capable of six-meter patch - that is, in a conventional two-way street. The strengths of the British and carry small costs in the production microcar Murray will cost about half the price of a conventional small car, and the total energy consumption throughout the life cycle of the machine following more than a third. But even by Shell, although interested in the project, it has not yet designated any timing of the production. Even the search for a suitable production site is not finished yet. So Shell Concept Car could be the first and only car oil and gas group.