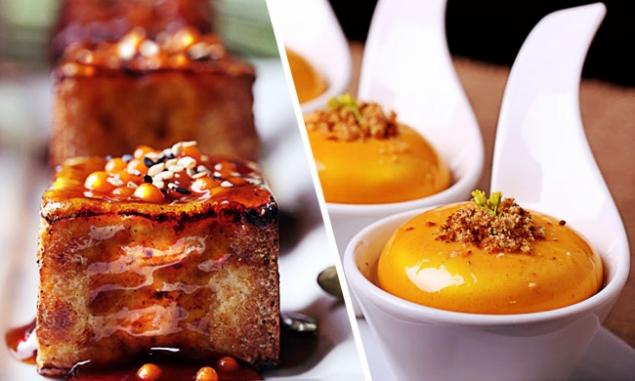 Restaurant, which serves molecular cuisine, reminiscent of a laboratory where to experiment with familiar recipes, flavors of products and looking for new ways of serving dishes.
The task of molecular cuisine - not to feed to satiety, and pleasant surprise and sometimes even numb. Of course, most of the dishes at home is not repeated. But the most simple, without the use of complicated devices and special additives, can be prepared in your own kitchen.
< Website picked recipes that will turn out exactly the chemist without a diploma and experience of the chef.
Egg-sweet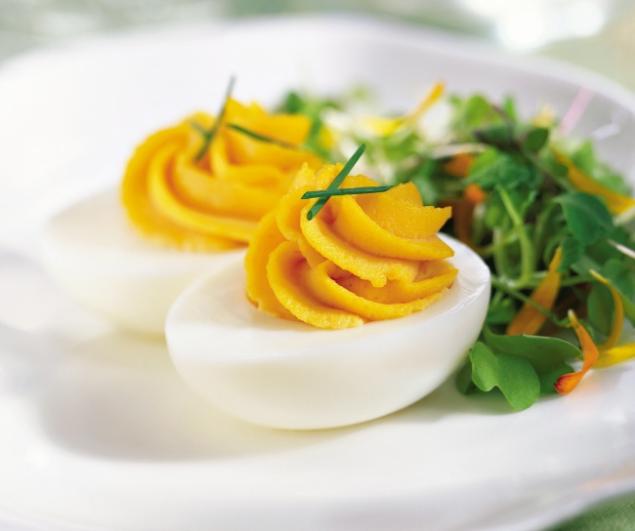 This is the easiest recipe for molecular cuisine. To prepare the dish put a pot of water and egg in the oven, heated to exactly 64 degrees.
After 2 hours, get more gentle and soft in texture taste, slightly offbeat, like a savory sweet.
Beet roll with soft cheese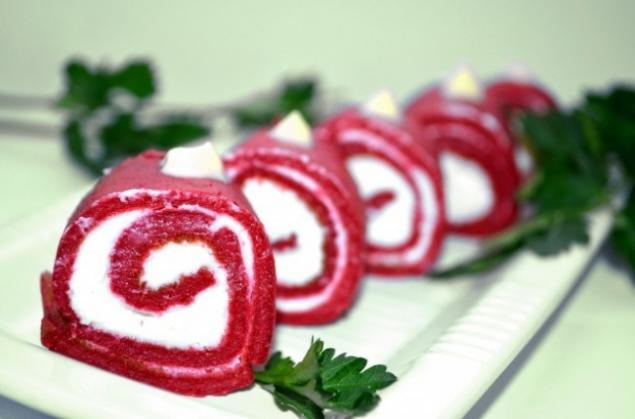 you will need:

2 beet 1 sachets of agar 250 g spicy soft cream cheese Preparation:

Beet juice and beet pulp, beat in a blender. Filter and add 1 sachet of agar-agar. Stir well and bring to a boil.

Slightly thickened beet juice spill with a thin layer on a tray with cling film. Once gelled sheet to cool, put on him a thick layer of soft spicy cream cheese and roll into the roll. Cut the resulting roll with a sharp knife



Orange spaghetti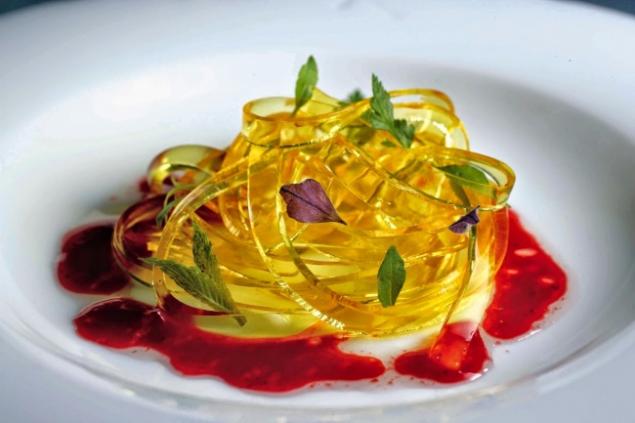 You will need:. < br>

400 ml orange juice 25 ml thick orange syrup 75 ml sugar syrup 25 g gelling agent < / Preparation:

Mix all ingredients and heat, allowing the boil. The resulting liquid in a syringe. With the help of a flexible silicone liquid fill tube to length. You can take a conventional pharmaceutical tubes for medicine droppers.

Filled tube for 3 minutes, drop into the cold water. Then, connect the syringe and the tube and using the syringe supplied in the air squeezing spaghetti.



Chocolate mousse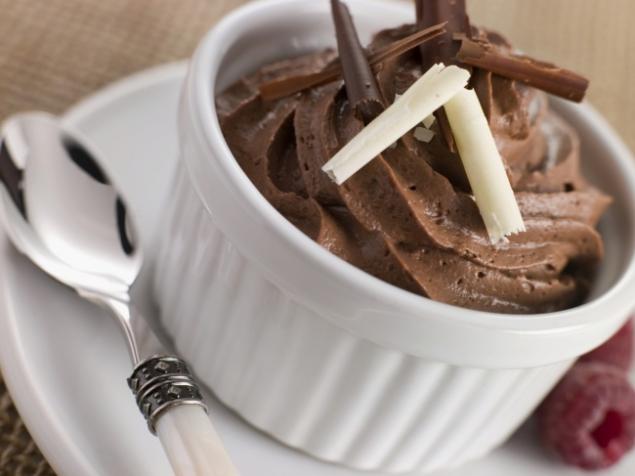 you will need:


225 g of dark chocolate good quality 200 ml of water Method: < /

Break the chocolate into pieces and pour into a saucepan with water. Gray over moderate heat, stirring occasionally, until chocolate is completely dissolved. In a large bowl, pour the cold water and pour crushed ice.

The liquid chocolate is poured into a small bowl and put it in a bowl with ice and water. Beat with a mixer to a state of whipped cream



Coffee meat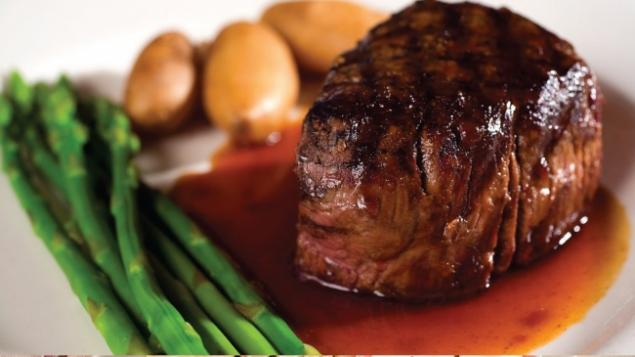 You will need:.


1, 5 kg of pork neck 1 cup of espresso milled coffee 50 g of coffee oil salt and pepper Preparation:

Prepare a cup of espresso. Preparing a paste of coffee oil (can substitute for butter), salt, pepper and ground coffee. When using a syringe introduce cooled espresso in a piece of pork neck. Rubbed with a piece of meat resulting paste.

Put the meat in a roasting bag, close it tightly. Boil water in a pan, put the bag in a pot. In medium heat tormented for 2 hours. Let cool and cut into portions



balsamic caviar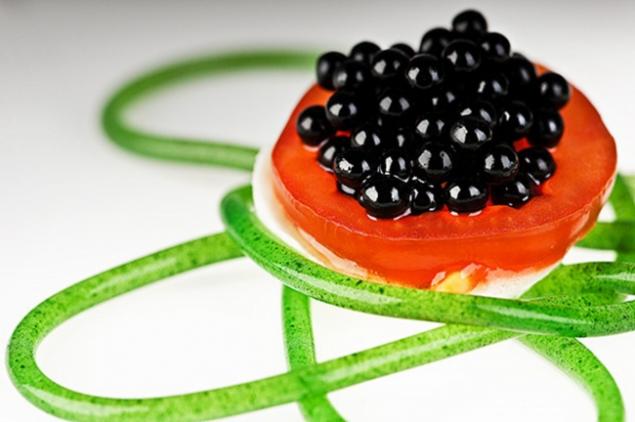 You will need:.


100 ml olive oil 60 ml balsamic vinegar 30 ml of water 1 tbsp. l. sugar 1 sachets of agar Preparation:

Pre-cool bowl with olive oil. Vinegar Mix in a saucepan, water, sugar and agar. We bring the mixture to a boil, boil over medium heat for 1 minute. The mixture thickens slightly. We remove from heat and cool for a few minutes.

Gaining the mixture into a syringe without a needle. Hold the syringe horizontally above a tank of chilled butter and squeezing a drop of oil in the mixture. Drops shall not be exposed to one another. At the bottom of the tank the eggs will form a perfect sphere. Filtered eggs



Carrot oil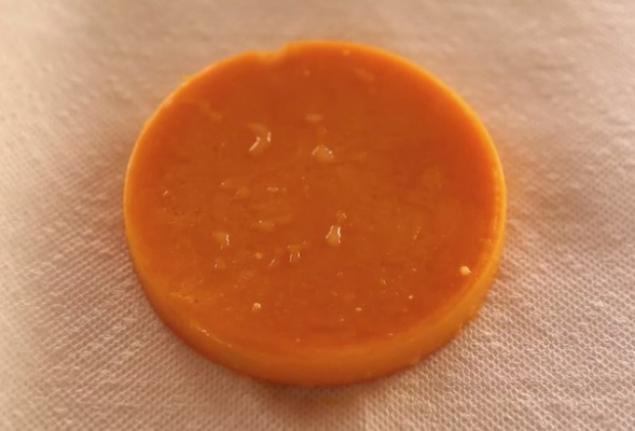 You will need:.
< br>
6 medium-sized carrots 500 g butter Preparation:

Squeeze the juice of carrots. Melt 500 grams of butter in a skillet. Fill the hot oil and carrot juice in a blender and blend at high speed until smooth. We bring the resulting mixture to a boil in a saucepan over low heat. Filtered from the resulting foam.

Poured into the form and put it in a bowl with ice. Harvesting in the refrigerator. As soon as carrot oil hardened, we shift it on a plate. It can be used as a sandwich of oil, and it is possible to melt slightly and use as a sauce.



Acute truffles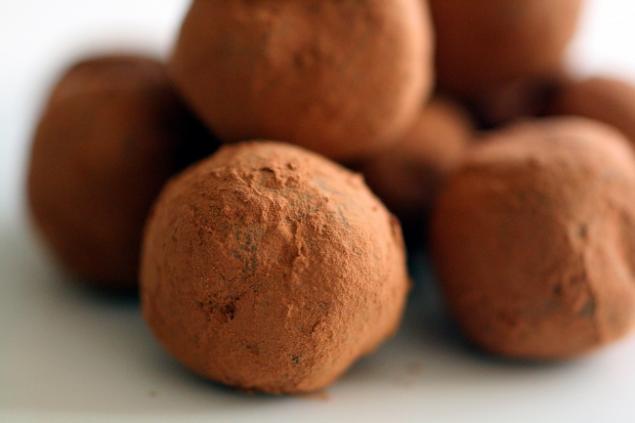 < you will need:


100 g chocolate 75 mL 20 g li butter, heavy cream> a pinch of dried chilli Preparation:

A bar of chocolate break into pieces, pour the cream, add the butter, a pinch of dried chilli and melt the everything on low heat until silky consistency.

Cooled and cleaned in a refrigerator for 2 hours. When the mass hardens and becomes the consistency resemble clay, forming a sphere and a spoon to crumble them in cocoa powder. Finished truffles put in the refrigerator until completely pour



Egg with a surprise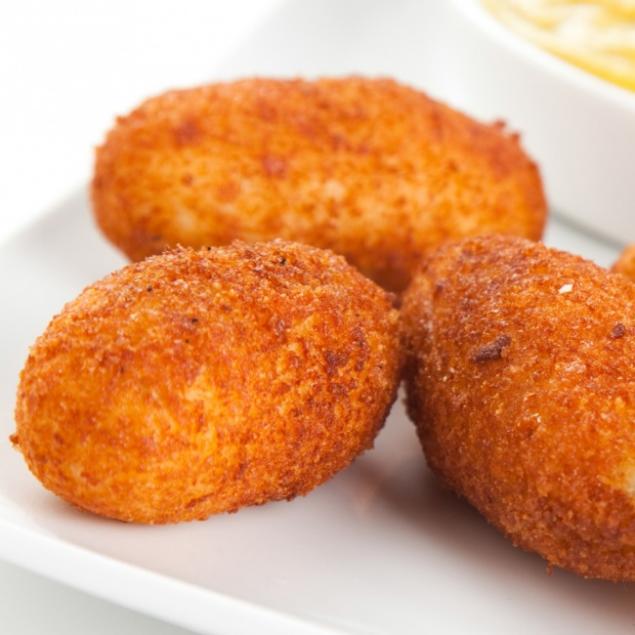 You will need:. < /


3-4 eggs a spicy sauce paste bread crumbs < oil for frying Preparation:

Boiled boiled eggs purify and cut off their tops. Remove the yolks. Put into each bit of spicy sauce and paste. Cover with egg caps and put in refrigerator.

Cooled eggs rolled in flour, dip in beaten whisk egg, dip in bread crumbs and fry in deep fat.



Jelly tomato soup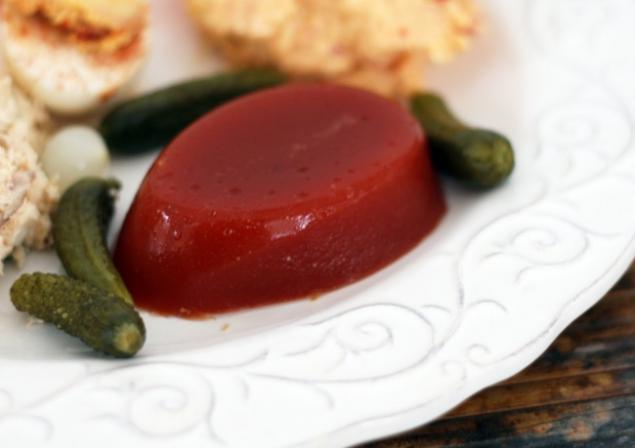 you will need:


350 ml light chicken broth 1 carrot 1/2 stalk leeks 2 cloves garlic 2 tbsp. l. thick tomato paste 6 cherry tomatoes 15 g parsley 15 g green onions salt and pepper Preparation:

In the broth add the diced sliced ​​carrots, leeks, cherry tomatoes and garlic, tomato paste, parsley, salt and pepper. Put the pan on low heat and cook for 20 minutes after boiling.

Pyuriruem soup using a blender and filtered. Add 1 sachet of agar-agar, and stir over low heat bring to a boil. Pour into molds and put in refrigerator to complete solidification. Spread on the plates a la carte.



Pumpkin scope
For those who goes to the next level of complexity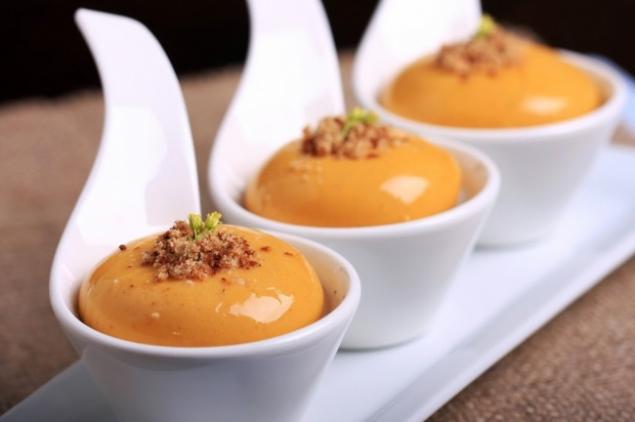 . This recipe is for those who want to try yourself as a chef more advanced



You will need:

For cake:


400 g pumpkin puree (baby food) 1 pack cream cheese 2 tbsp. l. cornstarch 2 tbsp. l. Soy Milk agave syrup to taste cloves, cinnamon, nutmeg to taste

< 3 cups of cold water 1 hour. l. alginate sodium

the remains of the filling of pumpkin pie 1 tsp.. calcium lactate

whipped cream (can be soy) shredded pieces of pie for sprinkling ul > Preparation:

All the ingredients for a cake mix in a blender until smooth. If you do not have at hand the finished pumpkin puree, you can do it using a blender from a pumpkin. You will need about 450 grams of pulp. Shift the mixture in an oven dish and bake for about 45 minutes.

Pour 3 cups of water in a sodium alginate. With immersion blender, mix for at least 2 minutes at high speed. Lay off for half an hour to release any remaining air bubbles.

Putting calcium lactate and the remains of the cake. Mix by hand until smooth and set aside.

Take a glass dish of 10 cm in diameter. Fill the bottom of a small amount of water and sodium alginate. 2 tablespoons take a mixture of pumpkin filling. Put it as carefully as possible. Then dishes cant angle of 45 degrees, and slowly pour in the mixture with sodium alginate as long as it does not cover the future scope. Then glassware is slowly raised to 90 degrees. The method is similar to how the beer is poured into a glass. The twist dishes for 30 seconds to a sphere formed. Then we set aside the dishes with the scope for 2 minutes.

After that, we shift a solid sphere in cold water until forming other pumpkin sphere.

Before serving meals within the scope put a little whipped cream and sprinkle with crumbs from the cake.



Glazed Tofu with pearls





< br> Another more complicated recipe for those who felt the love of haute cuisine. If you do not find the right to the gems of Sriracha sauce, can be decorated with jelly tofu roe or finished grit to decorate cakes



You will need:.

For pearls:


1/8 cup Sriracha sauce 1 tsp.. sesame oil 1/4 cup vegetable broth 1 g agar-agar 2 cups vegetable oil (pre-cooled for 1 hour) high beer glass (pre-cooled for 1 hour)

pack tofu 1 tbsp. l. peanut butter 1 tbsp. l. sesame oil 1 tbsp. l. soy sauce 3 tbsp. l. mirin rice wine (can be replaced by a sweet white wine) a drop of rice vinegar 1 tbsp. l. brown sugar 1 tbsp. l. with the addition of cold water for 1 hour. L. cornstarch black and white sesame seeds for decoration Preparation:

In saucepan, mix the Sriracha sauce, sesame oil, broth and agar-agar. Put on medium heat. As soon as the mixture begins to boil, wait for 45 seconds and remove from heat. Let cool the mixture for 2 minutes.

We get chilled butter and a glass from the refrigerator. Pour the oil into a glass so that the top up there are not less than 5 centimeters. When we collect the mixture and as close to the surface of the oil slowly squeezing it in a mixture with a pipette or a syringe. The resulting pellets will fall to the bottom of the glass. Do not just do a lot of pearls, to separate them from each other. We took out the pearls obtained using screen and then use the oil for the preparation of the next batch. All the resulting pearl store in the cold water, cook until the tofu.

Cut the tofu into the reservoir 6 dice. Heat the peanut oil in a large frying pan over medium heat. Drop the cubes of tofu and brown them for 4-5 minutes on each side. If cubes begin burnt, then add to the pan a little oil. Once all the blocks are well browned, we shift them on a plate, while making the icing.

In saucepan, mix sesame oil, soy sauce and mirin and over medium heat bring to a boil. Mixed well, add the vinegar and sprinkle with brown sugar on top. Add the mixture of water and cornstarch, stir and remove from heat thickened glaze.

Ruddy tofu Pour glaze on top and sprinkle with pearl spread sesame seeds.



According to the materials: edimdoma, diets, olivesfordinner, volshebnaya-eda
Photo on preview: olivesfordinner





via olivesfordinner.com