Oksana Grivina - one of the most talented illustrators of Russia, a role model for many of our colleagues, who have chosen as "naive" style illyustratsii.I them again learn from his authority: Oksana is not enough just to paint a beautiful picture, now she illustrator Software, create a "living books" for the iPad. The rare and very interesting combination, which provides a wealth of new opportunities to expand their talent.
Oksana told the site about their work, their passion, the creative crisis, how and why it works as an illustrator, programmer, writer and director.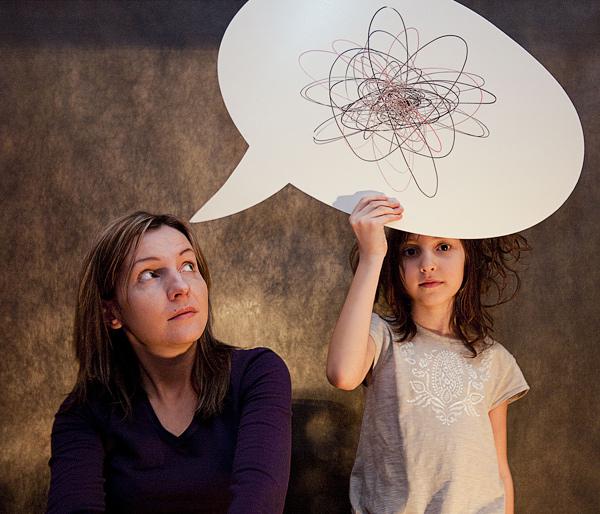 Part 1. IllyustratsiyaV 2003 I decided to become an illustrator. I was already 28, behind - the technical and economic higher, the designer's work - and the graphics, and the Web, and even industrial. No one job, but it did not stay more than six months - it becomes boring.
We know that the designer does not need to know how to draw, so I did not know how. Although my short work promdizaynerom (Lebedev Studio) Draw want-not, you had, in addition to 3D-modeling than I in the ground and engaged.
In fairness, I note that industrial design became my sole occupation miserably cluttered in my life)
Over there, in the studio, drawing sketches forks cups, lamps, modems, and god-knows-what-else, I realized that I draw is probably a good idea. And once again changed the direction of activity.
Learn to draw on their own - it is a complex task. Many argue about whether or not to the formation of the artist. I am still convinced that all means necessary (probably because I do not have).
Start it seems to me right from the beginning, with all these "place on a sheet of 20 points twenty different ways." Such an approach (when it is taught to think with your head at once, instead of fourth year) form the right brain function, provides the necessary tools and the freedom to express their thoughts and feelings on paper (relatively speaking, on paper). To me this is often lacking.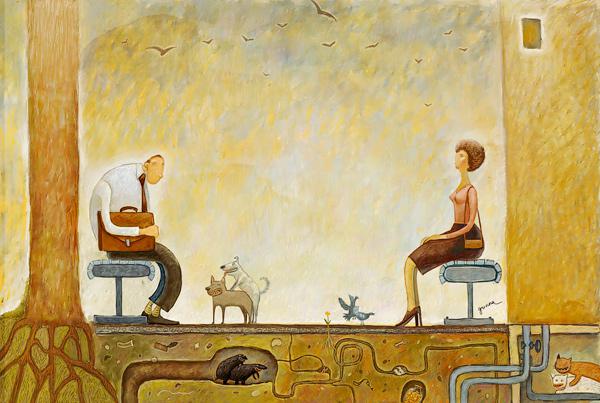 I also had to limp on this path very, very circuitous route. But one thing was good: each picture I sunbathe, sick, could not break away until the piled up. Once painted 39 hours without a break - it was one of my first vector work - it was exciting!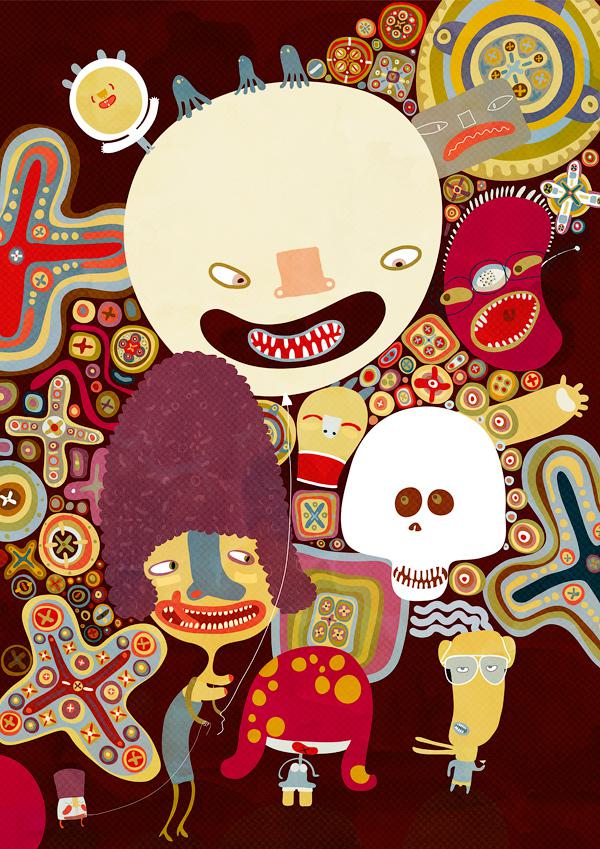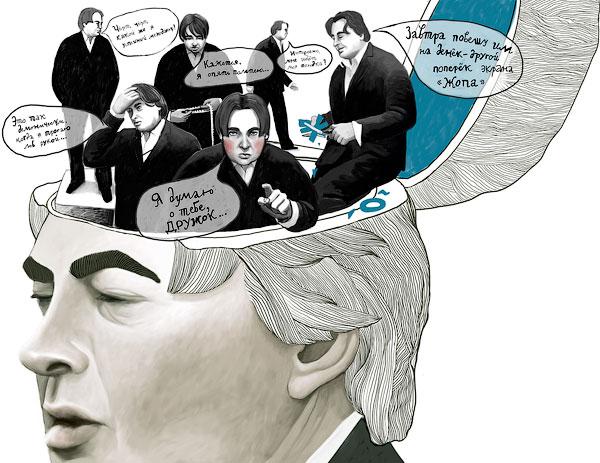 Often people ask me what to do budding illustrators. Somehow I can not think of anything better than to advise always to observe things around you and draw as much as possible. No, really, other secrets I do not know.
It seems to me a very important skill to draw the object so that the eye was deceived to the very thought that he and the present volume. It is me in this help understanding the basics of rendering in 3D - reflection, refraction, diffusion, caustic ... That is to say, if you need to draw some glass jar, I'll draw all the reflection and refraction even if not 100% sure, but significantly, so that it is similar to the glass jar.
As for the facial expressions - I'm a long time (just a few days before the first) was trying to draw a certain emotion, and all this time involuntarily sat with the same person. Then, of course, began to turn faster)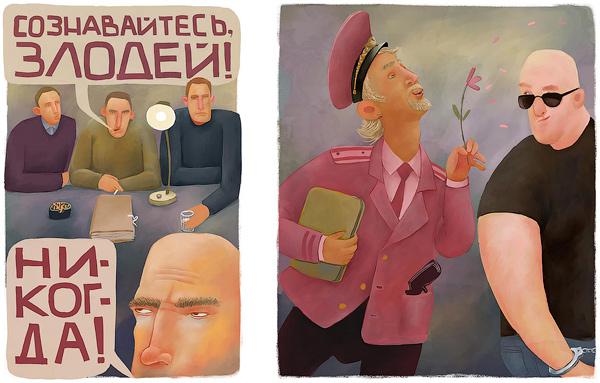 I worked as a freelance illustrator for 8 years.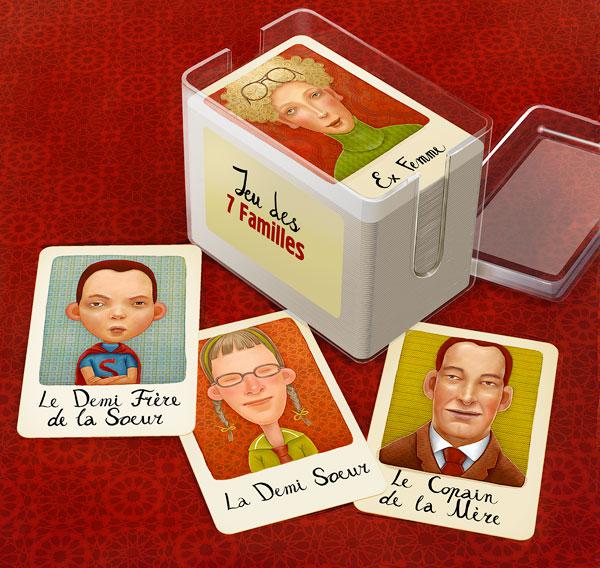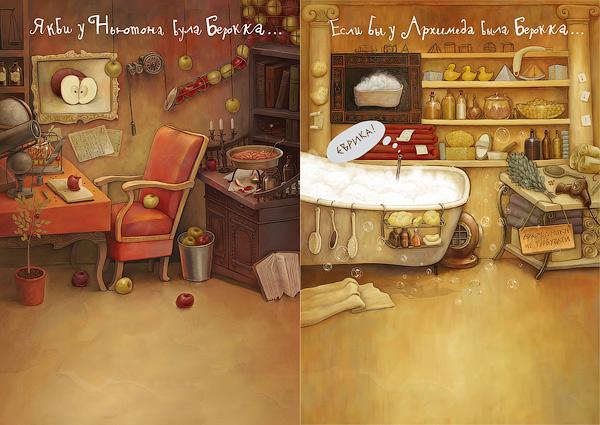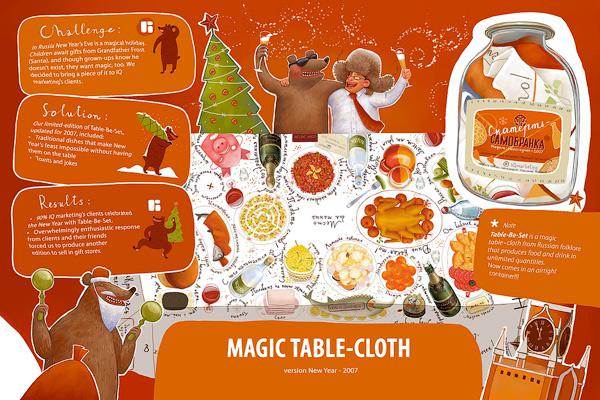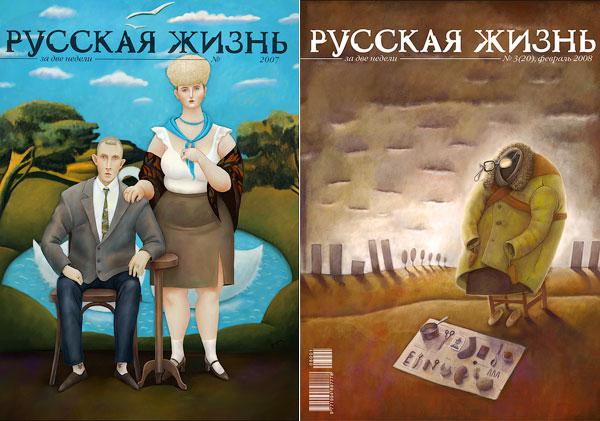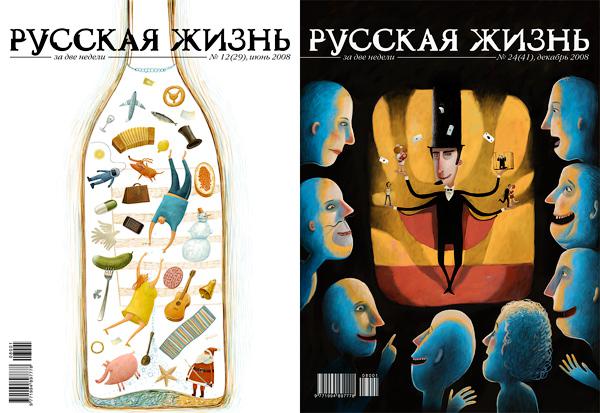 2. Programming of the school, I studied in the engineering class is a class above which a patron Polytechnic Institute (later became the Technical University), with in-depth study of mathematics, physics and programming. In addition, our homeroom teacher was a teacher of computer science and computer lab was our office, so that you can hang out there all you want. Comp was the EU-1841 black-and-white screen, no hard drive. But the hard disk on the master computer was, and every 15 minutes we are a team of teachers remained on the grid on her computer. Then I became well acquainted with the phenomenon then someone called "Choooort ... did not survive! ..»
We then programmed in BASIC (it was 90-92 years). Each, in general, choose the projects to their liking. Someone wrote a database, some programs for solving mathematical problems. I set a goal to paint a picture, who would doubt. The first computer graphics in my performance looked like this: after starting the program began in turn to draw lines, shapes, making gray casting of pre-written code. That is really for each line, circle or point you need to specify a coordinate, radius, color, thickness and so on. VAK rest, but fond memories. Yes, the picture was portrayed house.
The image is not preserved.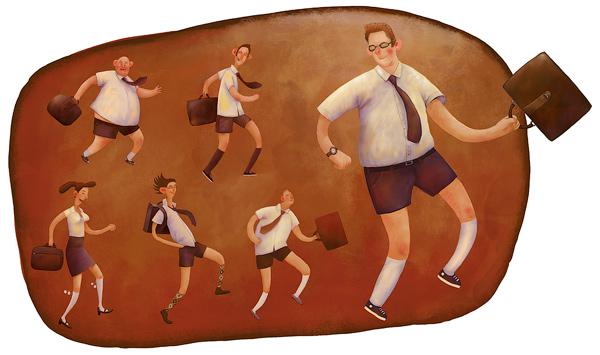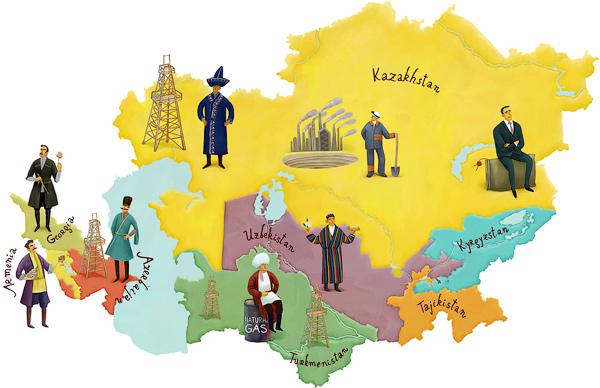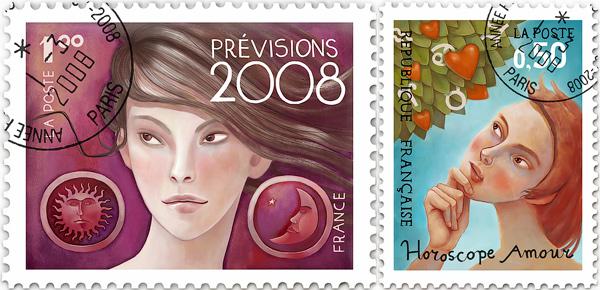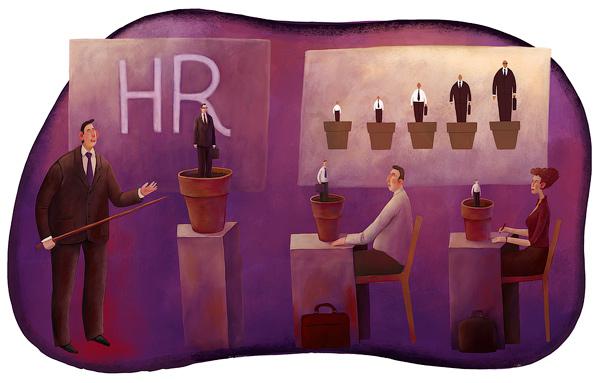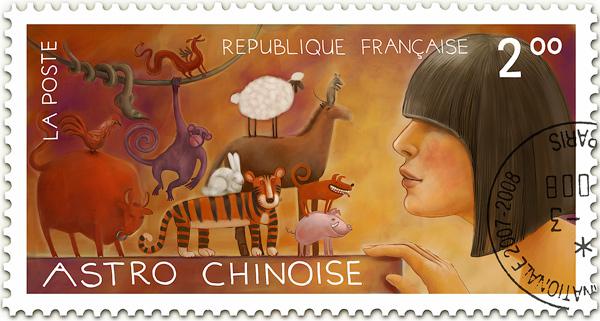 With the advent of aypada me like almost all risuyuschim people wanted to do the book alive. So wanted to, I immediately sat down to study all the required disciplines. Before the advent of the first of its applications meet the 10 months. It was a "lively" old American book The Rocket Book - to draw something of their own, not enough patience, I will release something.
Parallel to this, I suggested Lebedev revive his 2006 book "Muchavka and the Giant", which took 11 months - the application was published in July this year.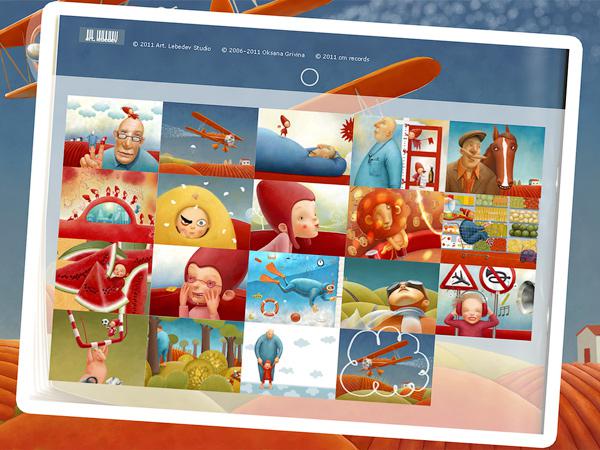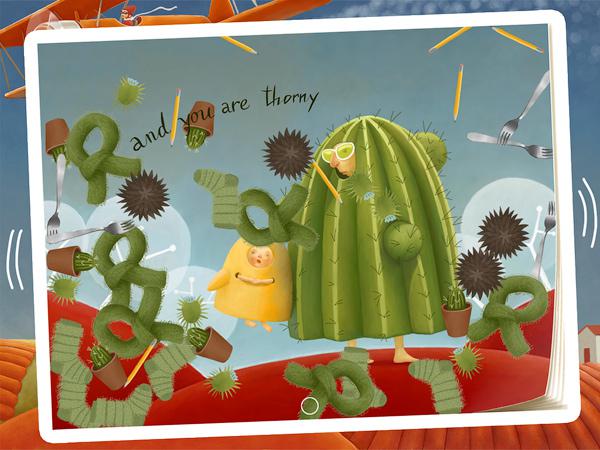 My role in this project was not easy. To begin, I completely redraw all illustrations (who has ever illustrated the book, knows what a lot of work), put in a month and a half, still do not understand how. When redrawing the script, I thought, to add new pieces and elements in each scene, separated the characters and objects, dismembered them for later animation and was responsible for all visual content applications. The problem is incredibly complicated by the fact that no one could tell me about the technical intricacies, had to work blind, remodel 20 times a lot of things. In addition, no one knew in what form you need to provide the programmer to script - had to invent on the fly all the arrows, notes, descriptions of sounds, effects, functional. After all, it is very difficult - to explain to the other person, what kind of picture in your head as you predstavlyash must go figure, the speed with which to move the legs, handles, lean on what angle he rotates with the head that for additional things need be in the scene and how they should work.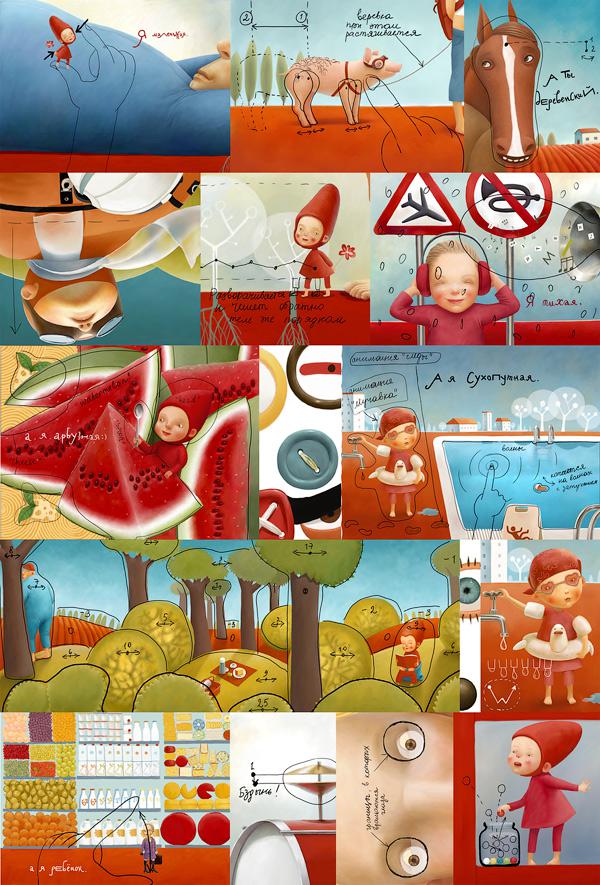 In general, such writers' normal-director's work.
Vanya Starchenkov programmer of this project, fortunately, was able to make sense of this hellish scenario, even though I was just unbearable, requiring a lot of time to redo the same movement. Part of the action, I then just write code in the job, pre-configure all the values.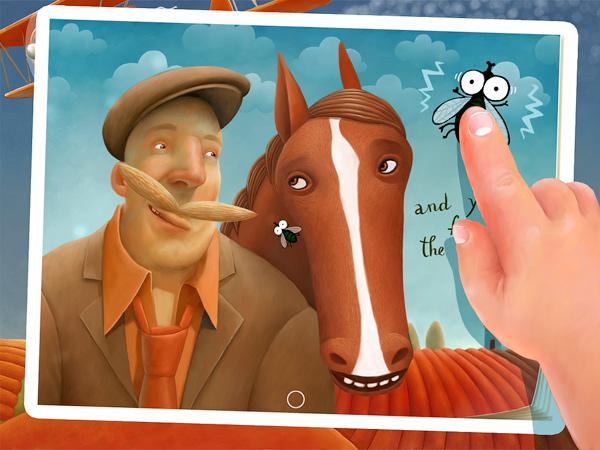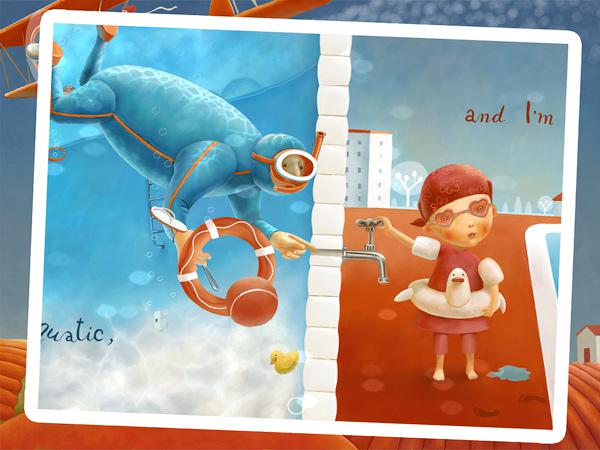 In my LJ, I wrote several posts on the grounds of questions: "Is it you yourself to program?" "Oh, like, tell me what to do, I want to!", "There is also easy, maybe, what program did you do ? ") So I wrote where to start if you're not a programmer, what mistakes to avoid, what books to read, what forums what Objective-C and Cocos2D, advised what to do if you beat his head on the table, not unable to understand what was going on)
Now came my third own application, "Living Alphabet».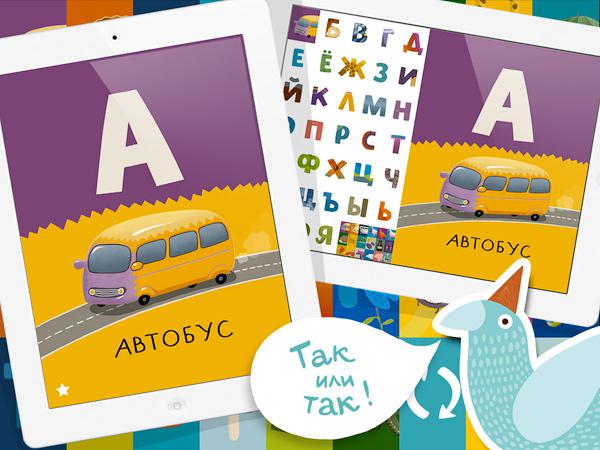 It turned out, as often happens, from waste products. Last spring, several illustrators offered to draw a poster alphabet, for instilling, so to speak, children of good taste. Poster I drew, and organizers of the project for a long time gone. Six months later, I decided that the time is not the case as many pictures of them can make the application. And the poster can be downloaded for free to all comers, on condition, of course, non-commercial use only.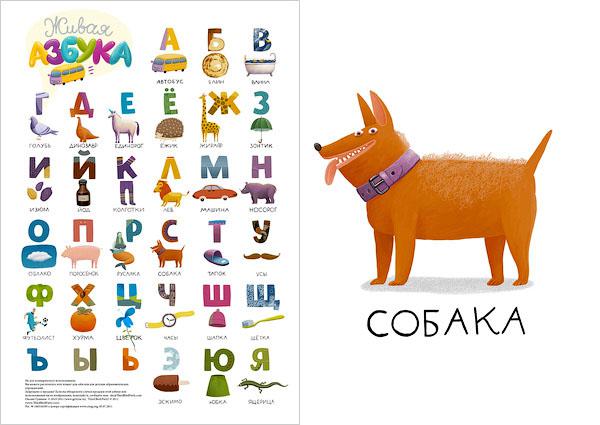 It was my favorite work in a pure form: draw, cut, assemble, texture write code.
Probably bad it happened, because the application was published in the top sales appstore.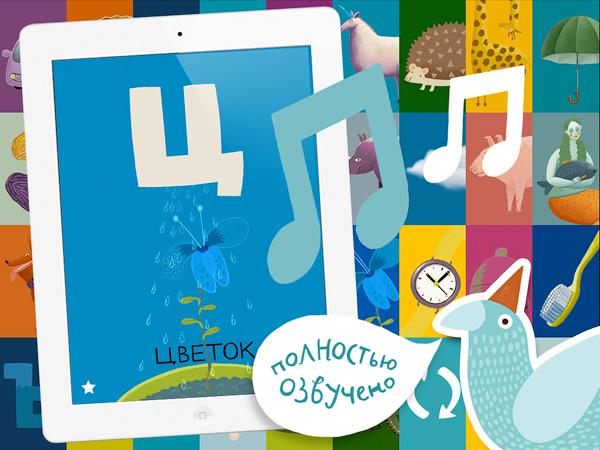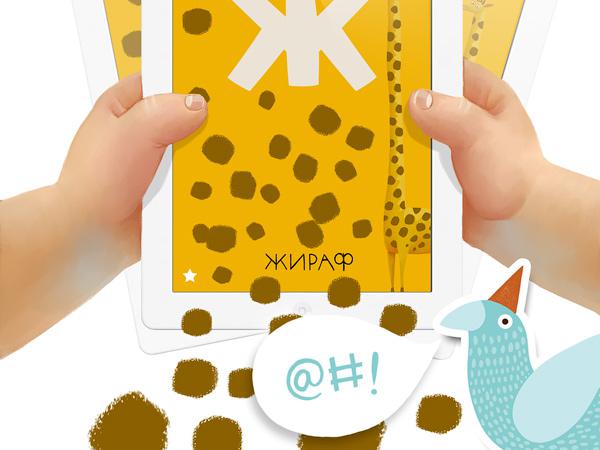 3. All of the vmesteRazrabotka applications and study the programming is so fascinated me that at some point I began to hate his main job - freelance graphic and simply ceased to paint.
This has contributed to the fatigue of the global super-productive work, what was the fault of a scientific approach to the organization of work. I'll tell you about what I am. I really liked the system of organization of the time, described Frank Jana. Comprehensive planning - not only the workers affairs, but for all the rest, even the smallest. The cases are divided into "large" (45 minutes) and "small" (15). Writes a daily list of large and small businesses for the day, and then you divide your time in half: 45 minutes I drew in a notebook noting who and what, in 15 minutes pereryvnyh was a change of activity.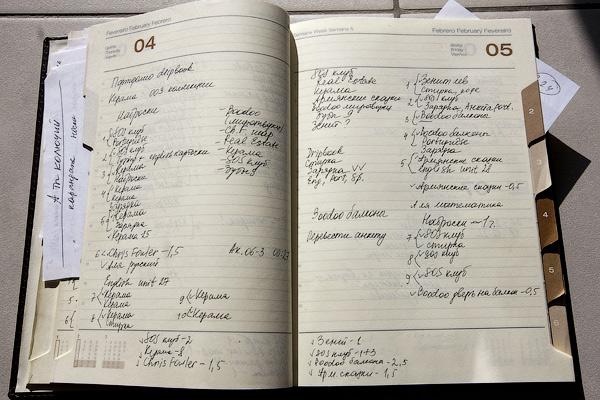 I chose as the main leisure painting It was new to me busy (in fact only orders I draw on the computer, and never drew on paper), very exciting.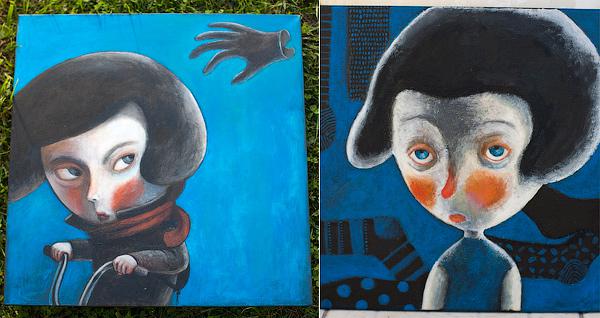 Or some other necessary things. For example, in 15 minutes you can hang to dry clothes, or play table tennis, or teach languages. At the end of the day I recorded a total project - at last I was aware of how much, on average, draw a picture of a certain size and a certain complexity as earning per hour, and what exactly you need to raise prices to customers! In general, I was so busy and so well done that work properly, and it turned out the day to do so much that she was surprised. The flow of work greatly increased productivity, too, and, as might be expected, the tension.
Having lived under the scheme of the 2009 and all of 2010, I realized that I'm dying. New diary for the year 2011, I bought a little, and stopped a few hours. And almost ceased to work to order, only to learn programming.
It was a very painful and expensive, people offer the orders asking the interview, offer agency services, and I can not answer - and take in all that no soul is not possible, and to say that I do not work, you can not. In general, this was a real, full-fledged creative crisis. Only at one point, after a few months of not working for fairly sheer orders, after the rest of the nearly eight-year marathon, I realized that pulls something to draw, for my own pleasure. Start by drawing a brush commas in sketchbooks: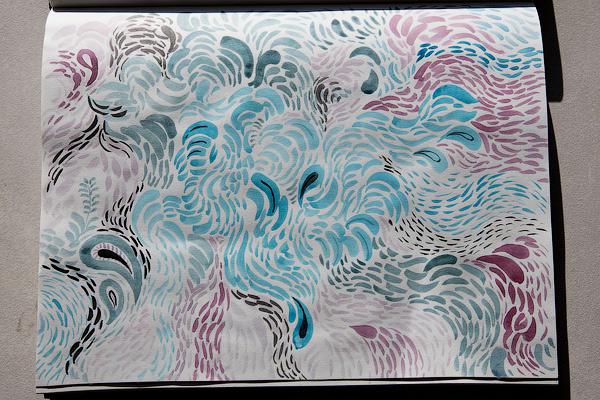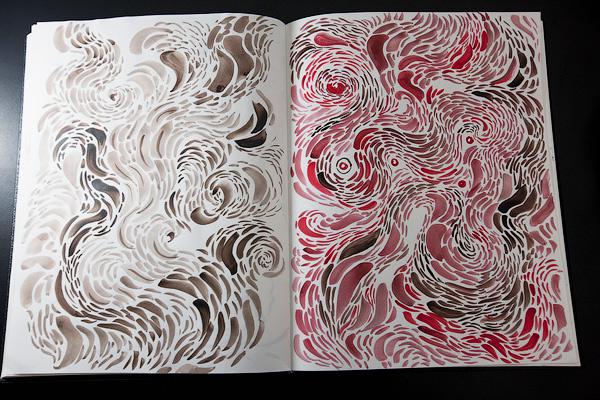 It was a complete shutdown of the brain for 15 minutes - after one and a half years of life on the schedule turned out that the minutes easily considered in the head: After exactly 45 minutes, drawing on a computer without a break starts to hurt back and I want to break free, and after 15 minutes of relaxation - to work .
I rethought style, I realized that I want to do as ever cheerful and joyful illustrations, and come to terms with his inner monster.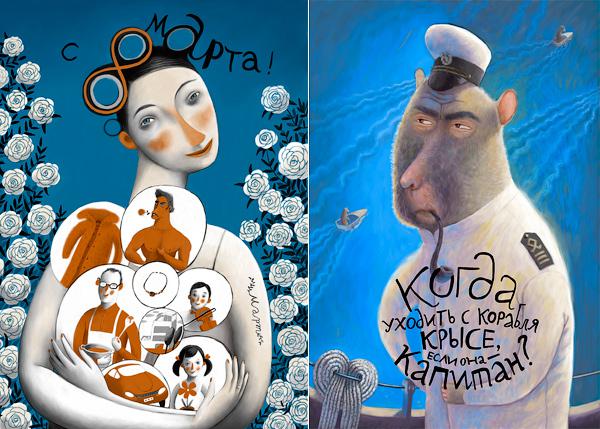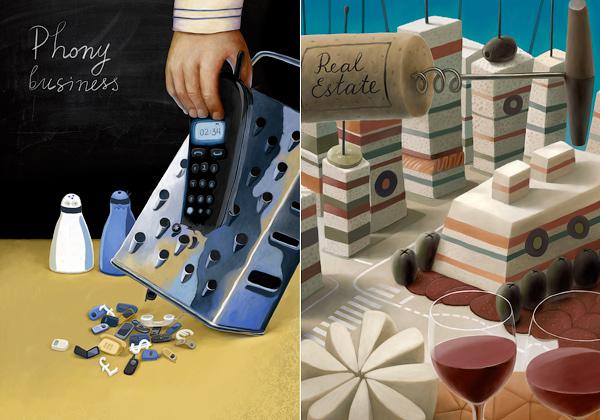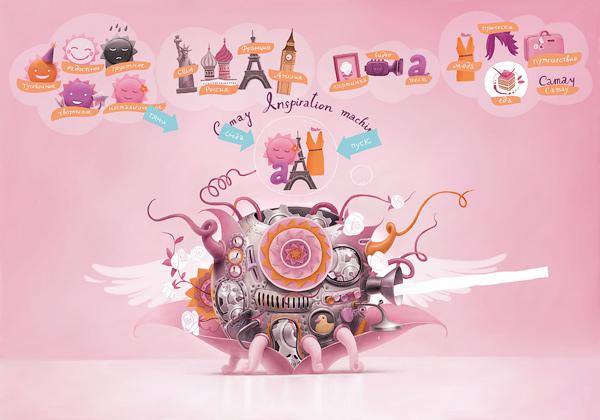 4. As part of the dalsheMne really like application development, and, ideally, I see further work in the coming years as a "guide a small team of developers, directing, script and illustration." Ideas weight, and more productive, of course, assign roles. Let's say I did not expect that the promotion released application takes so long! Or here's a certain moment when everything is ready and handed over, be sure to pop up bugs and perhaps the need for amendments to the management, and the head is completely in the next draft - back to the old fleas very boring)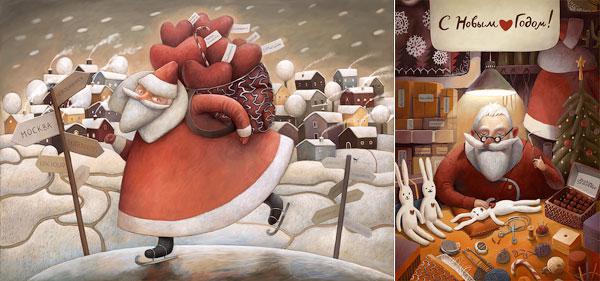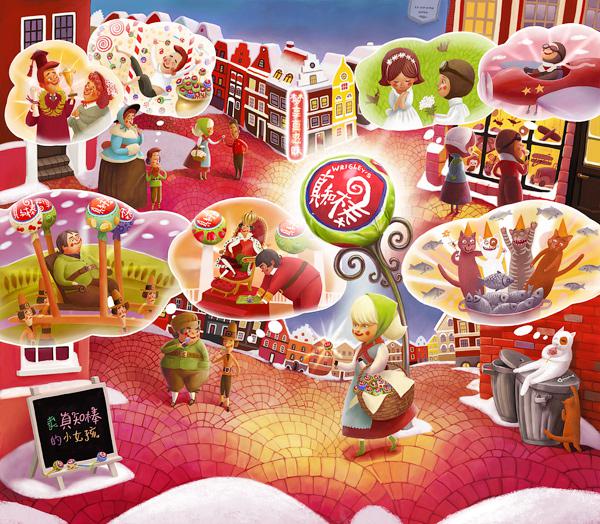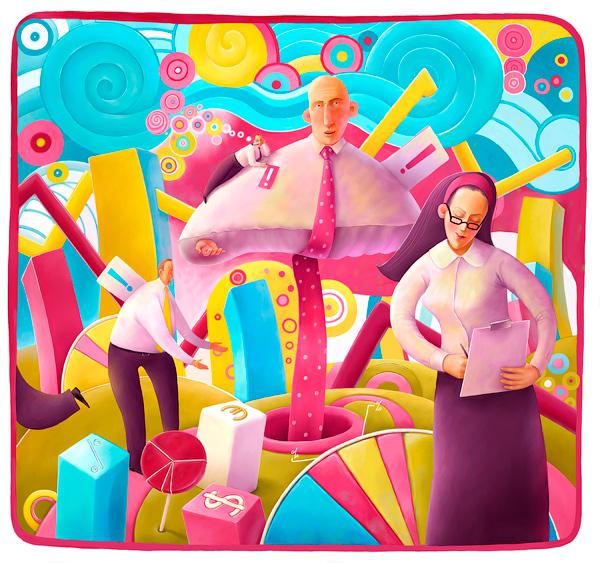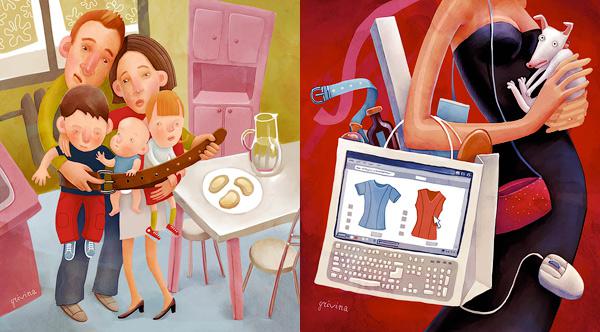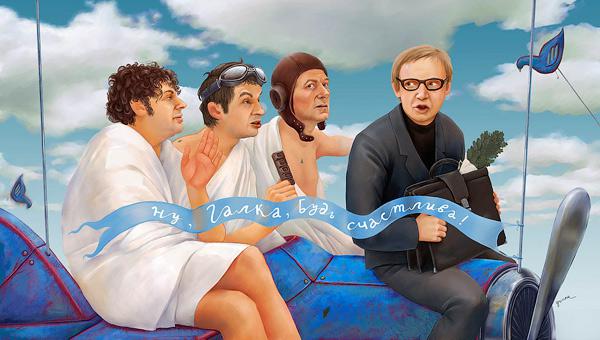 Also read the interview essay Alexey Kurbatov, Phil Dunskiy, Andrei Gordeev, Denis Zilber, Max Kostenko, shaders Fiero Aminals and matte-Painter Ujean & Glazyrin.I see a selection of the best works of Russian illustrators.
via
www.adme.ru/rejting-adme/luchshie-illyustratory-rossii-39262/