We have already offered you a recipe for a delicious berry marshmallow and prepared for you today another recipe, but low-calorie dessert. It contains only 80 calories per 100 grams, so it is a treat not harm your figure. This marshmallow is very well combined with chopped nuts or berries from your favorite jam. But remember that these additions will add extra calories this appetizing dessert!
Ingredients:

1 liter of yogurt; 3/4 Art. fat sour cream; 1 tbsp. sugar; 2 tbsp. l. gelatin; 2 tbsp. water; 1/2 sachet of vanilla sugar. Preparation:

1. Soak the gelatin in warm water for 30-40 minutes, and then bringing it to a boil over low heat. Do not forget to stir it constantly. Then remove the gelatin from the heat and cool to room temperature.

2. kefir, sour cream, plain and vanilla sugar mix and vzbey whisk or mixer for 5-6 minutes. Then, continuing to whisk, trickle enter gelatin and beat another 4-5 minutes.

3. The resulting mass shift to the form and place in the refrigerator for 3-6 hours. After solidification of a dessert marshmallows should be cut into pieces a la carte-wedges. Instead of a knife, you can use the usual cookie cutters.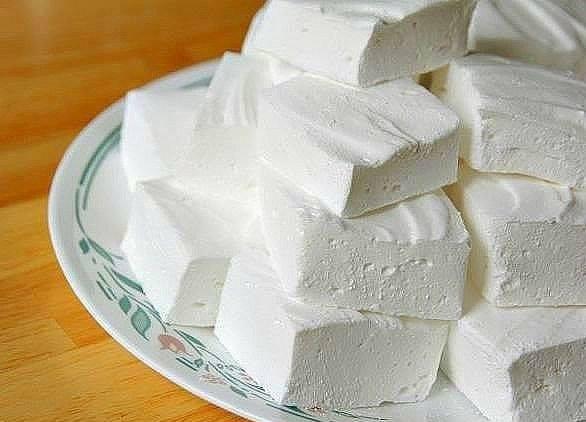 This dessert is ideal for you if you try to stick to the diet, but always want something sweet. Try to cook it myself and tell her friends about the recipe, followed her figure!

via takprosto cc