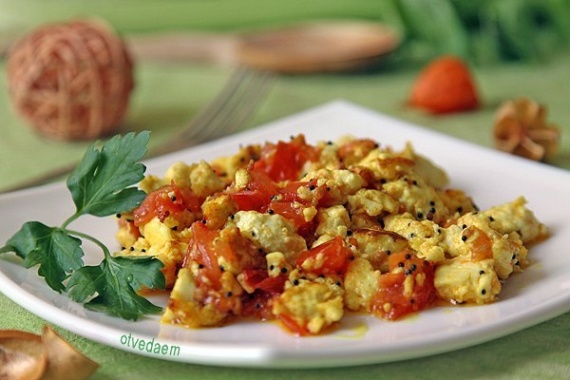 This is a very simple and tasty dish, variations of which you can think of a lot.
INGREDIENTS:
Adyghe cheese (or suluguni or paneer) - 100 gr,
heavy cream (or milk to dilute the very thick sour cream),
tomatoes,
melted butter (for frying),
asafoetida,
turmeric,
You can use salt instead of the usual black (who do not know, it smells like eggs).  
Melt the butter in a frying pan, fry the spices (30 sec). Add the chopped tomatoes into pieces. (You can add to the tomato and other vegetables, such as cabbage or zucchini).
At this time Adyghe cheese crumble hands into small pieces. This is important. View is like a real omelet. The smaller, the more plausible (well it if absolutely be exhausted))). Cheese put in a pan and pour cream. But not much. Cover with a lid and simmer for 5 minutes Finish!