Due to the show MANGO, which was held in March this year, Ksyusha Rozanovaoy (http://thestylejungle.ru/) the opportunity to meet personally with fashionable blogger Andy Torres (StyleScrapbook.com), specially invited for the show in Moscow team MANGO, and talk with her.
- Tell me what it means for you friendship with Mango and this trip to Moscow?
- What I have noticed this brand - an honor! In the world there are so many bloggers ... And we are cooperating with Mango for a long time, but earlier it had some small projects. So we have a long friendship! And I'm very happy to be here today, because I'm first time in Moscow.
- Have you seen the new collection. Without which we can not do in the new season?
- At the show in Barcelona I was most impressed with white trouser suit with oversized-jacket. In the model, he wore directly on his naked body. In combination with a male silhouette it looked very sexy! On the podium at all was a lot of white, which I also liked, because lately I often wear black - winter prefer it. But in the spring and summer, you should definitely wear a white robe and!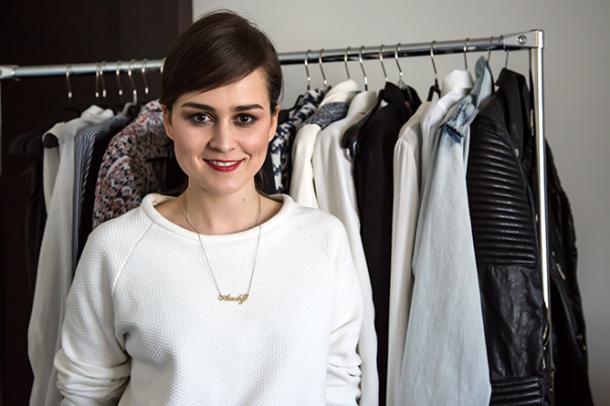 - This costume seems to be for the brave girls. And is there something that you would not dare to wear?
- I'm not sure ... I like to experiment! For example, I used to say that for anything will not wear overalls. And I was wearing overalls last spring! I bought quite a stunning vintage denim overalls, who looked at me as if I'm going to work in the garden. I podkatala it and wore high heels. And this season, it seems to me, overalls will be even more popular - leather models appeared, many designers. Since then, I never say that "would never wear" a thing. And then for a long time friends will tease :) Better to keep your mouth shut!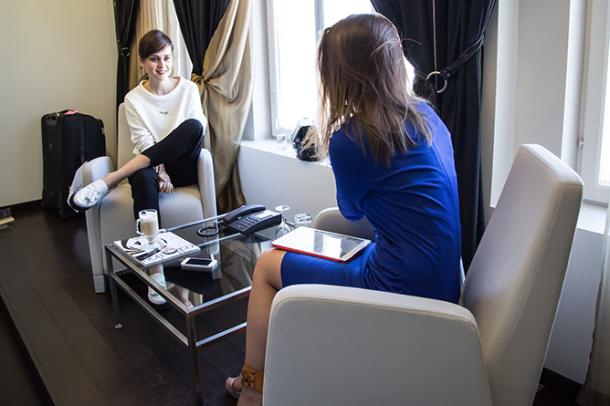 - By the way, you are now concede the Paris Fashion Week. It does not hurt?
- Not at all! I have five years of travel to the world of fashion week, and even glad that now I can relax a bit, because sometimes it becomes a frenzied rhythm. This year, by the way, I did not go in New York, had been the case at home. In addition, I had a very, very important collaboration in London would not want to miss it because of the bad weather. In that season, I almost missed my flight to London because of this, and this season in New York, was a snow storm. But I followed the events in Instagram and, frankly, glad that I was not there in the cold.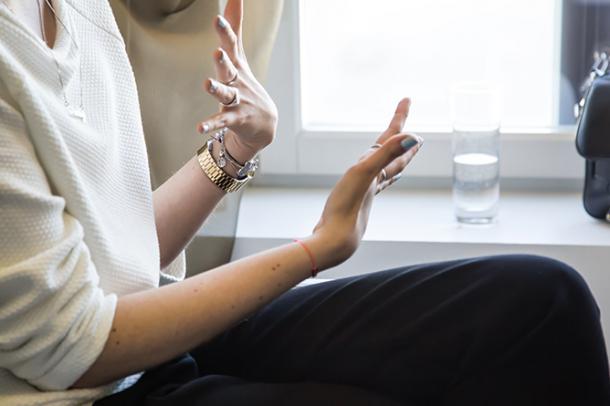 - How do survive the fashion week in February? For Russian bloguerov need to be photographed in the winter - one of the most difficult tests.
- Oh yeah, I had just discussed with Swedish girlfriend blougerov. You in fact, seems about the same climate? They manage to make such beautiful pictures! Of course, many people use the famous trick - take off his jacket, and then quickly photographed wearing it. But I would never have become a do! It's so bad for your health. I prefer layering.
And at the same moment I see girls with their bare feet. I do not understand them! But I admire bloggers from cold countries. It is really a difficult task!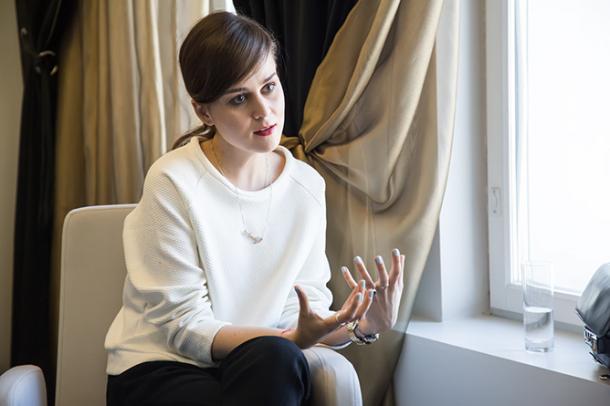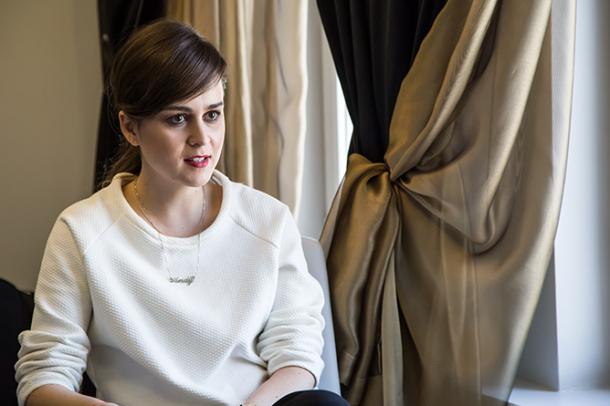 - And my last question. It may seem a little strange ... I noticed that the photographs in the blog you almost do not smile, but in life was such a sweet, positive girl. How so?
- You really think so ?! I constantly talk about it! I do not know, it just turns out! Maybe I do not want to look like a happy camper in new countries. But now I try to smile more often. You're not the first to make this observation, so there is reason to think!