ASOS, H & M, Mango, River Island, Topshop, Zara - usually these stores are first on the list inveterate fashionistas and shopaholics. And these brands are good that along with the exorbitant cost of producing things and outfits cost, which can be bought and worn now. Today - the results of exploration on the sites favorite brands and the best spring sets in 2014 at an affordable price!
1. ASOS
Silk summer set sailor - what you need for a holiday, travel and resorts. From the pleasant fashion bonuses - it is highly relevant truncated top and a large horizontal strip.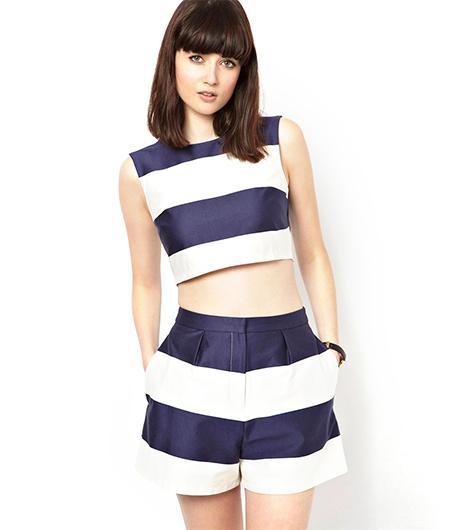 ASOS Shell Top ($ 47) and High Waisted Shorts ($ 60)
2. Ecote
Interested style boho-chic? Then this kit could be the first purchase of valuable this season. Actual Oriental patterns, again truncated top trendy and comfortable skirt below the knee length will look great in combination with colorful bag, Baubles, leather sandals and ethnic decorations.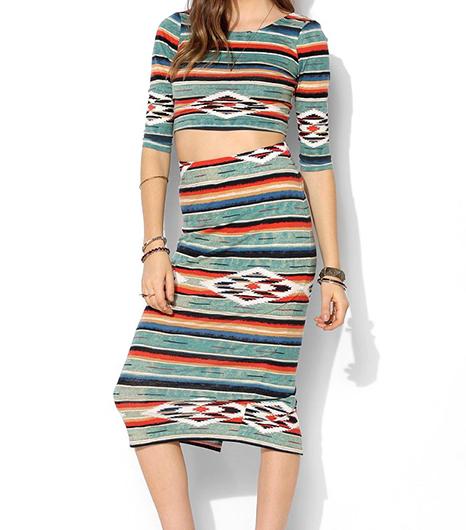 Ecote Lace-Up Fitted Top ($ 40) and Midi Skirt ($ 20)
3. French Connection
This spring, anywhere without a tender, sweet pastels. Light pink silk - the choice is extremely good! In addition to the trend of color and interesting material should also pay attention to tailoring. Shorter sleeves and casually rolled wide pants this spring look particularly impressive. A accessories can pick up as well as in this model - and contrast in one color.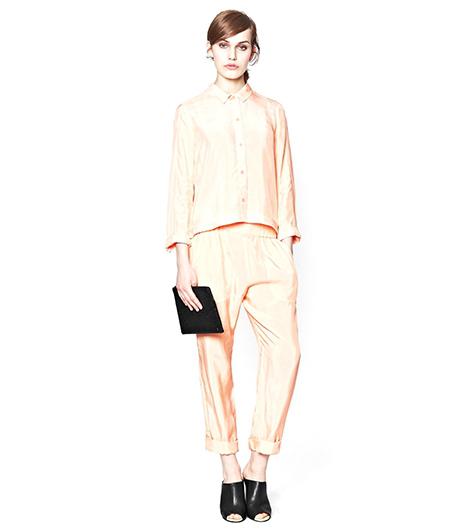 French Connection Melrose Ave Boxy Shirt ($ 98) and Trousers ($ 118)
4. H & M
Favorite brand of many again ahead of the rest with its current and stylish denim kit. Simple shortened top complements the large skirt with a high waist. And note - no superfluous details: embroidery, stones, bows and more. Beauty in simplicity.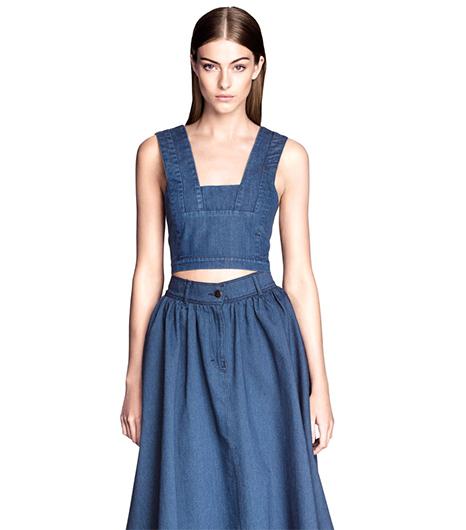 H & M Denim Bustier ($ 40) and Denim Skirt ($ 60)
5. Lovers and Friends
And once again light ethnic motives. At this time, in a convenient kit silk - large straight-cut t-shirt and short shorts.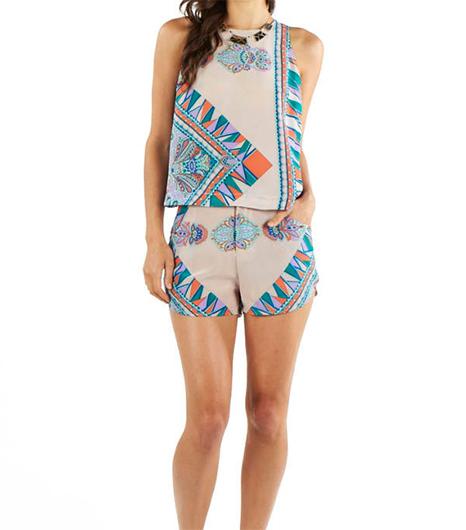 Lovers and Friends Hapiness Tank ($ 95) and Shorts ($ 114)
6. Mango
Graphics and variegated colors define the mood of the spring collection by Mango. Particular attention is flying skirt, which cleverly combined two contrasting fabric and successfully beaten the trend of the translucent boxes.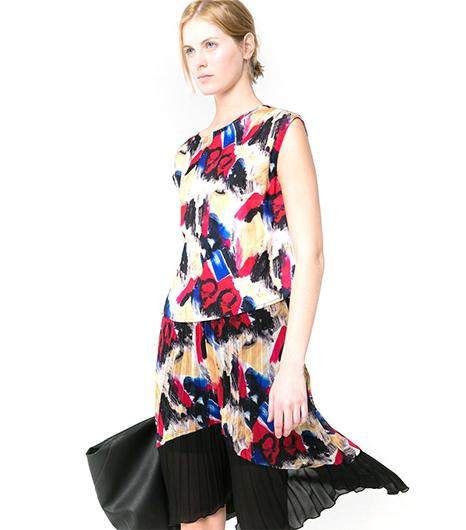 Mango Graffiti Print Top ($ 45) and Graffiti Print Skirt ($ 80)
7. River Island
Volume prints have become the new fun fashionistas this season. Especially popular 3D flowers and all kinds of oriental patterns. What comes out of it - see below.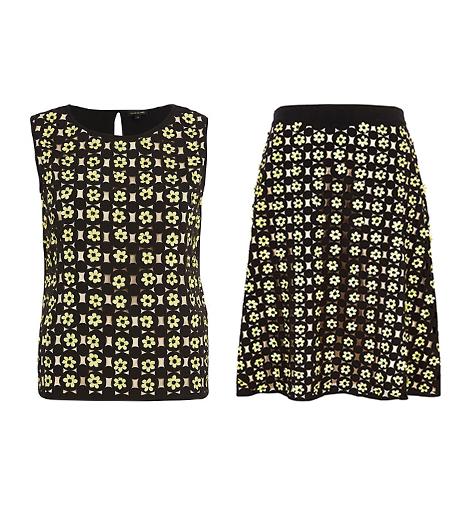 River Island Black 3D Flower Tank Top ($ 60) and Black 3D Flower Midi Skirt ($ 100)
8. Topshop
Famous brand this spring turned immediately to the three current trends: denim, stripes and pastels. It turned out very nice, and most importantly comfortable and practical.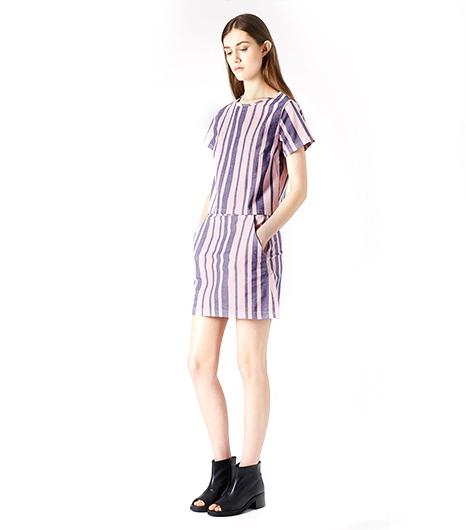 Topshop Moto Denim Stripe Dee ($ 60) and Moto Stripe Denim Skirt ($ 64)
9. Zara
In favor of simplicity and comfort made and Zara. At first glance, such a cozy light mint set is easily confused with pajamas, but on hot summer days it would probably be just awesome! And he will look very bright in combination with your summer tan.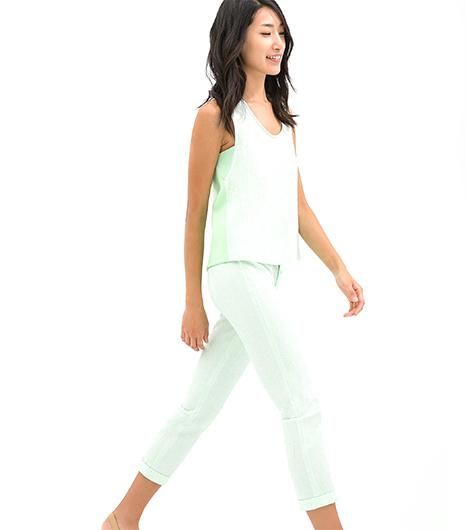 Zara Jacquard Top ($ 50) and Jacquard Trousers ($ 60)