Shopping - it is always interesting and always expensive. And if the first is the fact that the second is still possible to argue. Fashion Spring 2014 gave a lot of bright clothes and so want everything at once! And it is quite possible, if not chase for the brand, but the quality and appearance attire. Budget brands like Zara, Topshop, Stradivarius, River Island this spring, offer a variety of colorful and trendy outfits for every girl and every purse. Today - more than 20 fashion items of clothing costing up to 3 thousand rubles.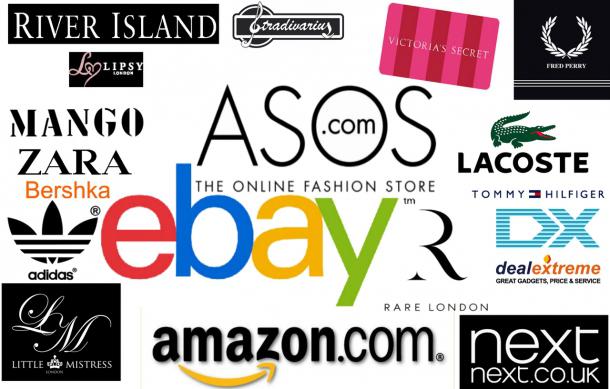 1. Fashionable dress from ZARA
The new collection first catches sight gentle dress in the best traditions of this spring: feminine silhouette and trendy pastel shade of pink. The second - a bright dress with topical graphic prints. Among the other advantages: effective combination of two contrasting colors and trendy wide neckline.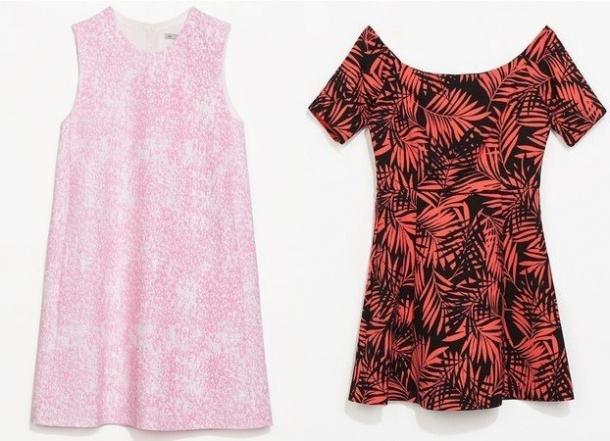 Both dresses - ZARA, 2999 rub.
2. Flower mood in the collection from Topshop
Fashionable floral print found a bright reflection in the spring collection 2014 fiscal known brand Topshop. A significant role here and take the fashion trend of the paintings of great artists: snow-white flowers on the skirt, incidentally, is also the current cut look as if they had just painted in watercolor.
More restrained gets his jacket from the same collection, mainly due to its modest colors and vintage silhouette. Particular attention - on a deliberately broad and spacious style length sleeves up to the elbow. Large pockets - a bright accent, you'll notice more than one item of clothing.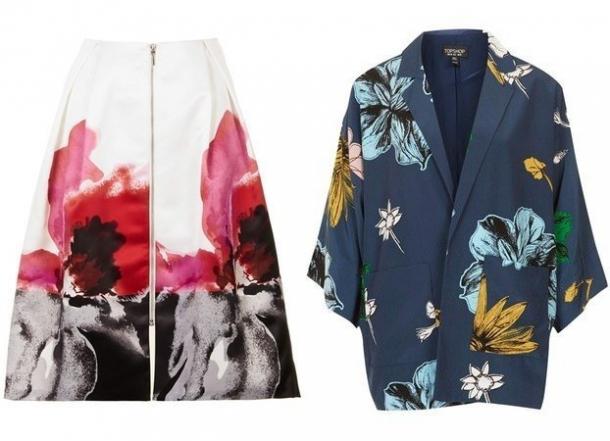 Both - TOPSHOP, 2999 rub.
3. Colorful accessories collection Topshop
But it is impossible to imagine a truly harmonious and complete image without related accessories. Bag is one of those essential items, without which neither work nor in a cafe or club. For evening events suitable metallic clutch with an intricate pattern of stones and lacquer model in trendy colors will become a universal companion for every day.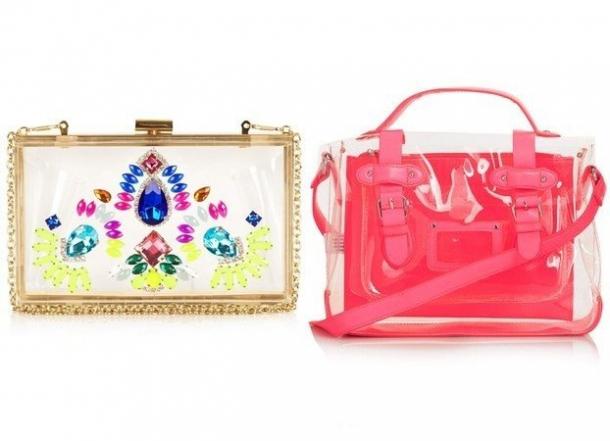 1. TOPSHOP, 2299 rub.
2. TOPSHOP, 2599 rub.
4. Oversize models from Stradivarius
Monochrome concise svitshoty - comfortable and stylish solution for all situations. In the spring-summer collection 2014 Stradivarius presents a very interesting model in a fashionable black and white combination, which I highly recommend to pay attention. Svitshot - is the best solution for every day, article of clothing, which is ideal for both skirts and pants to shorts, jeans and all-everything that exists in your wardrobe.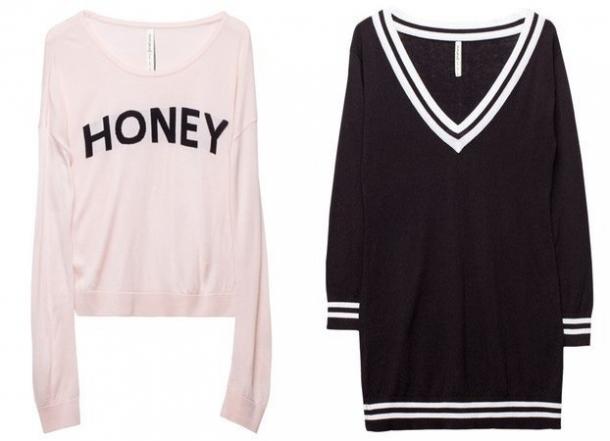 Both - STRADIVARIUS, 1299 rub.
5. River Island: leather and trendy monochrome combination
These two items of clothing - are in themselves a nice combination in the best traditions of this spring. And if the average length skirt classic style thing more or less universal, the leather top - an innovation of the season SS14. Many bloggers have called such a top must-have this season. Well skirt - a valuable acquisition for different styles and weather.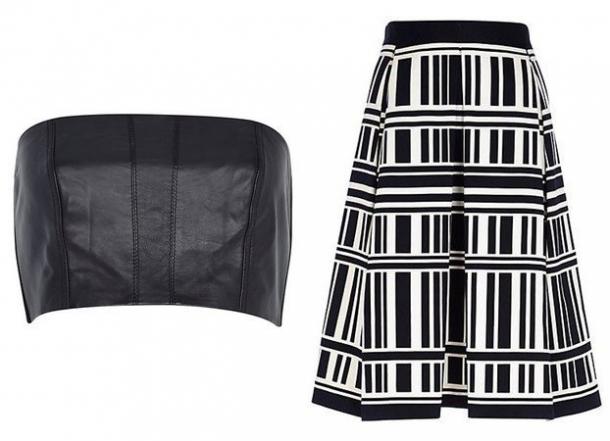 1. RIVER ISLAND, 1759 rub.
2. RIVER ISLAND, 1750 rub.
6. jeans and leather from RESERVED
So, with blouses more or less understood, now that you can pick up a couple of them. Good and fashionable options this season offers brand RESERVED. Not surprisingly, in their collection that keeps up with trends from the catwalks, quickly appeared 7/8 length jeans with vintage stripes late 20th century lacquer and leather shorts.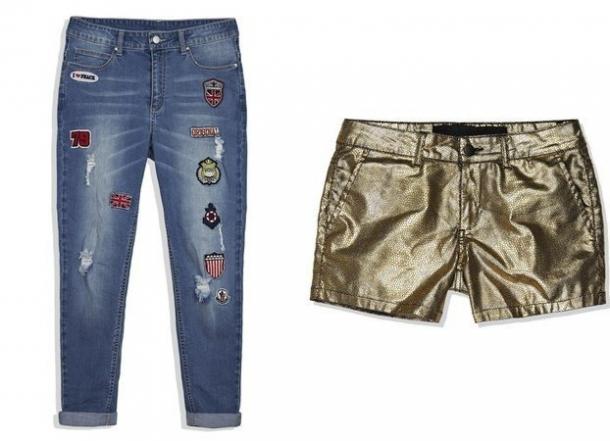 1. RESERVED, 1799 rub.
2. RESERVED, 999 rub.
7. Shorter tops and jackets
What would you too are not obsessed with the choice, the same RESERVED offers once fashionable addition to jeans and shorts from the top of the picture. And here because of the diversity deserve special attention these two models: a shorter top contrast with bright inscription (you remember logomanii this spring?) And so comfortable shorter jacket with short sleeves denim two colors.
1. RESERVED, 599 rub.
2. RESERVED, 2199 rub.
8. outerwear from Bershka
What a spring collection without outerwear! So how windy the weather is not going to leave us for at least another month, I recommend to look at the undoubted favorites of recent years - Leather jackets and sweatshirts convenient for all lovers of sports style.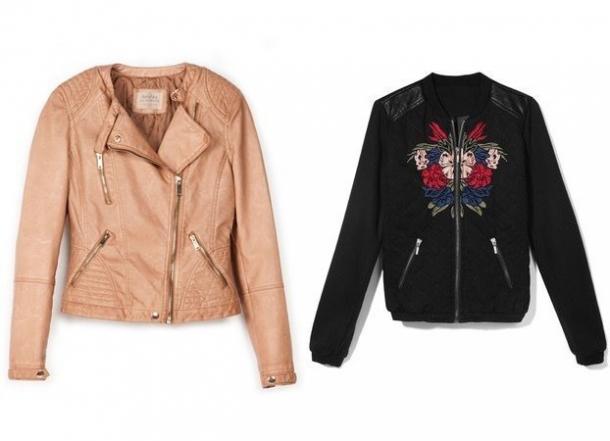 1. BERSHKA, 2399 rub.
2. RESERVED, 2199 rub.
9. Fashion handbags from NEXT
Accessories new collection NEXT 2014 - a couple of fresh fashion ideas in kopilochku ideal images of this spring.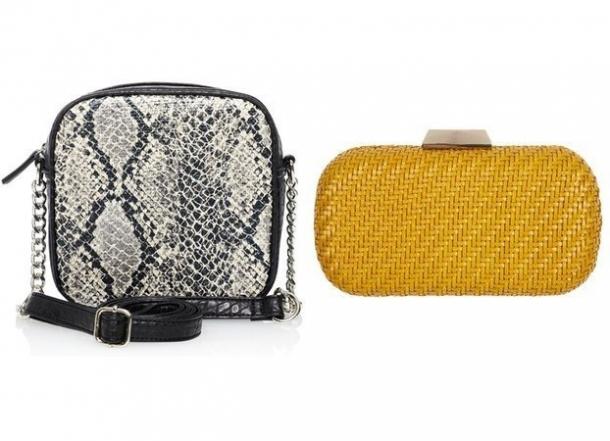 1. NEXT, 1020 rub.
2. NEXT, 1224 rub.
10. A variety of colors and shades in the collection MONKI
Anyone who is tired of monochrome and monolukov this spring, just be sure to look into the store MONKI with a collection spring-summer 2014. Funny floral prints and intricate geometric patterns - all for what to do this spring brighter and more colorful!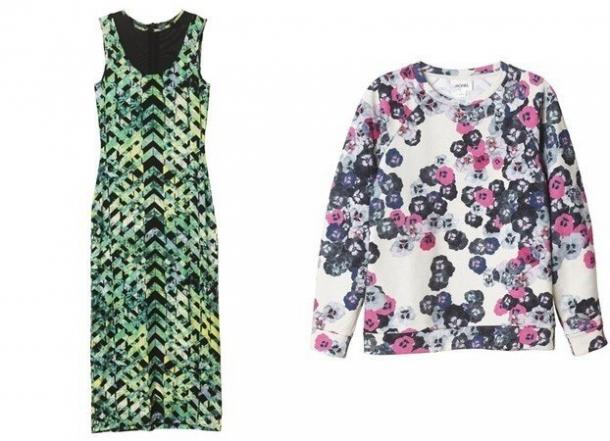 1. MONKI, 1799 rub.
2. MONKI, 1800 rub.
11. Light spring mood from Kira Plastinina
Famous Russian designer this year too pleased his fans a few things quite affordable. Of the most interesting - this fashionable at the same time and monochrome plaid shirt with the sleeves of medium length and bright, cheerful classic cut dress.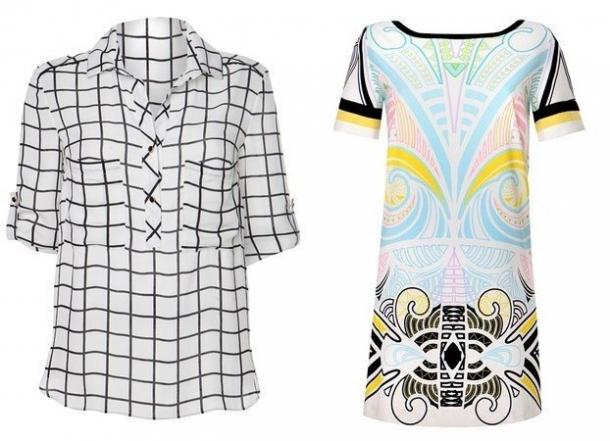 1. KIRA PLASTININA, 1799 rub.
2. KIRA PLASTININA, 2599 rub.
12. Fashionable skirt from H & M
Both - the model is extremely fashionable and stylish that in terms of colors, which in terms of styles. But the emphasis still deserves a second model with photos: it is in such small skirts made of soft material to clothe half of fashionable people this spring. Under become trendy pastel shade of pink, as an alternative - pale blue, beige or light lime.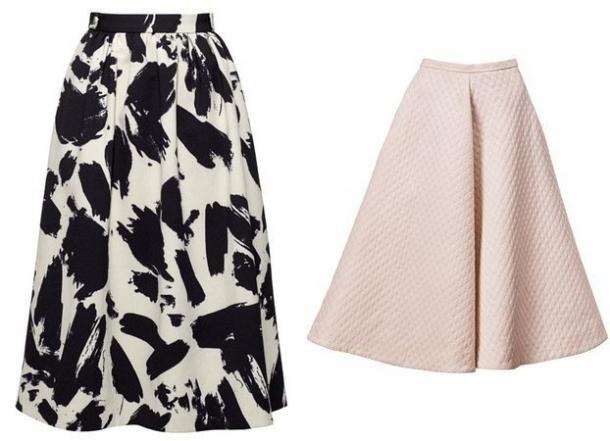 Both - H & M, 2499 rub.