All fashion websites and magazines just crammed images experienced bloggers, which we have almost memorized in the face. Yes, their bows are different brightness, professionalism, and a good mix of expensive brands of clothing. But at the same time, many of them are caught in their own style, the firm that they advertise, and their images are a little predictable and equally perfect.
But against the backdrop of such fashion giants lost completely new faces, bloggers who are just starting out and are little known to the masses. Acquainted?
1. Lena Tsoon, Ukraine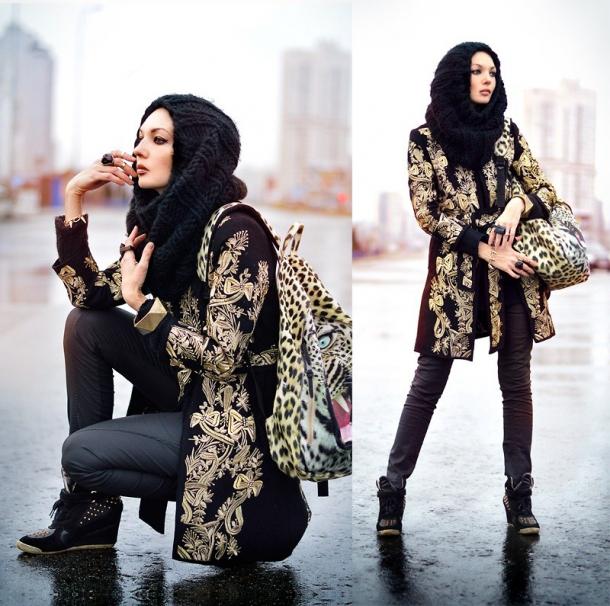 Choies Coat, Breaking Rocks Backpack, Chicwish Bracelet
Despite the fact that this girl does not have his fashion blog, and lukbuke can find only a few images, the popularity of its pages sometimes just rolls over. That only is gentle, patriotic image that a few days received more than 100 comments from fashion bloggers peace and long flaunted in the top of the best images!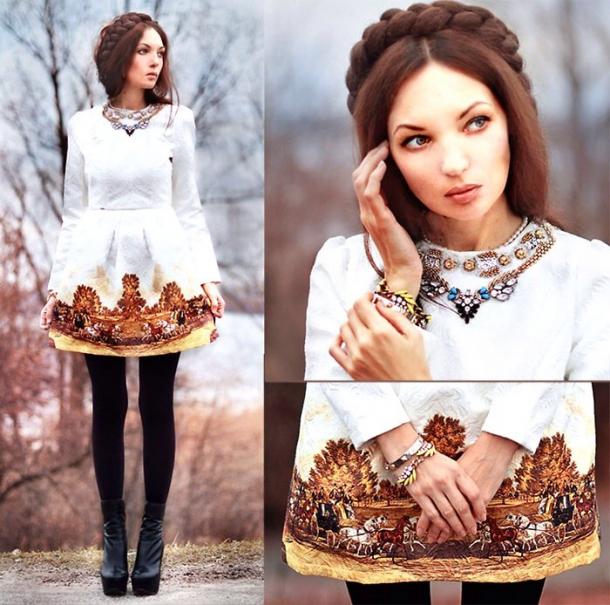 Chicwish Dress, Chicwish Necklace, Chicwish Bracelet
Felt that this girl has their own style, their understanding of fashion, but it is so valued in our anonymous and often cloned fashion world.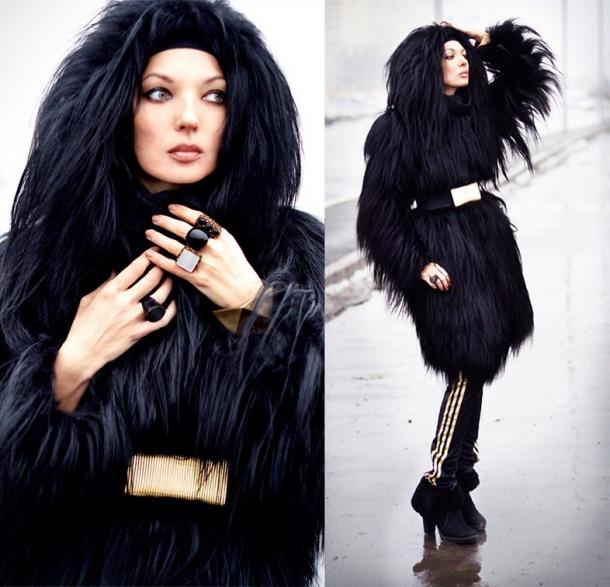 Mango Rings, Zara Belt, Adidas Pants
Plus, she successfully combines the clothes from known available to most makes and creates images that are suitable for our hiking conditions that you will agree, is important. It is one thing - smart images from some of Los Angeles, where everything is flaunted in short shorts, and another thing - bows, which are actively involved coats, jackets, hats, in general, all the things without which it is impossible to imagine our fashionistas in this weather. These images not only admire, memorize them, and then something out of this come to life.
Sheinside Coat, Sheinside Sweater, Persunmall Scarf, Chicwish Hat, Chicwish Backpack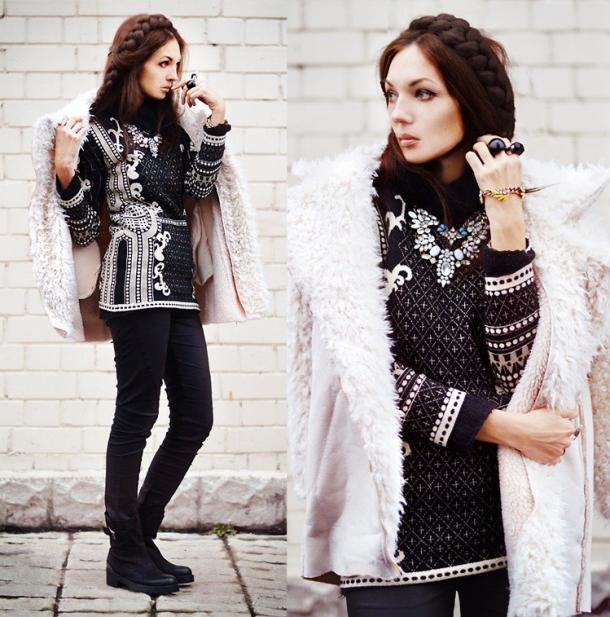 Choies Coat, Chicwish Sweater, Chicwish Necklace, Chicwish Necklace, Chicwish Bracelet, Choies Boots
2. Erica, USA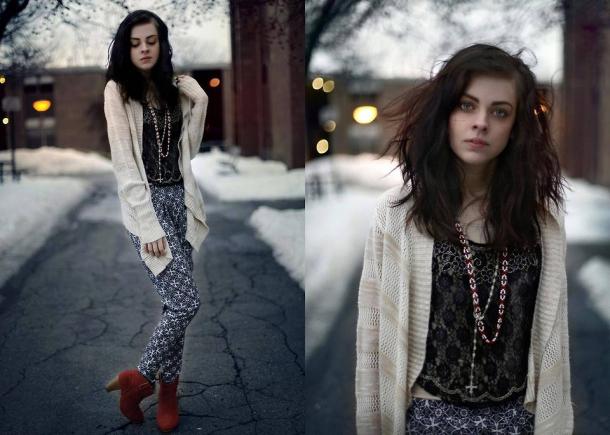 Wet Seal Beaded Top, Wet Seal Printed Pants
Terribly unfair that a girl with such a characteristic, slightly magical appearance and excellent sense of style in all three images on lukbuke, and no hint of other sites. Eric appeared in the ranks of fashion bloggers just about a month ago, so I want to believe that there will be more weight vivid images from Michigan. And while I occasionally watch her page and wait for the new spring images.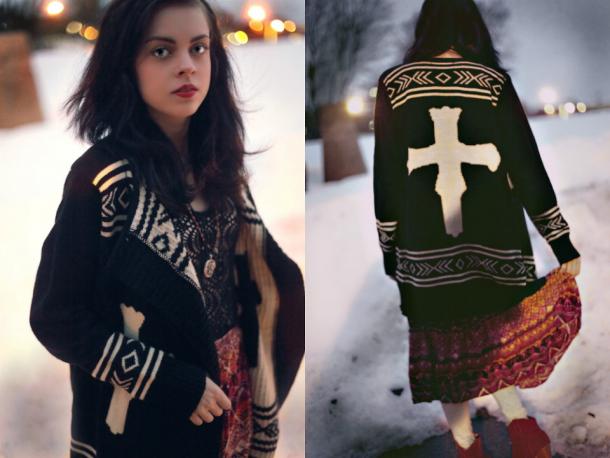 All images are obtained Erica some melancholic, slightly mysterious and multifaceted. They want to review and consider. Especially for me, touches some unearthly gaze girl and her outfits in the variegation. And of course it is impossible not to notice interesting retro items that appear in each photograph.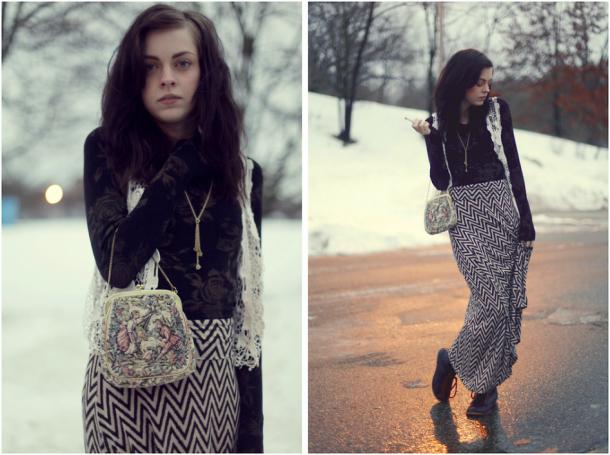 3. Jolie L, Sweden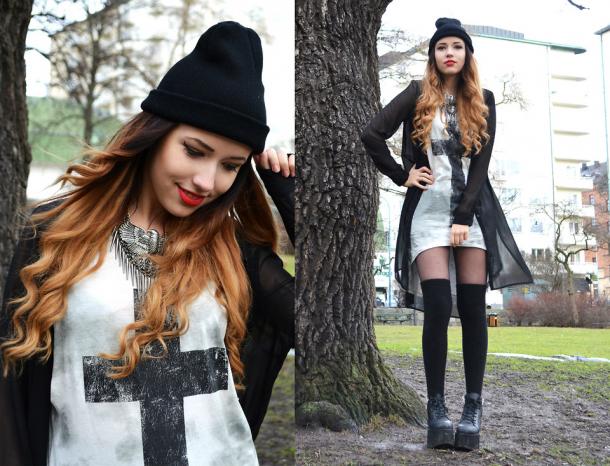 Second Hand Transparent Shirt, Cross Tunic, Thigh High Stockings, Platforms
Although this fashionista began her fashion career about six months ago, she was still taking its first steps in the development of his fashion blog and is in search of the eternal. For all the time she showed the world just a little more than 20 images, not all of which were successful. But from the beginning of this year, Jolie decided to seriously undertake the conquest of the fashion blogosphere, and finally became the delight of fans of his work a few more high-quality and well thought-out bows.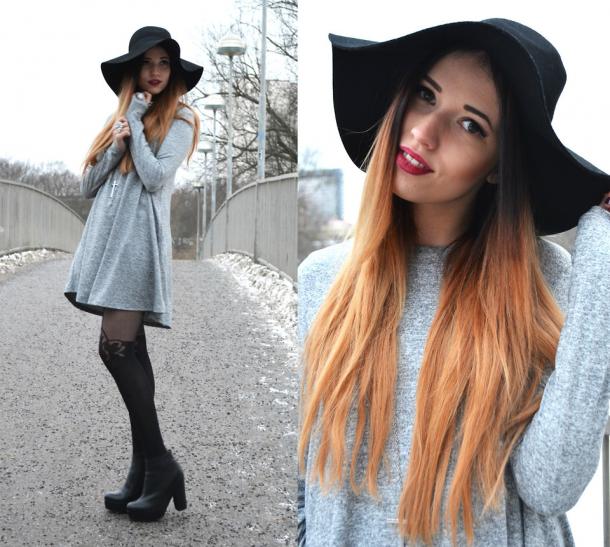 H & M Hat, Skater Dress, Heels
Her new images - this is more or less completed experiments, most successful combinations of clothes from budget brands of vintage elements and details of the second hand.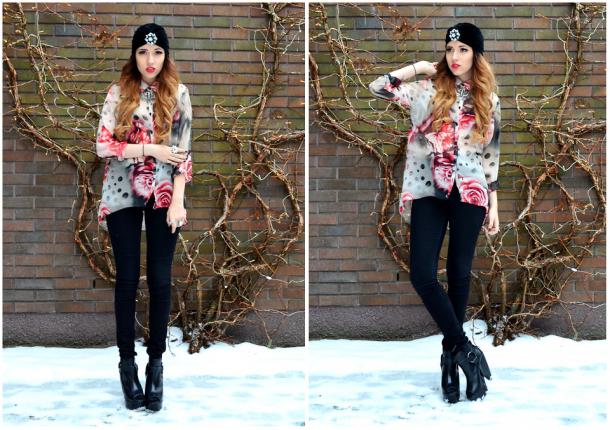 Velvet Turban, Transparent Shirt, Topshop Platform Heels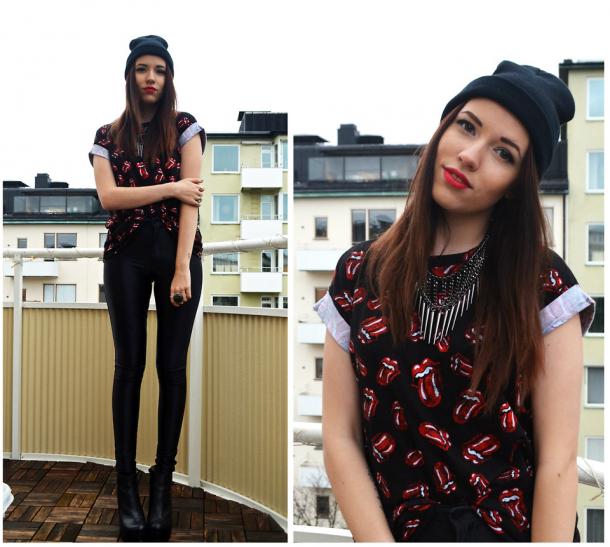 Beanie, Rolling Stones Tee, American Apparel Disco Pants, Heels
4. Aitana Persephone, Spain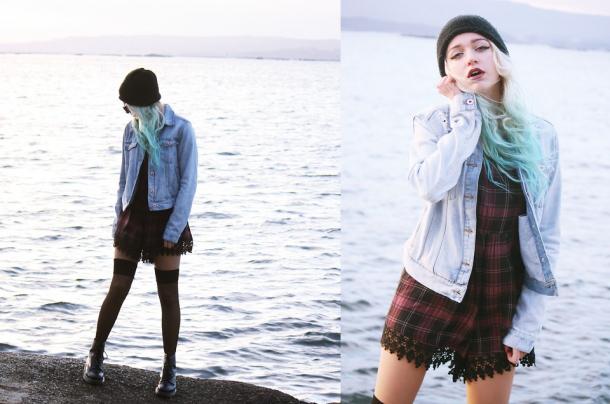 This girl is just a few days ago showed the world his fashion images, and has already found a lot of fans and admirers. Slightly buntovskoy casual style Aita - the dream of many fashionable teenagers Plus, catch these gorgeous blond hair and blue.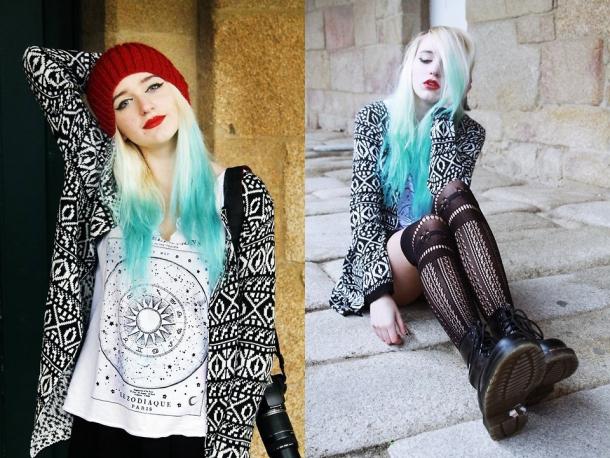 In my view, not to say that however much the original style of the girl from Spain still deserves your attention: after such universal combinations - this is what you can safely wear in everyday life (like teenage lovers audacity, of course, not serious women who prefer classic outfits). So if you do not have more than 20-25, you like to stand out, like to experiment and bright look - these images are, in theory, should you enjoy.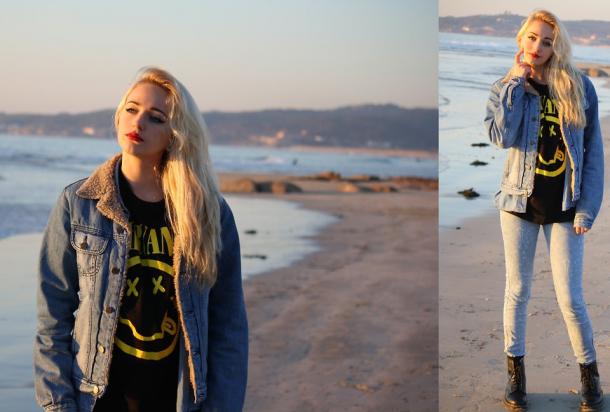 Dr. Martens Dr.Martens, Pull & Bear T Shirt, Zara Jeans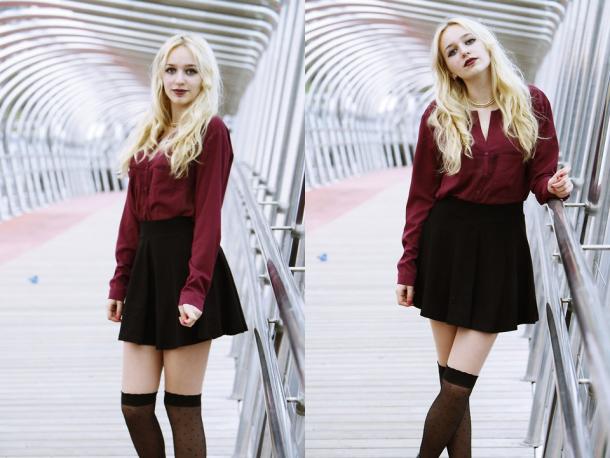 H & M Skirt, Hosiery, H & M Necklace
5. Kim Ahrens, Germany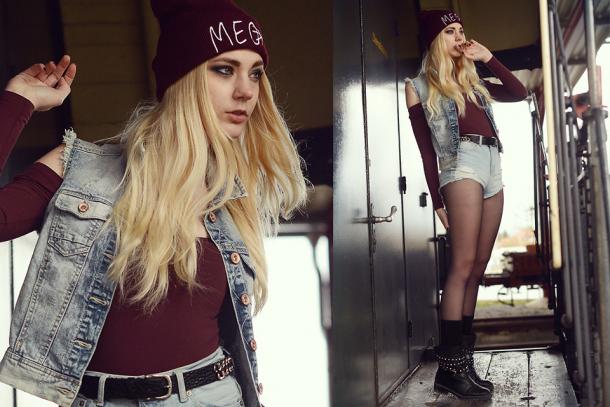 Beanie (Gossengold), Vest (Bershka), Body (American Apparel)
Creativity of the girl remains a mystery to me. Each bow is obtained from Kim stylish, trendy, eye sight, causing a lot of comments and likes. Plus, there's a good girl own blog kiamisu.de, where she not only shares his images, but also talks about the make-up and his career as a photo model.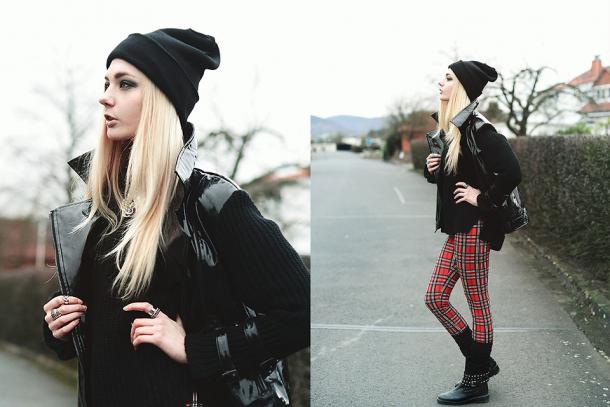 Beanie (Gossengold), Jacket (Romwe), Bershka Leggings (Bershka), Boots (Zara)
And all at the same time, she slowly moves forward. From this year, again, she began to show their images more often than in the previous few years, but as a result of bows, Kim just over 20. I'd like to believe that she finally seriously undertake the conquest of the fashion blogosphere and beaten out tops in fashion sites . After all, she has it all odds.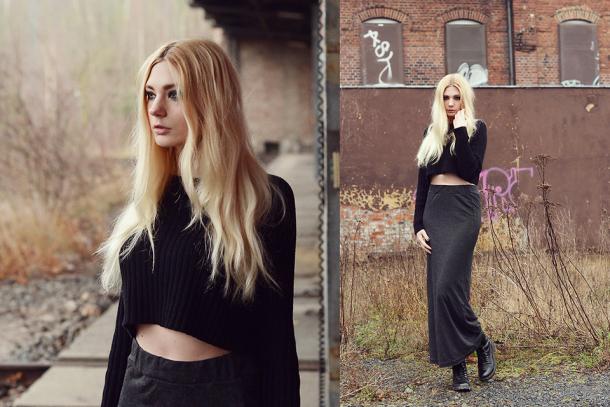 Cropped Top (Monki), Long Skirt (H & M)