Author: @ LEXX19
City: Chernogorsk
hence
12 photos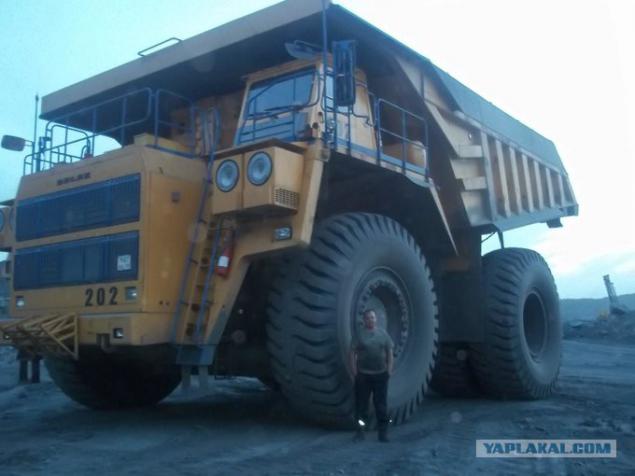 Features
Year: 2012
Body type: Truck
Drive: Rear
Body: Truck
Engine: Diesel, Cummins, power is very large
Fuel consumption: very large
Term Ownership: 1 month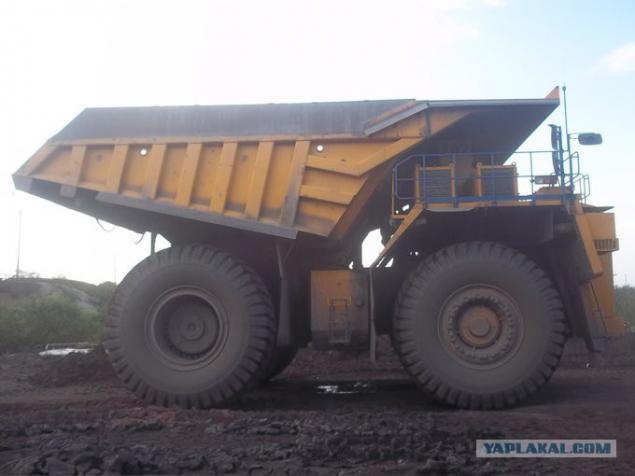 A big hello to all!
That's decided to write another review. The first one was about my Cars NISSAN SUNNY, but this review is about my workhorse that feeds me.
A little history ... In BELAZ dump trucks brands I work since 1991. He started on the 40-tonner, then 55-ki, then 7 years working on a 130-ton crane, and now had a chance to work on the 220-tonner as the swing, so I will compare it with the 130-Coy.
So, get acquainted! It's a miracle called BELAZ 75306 2012, in .. car going in Belarus, though Belarusian was not all. Many components and assemblies in its Russian, imported and it is not clear whose origin.
Diesel engine 16-cylinder brand «Cummins». He turns the traction generator, which stands behind it (usually made in Tatarstan and Novosibirsk), the traction current from the generator is supplied to electric traction. engines. These two are the left and right. They, in turn, through a reduction gear rotates the rear wheels. Well, that is about the principle of operation.
Stroke back and forth conventional toggle switches, which has 3 positions: forward-neutral-to-back. Everything is very simple. We must drive forward, flicked the switch on the position "forward", took off the parking brake, press the gas pedal and the car, waiting for about a second, she starts to go. There is no diversion (to something like a CVT box). Leave can anyone, even a child.
Stop as this "colossus" a little harder. For this there are two braking systems, ie, two brake pedals. However it is "dynamic" ie electric braking is performed (her all the time and you use), and only when the speed drops to a bare minimum, you press the brake pedal to the other - the hydraulic brake, like all conventional cars. There is also a parking brake, a conventional handbrake. By the way, at each wheel of the "monster" is on the slide 4, respectively 8 pads. The same principle of control and a 130-year-tonner, but everything is smaller in size and cost of a support 2 on each wheel.
Now a little about the equipment cabin. The cabin is quite spacious, has a passenger seat (for trainees), it's true, "oak", but the driver's seat that -pnevmaticheskoe hovercraft, allowing the spine during operation (change of 12 hours) did not sleep in the pants. There is also a very effective heater (oven), air conditioning, in the heat of a must.
The instrument panel of the "optitron" has 2 position lighting "day" and "night", which is very convenient. Another cabin is equipped with a radio, two rear-view camera and a computer system "career", which reflects the time, speed, amount of fuel in the tank, the number of flights made, tonnage and any other crap. Almost exactly the same cabin and 130-year-tonner. There is a regular place to install the speakers and mayfunya, but they do not go to the factory, set themselves.
Now to work.
To work on it, in my opinion, easier than the 130-kyo. Less fuss, all steadily and slowly. In the 130-year-tonne crane also fly on airplanes, so there is always tense.
But there are peculiarities. If the 130-year-tonner in the mud or ice has somehow managed, the 220-tick - it's like a cow on ice. It is very difficult to praise him when skidding, especially on slopes. Given that the body you carry 220 tons, and sometimes 250 tons of cargo, a point is "playing" and winces, so that seems to not get through a needle. But the thing - a habit, because a person gets used to everything.
At the moment we have a fleet of 4 "monster", but said that will come another 6 pieces. So, we will continue to work until retirement is still far.
And lastly, some specifications:
 - Maximum speed of 36 km / h;
The mass of the empty truck 156 tons;
-Full Weight - 376 tons;
Incapacity of the body (without stripes) 105 cubic meters;
-Fuel Tank of 2900 liters DT .;
-The System of cooling (antifreeze) 720 liters;
-Gidrosistema 790 liters of oil;
-The System lubrication 290 liters of oil;
-So-Through 250-300 hours (approximately 1 week).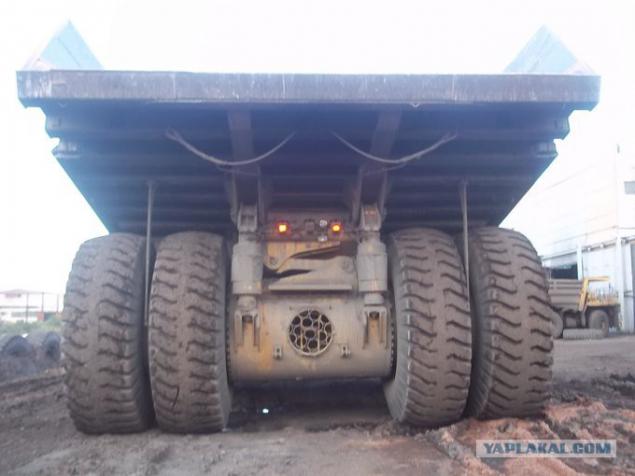 Again, hello !!!
I decided to review a little supplement. I say at once, many of you who read this supplement will think this is a joke, a joke, someone will smile, and someone wagged his finger to his temple ...
So, stay stronger for a chair and read.
Our coal mine is part of the company, which in turn is part of the top 5 largest coal mining in Russia. And like all profitable enterprises, the main office, of course, is in Moscow.
So, about a month ago from Moscow 3-4 to us comes from the leaders of the directive to drivers recruited a group of 130-ton BelAZ from ... WOMEN !!!
When we dress told the chief about it, we thought that he was kidding or hit his head. But when one of the local newspapers and on local television ticker, my wife and I saw this ad for a job female driver BelAZ, we put it mildly, were shocked. My wife, knowing the severity and characteristics of my work and said, "What fools in Fig you to go ?! They ofigeli chtoli that? !! "Frankly, I thought so then, too.
In announcing the reception it was written like this: & quot; Gaining a competitive basis to women under 30 years with license category "B" !!! But with a good driving experience, training in the category "C" on the house. During study stipend 17 tr, then listed all the benefits they will enjoy, and in the end, as usual, promised "golden mountains".
And the women who want to invent-it turned out very much. Familiar, from the personnel department said that the reception was over, and they all come and go.
These are the "severe" we women live. Chelyabinsk "tough guys" against them just relax.
What will happen next, we wait and see. Many still on probation, and some have already otstazhirovalis themselves started working. On how many of them will be enough, I do not know.
It is rumored that they have to work on BelAZ not less than 5 years to work out all the attachments on their head (open category "C", study at BelAZ in the Criminal Procedure Code, a scholarship, etc.)
As I understand, they will only steer. Repairing and repair will be some "mobile brigade».
Well, as they say time will tell.
This is all.
Good luck to all!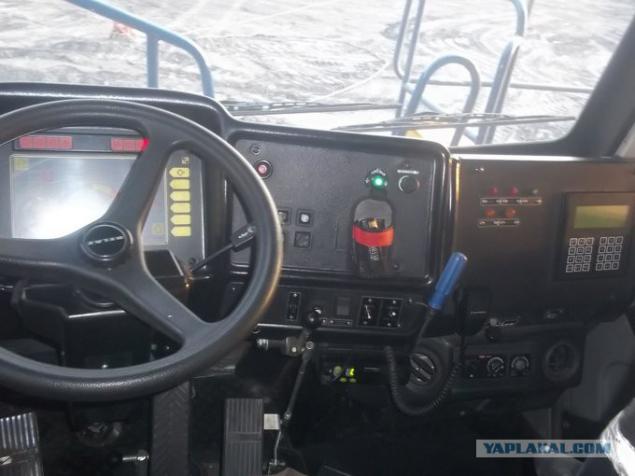 005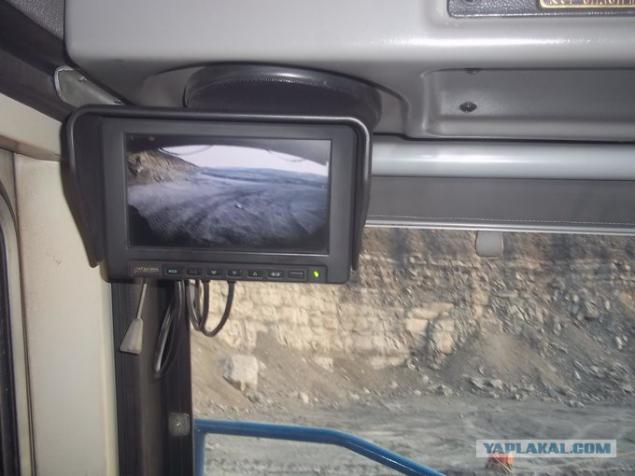 006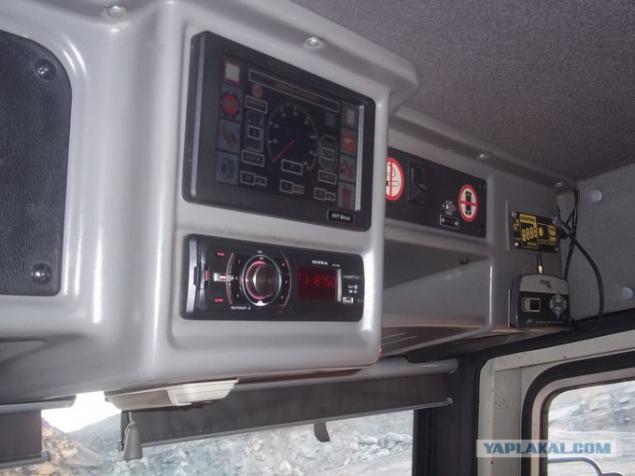 007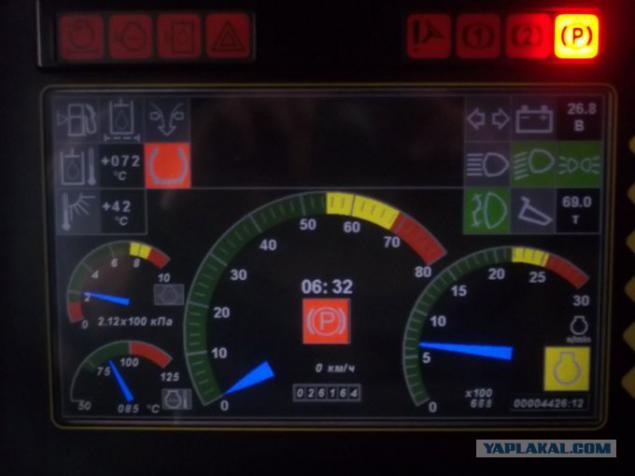 008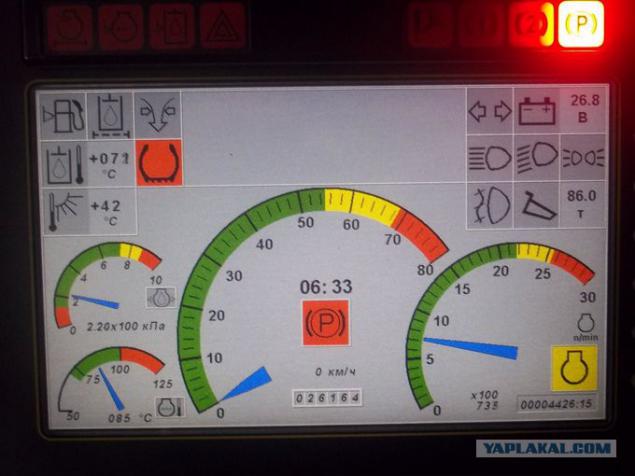 009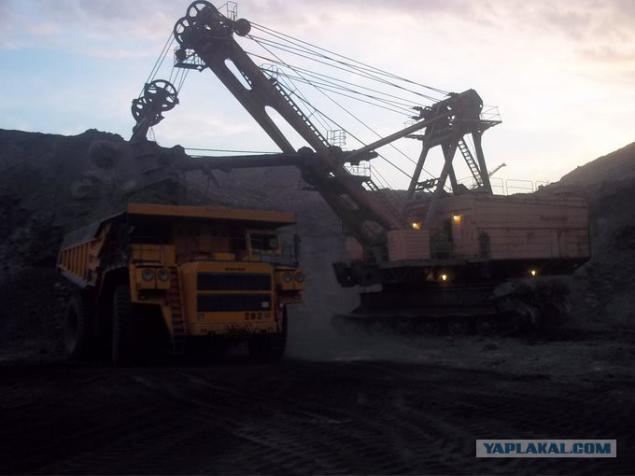 10 Edit and add more disk imaging with komentov.
komentov of text:
T_O_N_Y:
spare tire had a chance to change? )))
@ LEXX19: Yes, and not once had.
If you change the rear inner Gemara is the largest, on-time 5-6 hours or longer, how it goes.
Very hard to beat clamping wedges, and they are there on my 14.
Balonnik weighs 10 kilograms and of montazhki much.
And without avtopagruzchika nowhere wheel weighs 5 tons.
In general, you dropped a wheel change, then you go home from work without arms, without legs.
PuTsiK:
-Otvertka Most essential tool in the avte ???))))))))
-The Great tool is the key to 85.
-And If you change the wheel where the jack to take the 300-ton?
Author: -What jack! are you kidding?
There is a special tagach based on 130-year-tonner, he barely raises like that in front of tollko,
and if necessary the ass, then put the body under a special stand, then lift the body and otzhimaeshsya from it,
then under the "Rear Axle" enclose a different stand on it, and "hanging" machine,
again without the truck anywhere.
Okay, chertyaka! This volume of the fuel tank pleases, can be pinned to a gas station to call in and say, "to complete!» :)
Monster and 5 review !!!
Author:
-Always Refueled to complete, missing a day of work. Refuel with refueling directly in the quarry.
Dmitry Filippov:
-Dzhipy Schemyat not on the road? respect)?
Author:
-The Jeep on a career only directors rides, and even his deputies, but they do not respect us, we have to "Basota."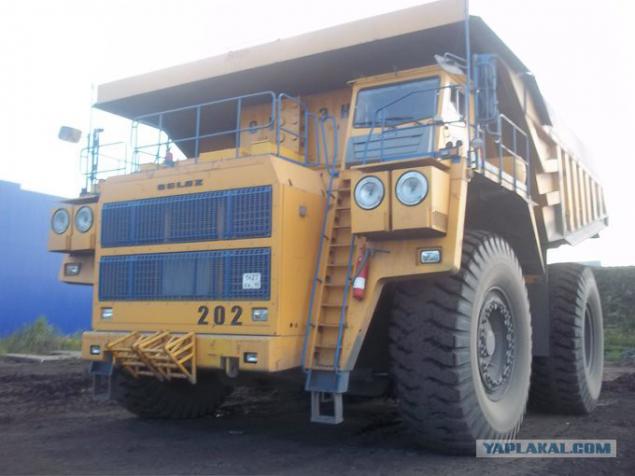 Well, two photos of
Pavel Nikolayevich to post them in the comments
my mark with 130tnikom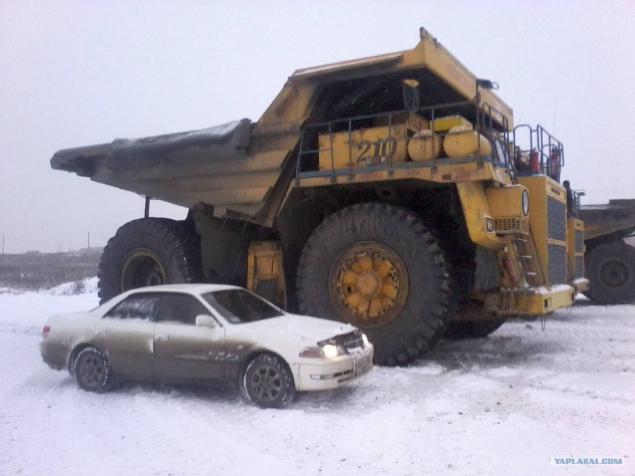 Source: