Hi! My name is Irina, I am 32 years old, I am a mother of two sons. I live "somewhere in the wilds outside Moscow," there and working. Small-scale traffic to gazelki, I love his work and his car. Today, quite a show one typical day. The action takes place February 27, 2013 in Noginsk, Pavlovsky Posad and Balashikha. Temporarily, I live with the children from his mother, because it's more convenient to work and study (less to drive a car and to wind the extra kilometers).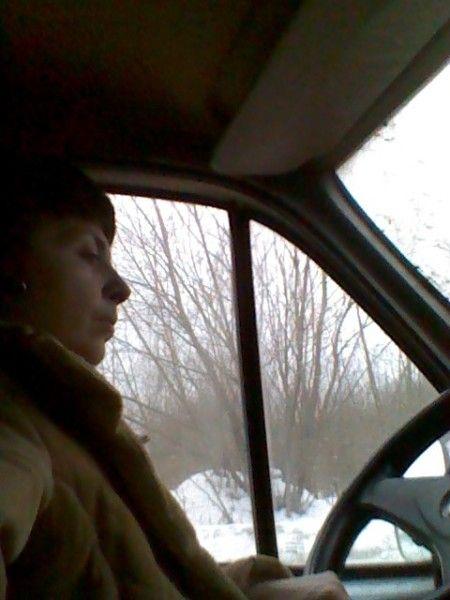 1. I wake up because the kids wake up and begin to bother me, so I fed them breakfast. I'm a typical mother-viper love to luxuriate in bed. But when I jump screaming with demanding two carcasses (12 and 23 kg), nothing can be done - you have to trudge to the kitchen.
This is my morning. As a free man, and work for yourself, can not afford not to jump early in the morning!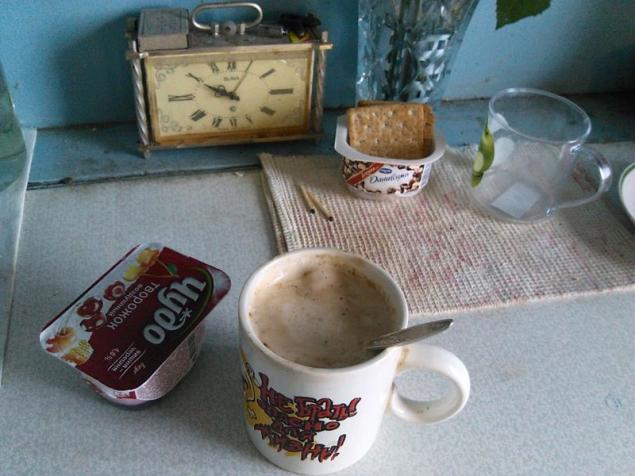 2. And here is the guys tightened. While I cook porridge, they are building a "City of the Future." Senior - Stregusenchik, Jr. - Masyunka. This is not my desire posyusyukat with silly nicknames, it's theirs, so to speak, self-))) Senior - Dmitry, Jr. - Yury.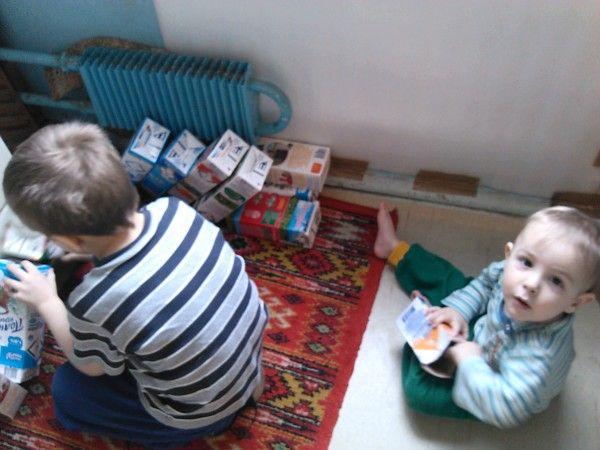 3. Masyunchik took his place and is ready to determine the purpose of a plate of porridge. Stregusenchik had already "shot out" and even wash your spoon while I was cooking porridge - could not escape in the photo ...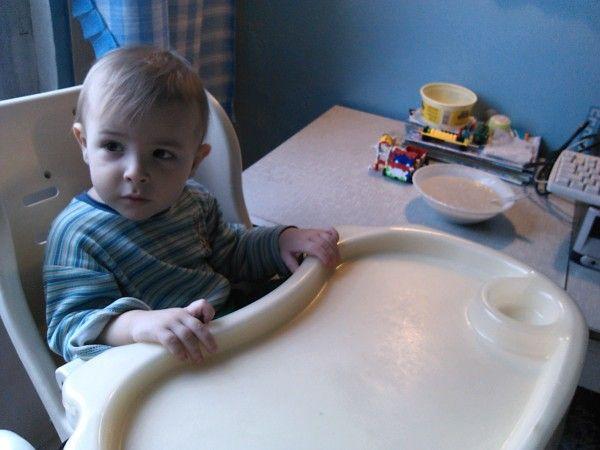 4. It is the same as the Gazelle mom, only the red seats and more! And the floor in our kitchen however, crediting? The apartment is my mother and she does not allow to make repairs, "because it is like a fire and two floods, no heart can not stand, I will die here and do what you want»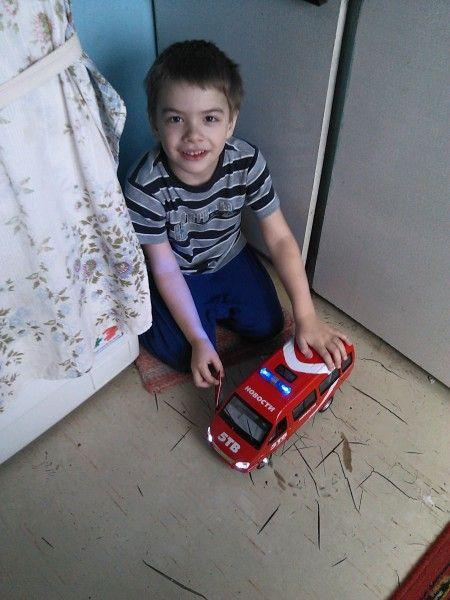 5. While the boys play with each other, I have an hour and a half workout ne_lyubimoy work ... I will tell you a secret - before you go traffic, I worked for almost ten years freelancing in the printing industry. Editors, designers, layout ... Oh, how I do up-to-e-lo - there are no words. But still I do not throw the old favorite of customers, although it is possible to say - work in inertia ...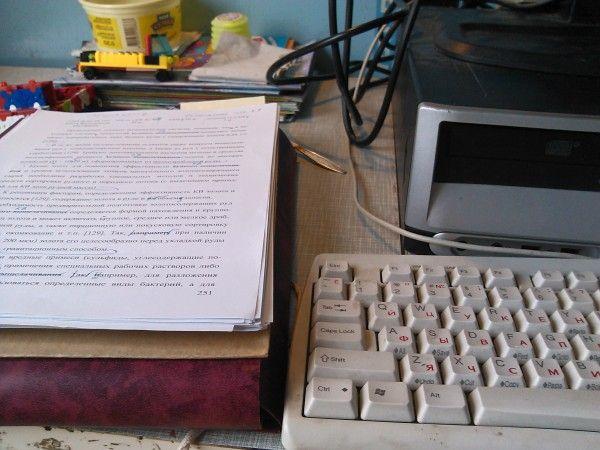 6. It was my mother, and now she is a half-day with the guys, and I go about his business.
I am looking for some car. The engine is warmed up, switch from petrol to gas.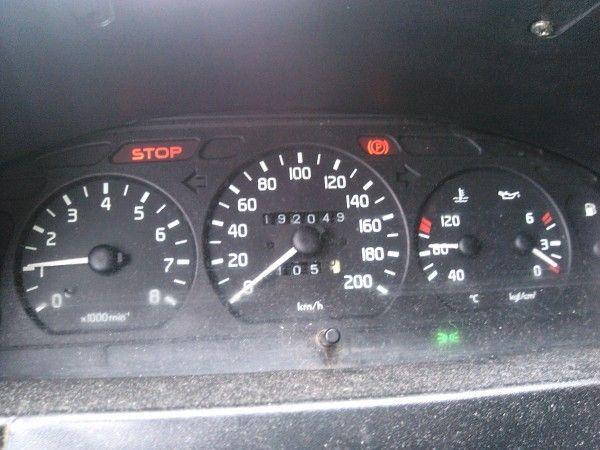 7. - The navigator, devices!
 - 220!
 - What is "220» ???
 - What "Appliances» ???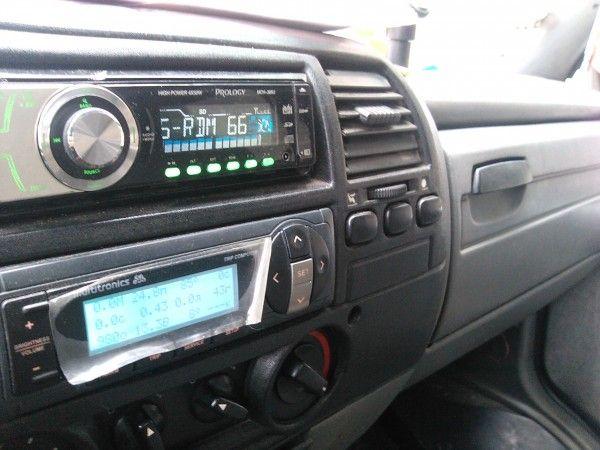 8. I'm not sad, just thinking! And I look down at the phone. And basically do not smile in the photo, because I was the eldest son said that my front teeth like a truck Meter from the cartoon "Cars».
9. I arrived in Pavlovsky Posad in the training complex vehicles. I am a bus driver, I have to open a category "D". Outside, the cabin - some gloomy darkness. Spring where are you ?!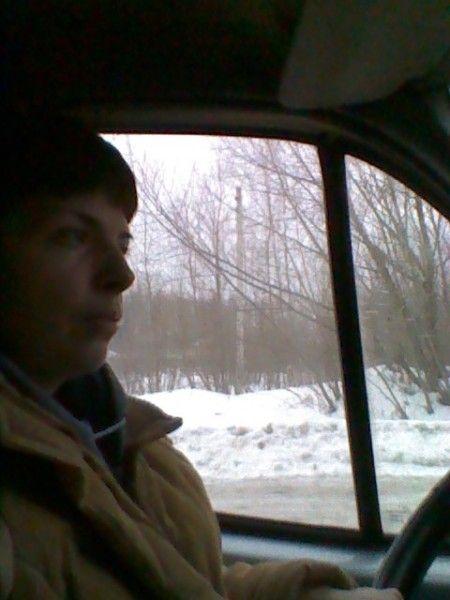 10. It appears, in my car since New Year's tinsel hanging, about which I have happily forgotten. Back in the cabin hanging Grandfather Frost))) In the winter I worked in / h, drove fighters on its small capacity bus. Like, I was in the car Christmas mood.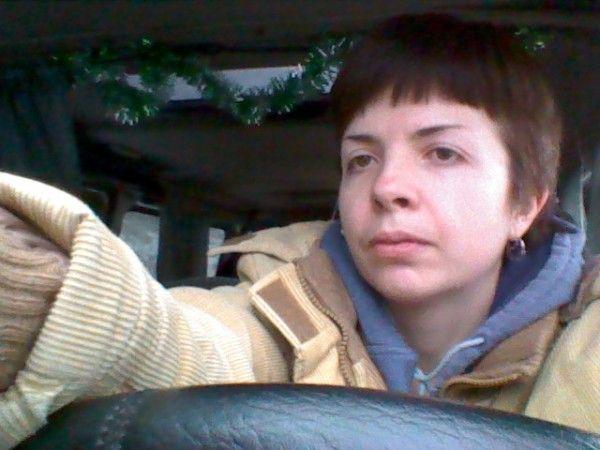 11. I arrived a little before the appointed time, you can dine. Because then everything spun in a fairly rapid pace, will not be able to call in on the way somewhere to eat. As they say, the figure vdarit bun! (How would my 49 kilos not zashiblo death of the bun!)
12. As long remembered - should be a high-voltage wire of the coil to change, and sometimes works with the engine failures. Done. Lower right (clean), it turns out, was broken.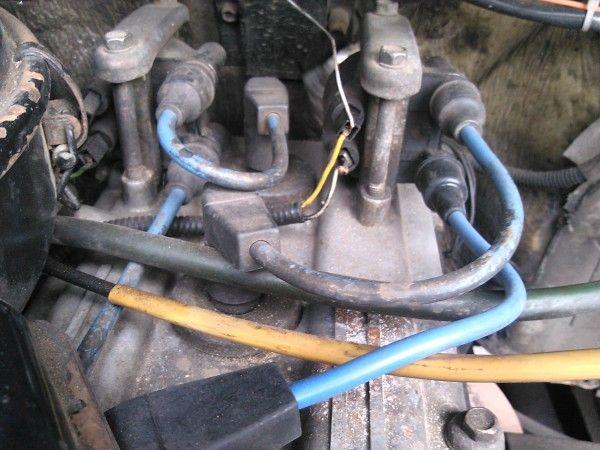 13. At the same time, and check the transmission oil level. Ooh, again "gone" Power ... "snotty". Hold on, my dear, will soon get a money and go to the service "to be treated».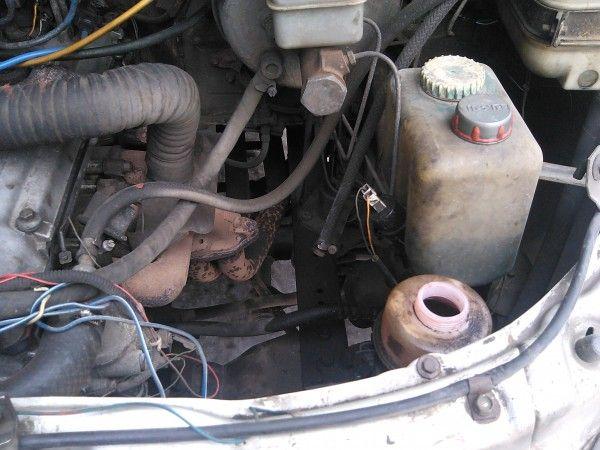 14. Here it is, my camper.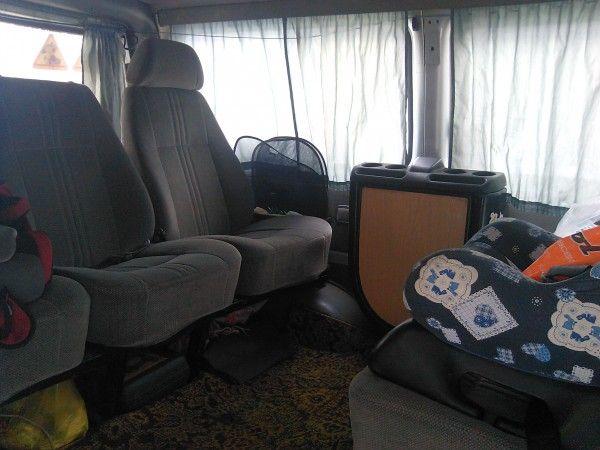 15. Oh, the sun is reflected in the mirror!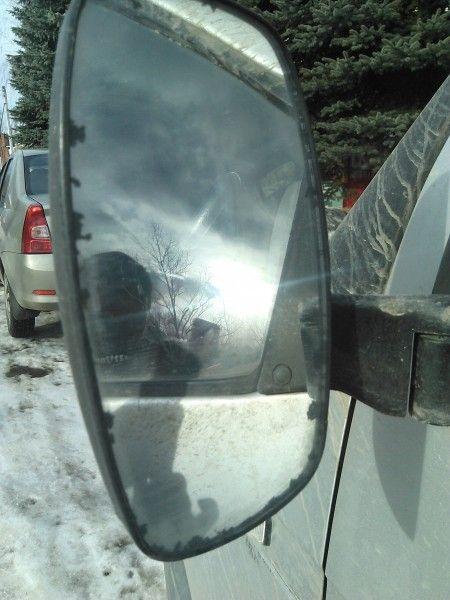 16. I close the car, going to the landfill. Vaughan, he is white and greens with two shaped as letters "U". Bus, I am told, called Ferdinand.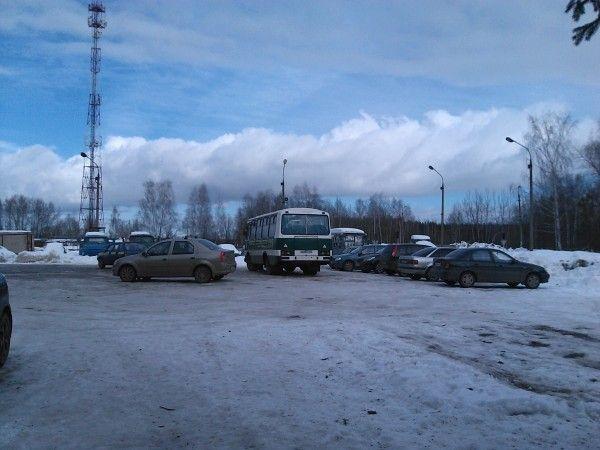 17. And so it looks like the front, Lasik-basin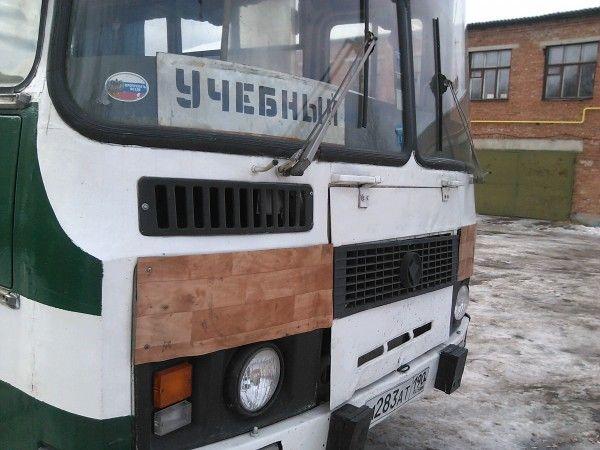 18. It is evident that this unit is an experienced ...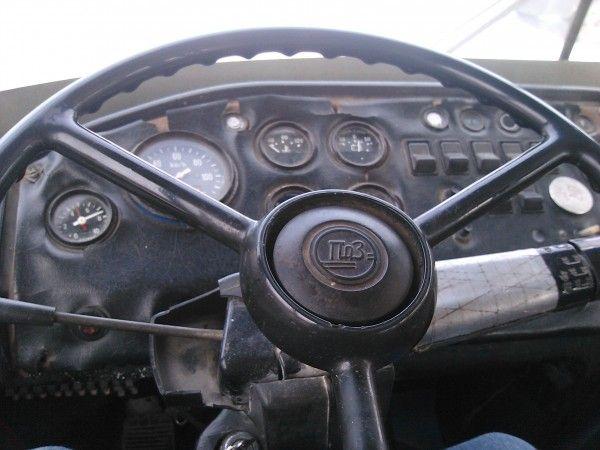 19. Here I am in the driver's seat. Highly I sit, far I look! Well, let's go, says the instructor. Yeh, keep, Pavlovsky Posad !!! Receding, pedestrians, remove crookedly parked cars !!! Just kidding. Pedestrians are missing, the machine go round. People look at me square eyes. I gazelki for something a bit small growth, let alone on the bus, and I did not see))) Not all and not always successful, but I try. It seems to be 13 years behind the wheel. On gazelki rolled almost at 700-1000 km per week. But the bus - it's a completely different layout, it quickly you get used ... As Master says, if we will manage to drive keyway, then at least the "Sprinter", though "Neoplan", let alone the gazelle and say nothing!
20. What is my baby looks gazelki after the bus! As if I sit in cars. And when, after pervosti Lada started to ride it, seemed to me immense!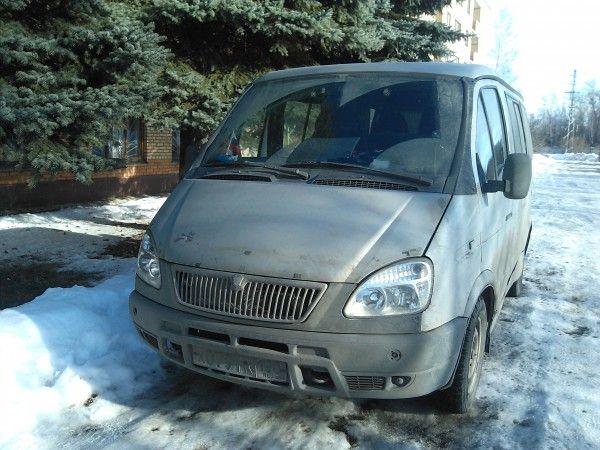 21. I was already waiting for customers and my precious cargo. Chase! I work almost in the mode of a taxi - it is necessary to have time of P.Posada in Balashikha, boot razvezti goods in several points, the most recent of which are closed at 20-00. That jam had time to click ... here it is our perpetual "a movie about the way»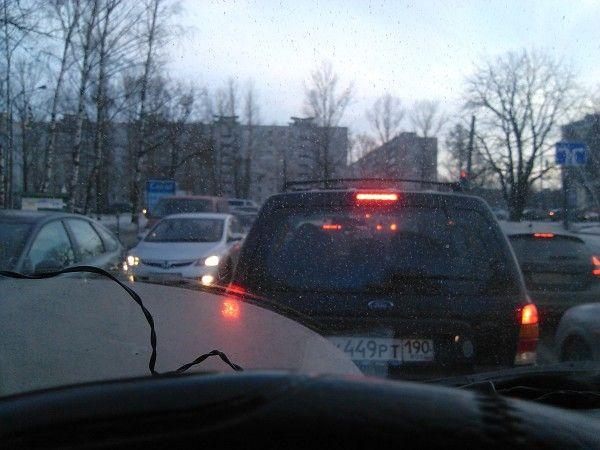 22. Time is close to nine in the evening. All goods shipped, delivered. Driving home. You can breathe, as they say. On the way home I stop for a secret gas refueling. It should be the same, a few days ago to refuel, and a 130-liter bottle is gone. More than 600 km in 4 days.
I am waiting for their turn.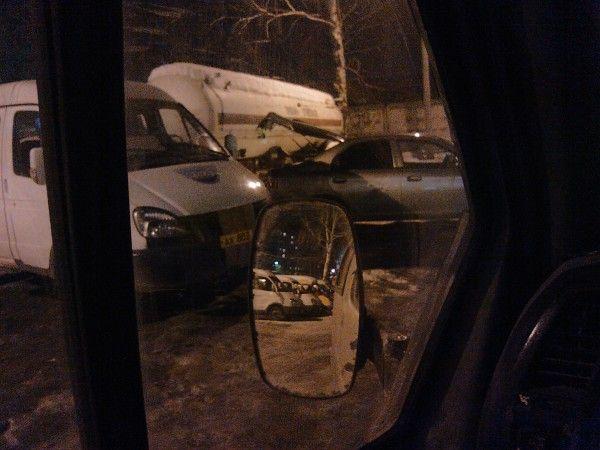 23. Come home already dark. Hooray for us to patch there was a place!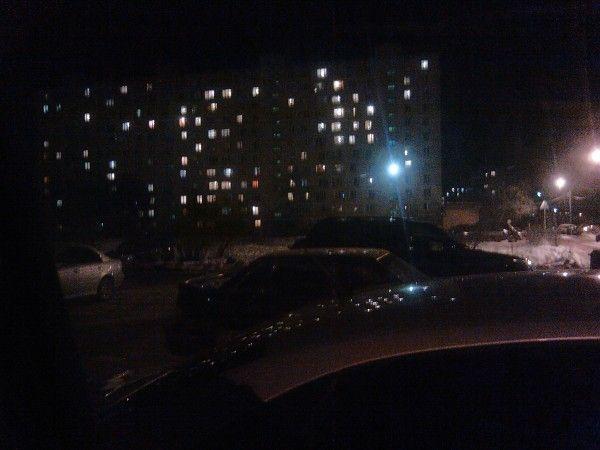 24. Some assholes broken mirror in the elevator ... Well I warned that will thrash)))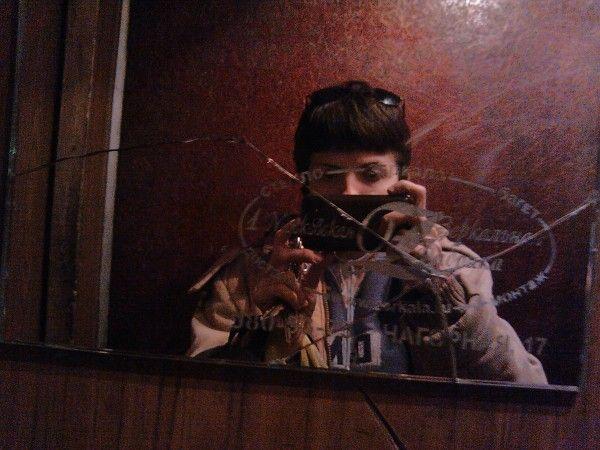 25. I'm home. Senior baby still does not sleep, drink tea with him, then will read children's magazine and collect the constructor.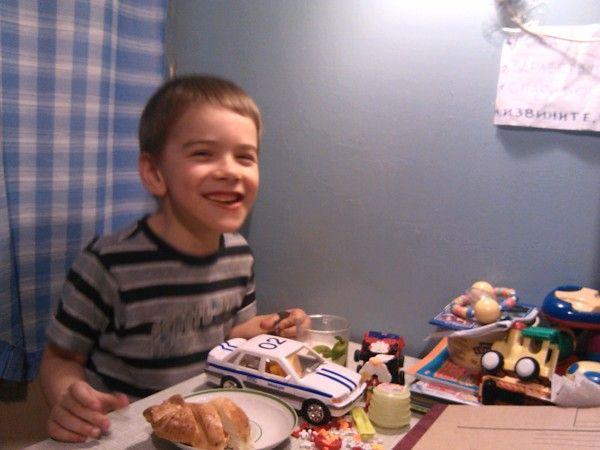 26. Stregusenchik go brush your teeth and go to sleep, I hang out for 10 minutes in front of a computer. Well, 20))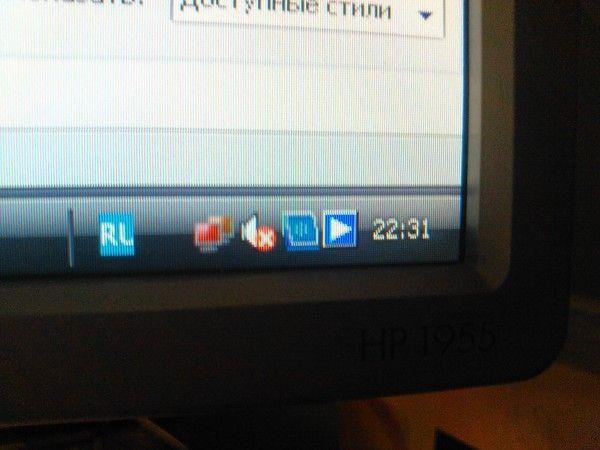 27. Thought ... Oh, I hurry to the weekend - I will go home with the children, Stay 2-3 days with her beloved husband!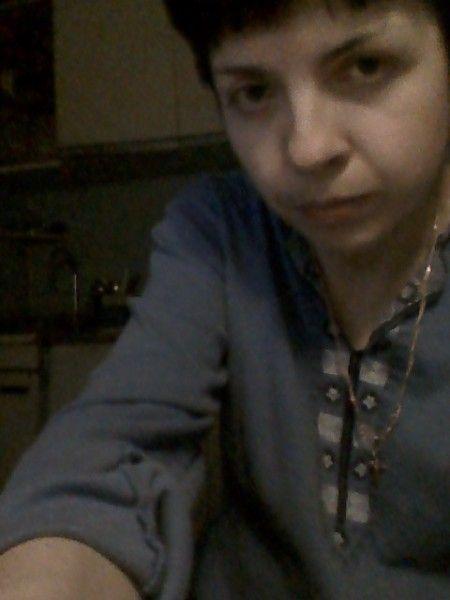 28. All right, now just go to sleep! Go came to a head cushion ...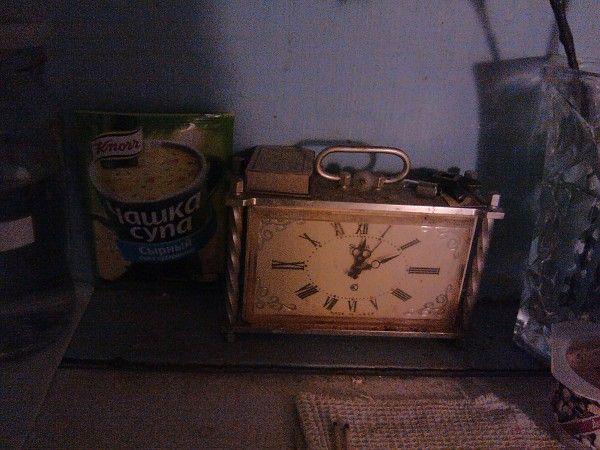 Source: odin-moy-den.livejournal.com