True fashionistas severe frosts are not a hindrance to engage in the selection of the spring wardrobe. It's time to slowly get acquainted with the trends of the spring season 2012.
Women's jackets 2012 pleasing variety of silhouettes and colors. Romantic and gentle and aggressive sexy lady finds a fashionable spring jacket, appropriate to its mood.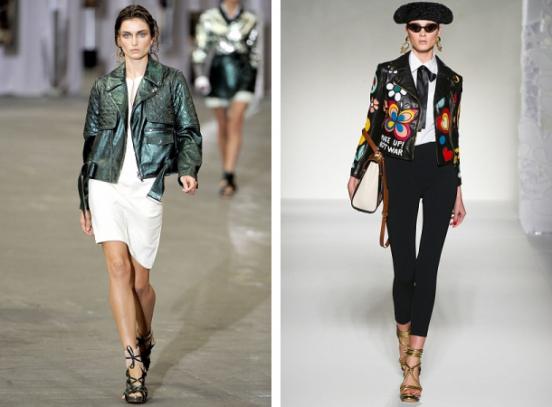 Jackets Spring 2012: Chanel
The idea of ​​Karl Lagerfeld to create a collection of light and delicate, emphasizing the fragility and naivety of the woman, perfectly embodied in the elegant jackets and jackets adorned with sparkling sequins and pearls.
Pastel evening jackets amaze airiness, giving the image a unique femininity and lightness. Iridescent mother of pearl iridescence create a festive spring mood, and what do you need the girl after a long gloomy winter.
Even varnished leather jackets made in unconventional colors.
The bright colors, feminine silhouette, texture, reminiscent of armor inhabitants of the deep sea, these models give a tinge of romance.
Black jacket, resembling a shortened trench, out of the general outline collection, adding a note to the evening models everyday.
Jackets: Prada
Silk, lace and rhinestones, delicate floral patterns caramel and a complete lack of aggressiveness - these are the basic details of jackets from Prada. Feminine girl 50s overshadows the image of sexy tigress.
According to the designer, Spring 2012 will be held under "the sign of Virgo," even though, in my view, a direct silhouette of her ladies jackets adds a couple of years.
Jackets: Moschino
Women's fashion gizmos continues to borrow from the male wardrobe. Designer Rossella Giardini presented jackets, clothes reminiscent of Mexican and Spanish cowboys matadors.
Delicate lace, golden braids, long fringe - all these fanciful details, plus feminine silhouette artfully transformed men's clothes, adding to the arsenal of the modern woman a couple of delightful toilets.
Jackets: Fendi
The fashion house Fendi has decided to transform the women devoted to science and research. Karl Lagerfeld decided to give "Einstein in a skirt" comfortable casual femininity. Comfortable jacket bright, but not flashy colors, add its business spirit liveliness and sunshine.
Evening options for a relaxing holiday intelligent woman give hints of sexuality that does not contradict her modesty. My favorite - suede jacket with a large hood, decorated with perforations, in that way and imagine yourself somewhere on the coast, a quiet cozy evening.
Jackets: Louis Vuitton
The heroine of this collection is a little naive girl, not yet grown out of childhood, doll-like candy. Classic cut jacket with a pretty lace collar creates a truly pure innocent image. This girl even the most austere man forgive any stupidity. Jacket, similar to the black leather jackets and adorned with feathers, like a rebellious spirit expresses diligent girl.
Model crocodile leather with an asymmetrical zipper, in my view, will suit just those who are sickened by outright classics.
Jackets: Balensiaga
Futuristic Jacket Balensiaga affect its intricate and geometric. Dense tissue models give clear rough line, in my opinion, express protest against the spring mood of lightness and airiness.
The color scheme is quite controversial, some models are pleased pleasant low-key scheme, other surprise gloom and austerity. Wearable jackets such serious doubt, it is difficult to imagine such an extravagant girl, unless of course it's not Lady Gaga.
Jackets: Roberto Cavalli
Leather jackets from Cavalli - the dream of every fashionista. Black and white color, perfect cut, emphasizing the shape, texture crocodile leather and embroidery create a stunningly seductive cheeky way.
Studded gold jacket seems, at first glance, a bit congested and too pretentious, but by calm colors and simple cut other parts of the image is obtained stylish and not vulgar.
Jackets: Diesel Black Gold
Jackets Sophia Kokosalaki are daring mix of male and female parts, metallic sheen and velvety matt.
Soft leather emerald and silver foil are perfectly combined in a multi-layer elongated jacket, reminiscent of the clothes girls Alien, already adapted to life on Earth.
Suede jackets cold pink and straight cut reflects the calm feminine essence. But gray denim like a man's shoulder, again - the personification of feminine weakness to men's shirts, put on in the morning after a sleepless night.
Jackets: Dsquared
Jackets by Dsquared Spring 2012 - leather decorated in a mix of hippie-grunge.
Whether it's the traditional black leather jackets or more feminine turquoise jacket, main parts - a shortened three-quarters sleeves, narrower silhouette and, more importantly, dull decor. Designers have not stinted on a variety of items, adding spice to each model.
The multi-layer textured jacket combines leather and denim, with stitching that gives the volume, creates a half sports, half-rocker style.
Hippie-jacket decorated Baubles, fur and studs, causing a storm of positive emotions. The collection is simply mesmerizing presence of numerous details. For the creation of such works can even forgive hooligan output models on the podium with a bottle of beer.