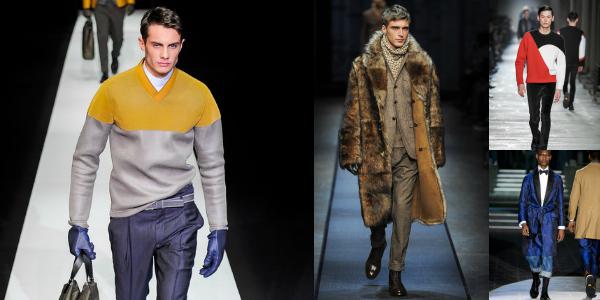 We already wrote about the basic trends offered at London Fashion Week catwalk men now dwell on Milan. What bold or opposite - classical trends offer designers men wear next winter - see below.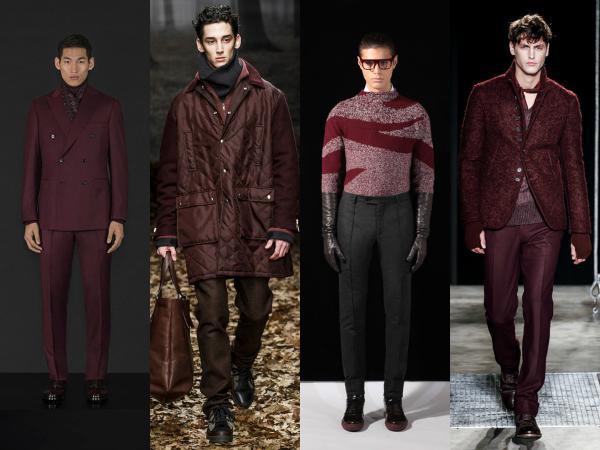 Brioni, Trussardi, Ports 1961, John Varvatos
It was impossible not to notice how much among the other colors on the catwalk in Milan dominated wine shade - you call it "burgundy", "rotten cherry" or anything else - the essence does not change. Intense maroon shade will look especially good in trouser suits. At a minimum, you should pay attention to sweaters and shirts wine shade - their versatility will surprise you, because they can easily compete with the black part of the wardrobe.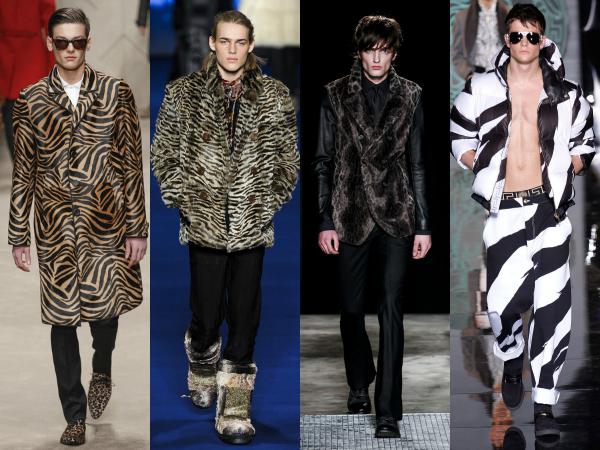 Prada, Etro, John Varvatos, Versace
Oddly enough, but some designers strongly suggest men put on things with animal prints: tiger, leopard, zebra - choose, I do not. And if the option of Burberry Prorsum coat with laconic straight cut yet somehow udobovarim, the bold options from Versace and Etro suit only the bravest guys, not deprived, by the same sense of humor.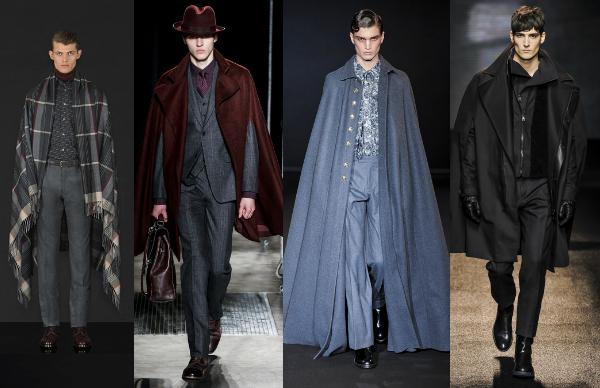 Brioni, John Varvatos, Les Hommes, Salvatore Ferragamo
Men's poncho (or cape) is offered in many different variations: from the continuous-plaid fabric from Brioni to a wide cape to match an English lord. We do not believe that men will be enjoyed by Cape in terms of comfort, but in the elegance of this element graderoba no doubt - in combination with an excellent costume cape looks incredibly impressive.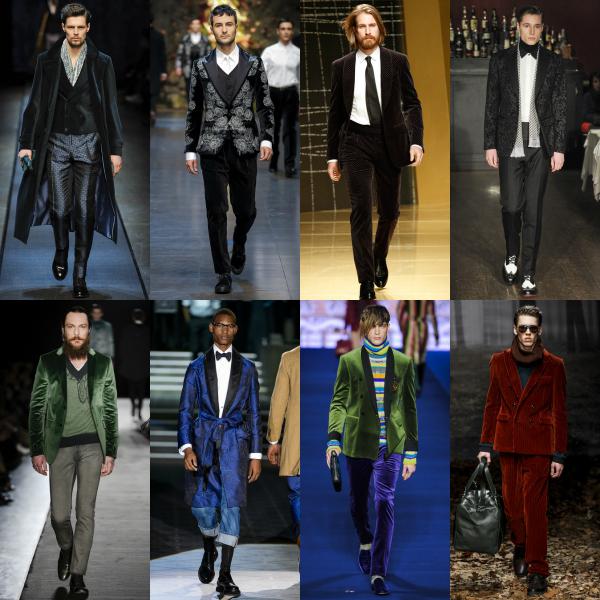 Canali, Dolce & Gabbana, Ermenegildo Zegna, Moschino, Diesel Black Gold, Dsquared 2, Etro, Trussardi
Bohemian with lots of velvet were the most popular on the catwalk in Milan: relaxed aristocrat in a luxury suit or robe looks pretty impressively and at the same time dynamically, especially in the interpretation of Trussardi, Diesel Black Gold and Ermenegildo Zegna. Slavic latitudes velvet jacket will look rather strange and wildly than simply fashionable. To avoid kitsch effect, we recommend wearing a velvet jacket with narrow dark blue jeans and walking shoes polished to a shine on the massive soles. White shirt - an indispensable element.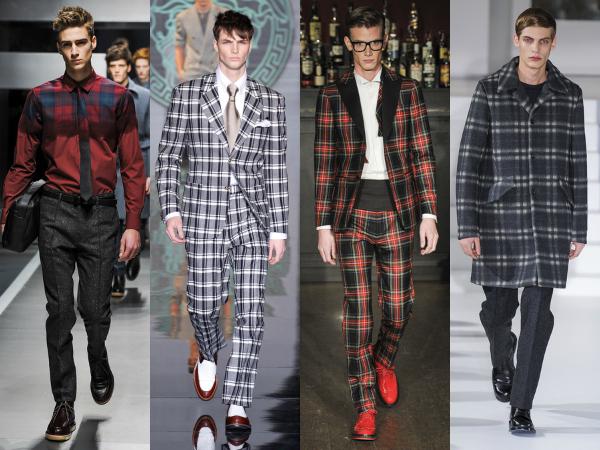 Fendi, Versace, Moschino, Jil Sander
Bulgakov's hero Bassoon if alive in the Milan catwalk, "plaid" and then appeared in one show after another. Two-piece, a jacket or coat concise - the cell is appropriate everywhere. The only thing that concerns costumes: we recommend to choose muted colors and not too large size of the cell itself, otherwise you run the risk of really become like a theatrical character, rather than a true dandy.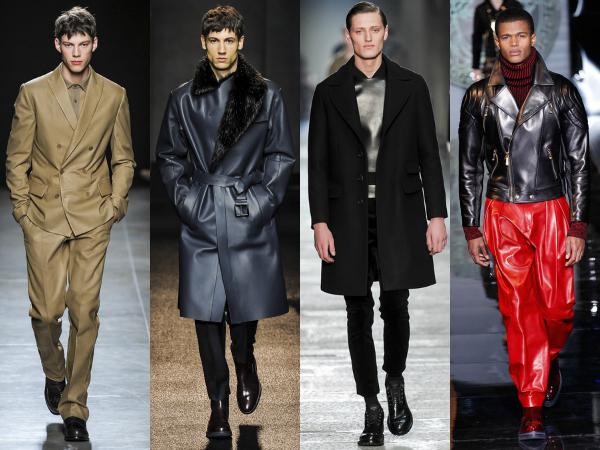 Bottega Veneta, Salvatore Ferragamo, Neil Barrett, Versace
Do not have a leather trouser suit? Then Bottega Veneta goes to you! However, not only Bottega Veneta, but also a large number of other brands offer men to wear and leather tops and leather pants, and coats and suits. On the feasibility of leather pants, if you are, of course, is not rock-star, you can talk for a long time. Our main advice - do not vest in the skin from head to toe and do not wear it at all, even if the image from the podium this seems absurd and inappropriate. Trends trends, and internal feeling important. Those who dare to easily buy leather pants, for example, be in addition to purchase massive knitted sweater and sneakers with thick soles. Thus, you will not look like any of Mick Jagger in the best years of creativity or the biker hermit.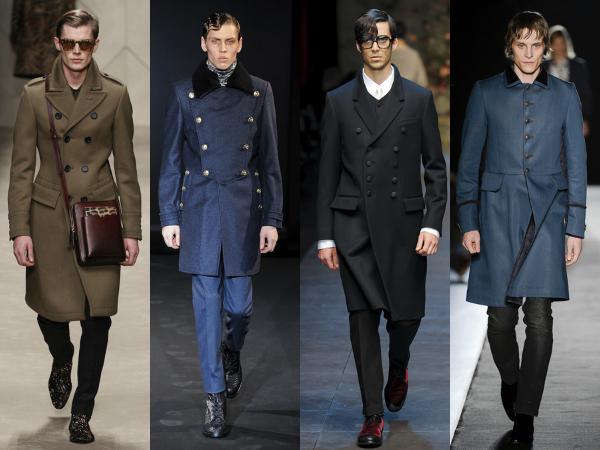 Prada, Les Hommes, Dolce & Gabbana, Diesel Black Gold
Military from season to season, "pursues" podiums - both male and female. At this time in Milan was much more motives of the last century, rather than from the next twenty. Not only coat-overcoat appeared on the podium, but also outerwear, jackets reminiscent of - much more solemn form of options from the past than a regular overcoat.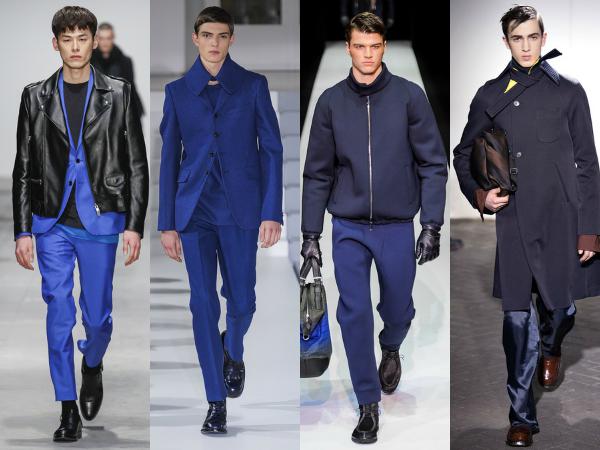 Costume National, Jil Sander, Emporio Armani, Raf Simons
Saturated "electrician", "sea» navy blue and a dark blue shades, along with wine and a clear line can be traced to the men's podium in Milan. And as well as black and maroon, navy blue color will easily fit in a man's wardrobe, no matter how diverse and disparate he was. By the way, blue and burgundy perfectly match each other - is not a reason to join in a single image, two trendy color?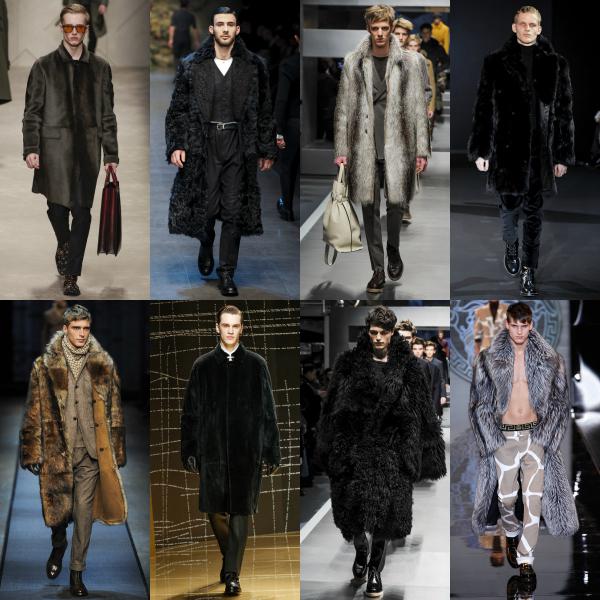 Prada, Dolce & Gabbana, Fendi, Les Hommes, Canali, Ermenegildo Zegna, Fendi, Versace
Yes, of course we know that saying "winter fur in fashion" - it's like saying "water is still wet, and oil still oily." But the fur boom in men (!) Made the podium to think: what if not only ladies, but fashionistas will buy artificial fur packs and flaunt them on the streets? However, buying packs of fur Fendi or Versace afford not for everyone. But "plush" products and other synthetic versions look pretty good - especially in the laconic black version with a simple straight cut, like Burberry Prorsum and Ermenegildo Zegna.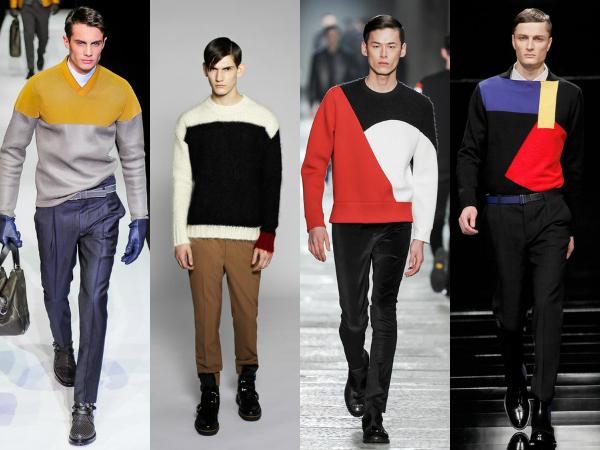 Emporio Armani, Marni, Neil Barrett, Iceberg
Collection, as well as their single element in the spirit of painting period supermatizma we especially like. We distinguish sweaters with abstract color accents: an elementary and at the same time effective way for a couple of minutes to create a vivid, memorable image. In the end, maybe enough already open mouth tiger head and Rottweilers, with which abound sweaters - are replaced by clean lines and bright colors.