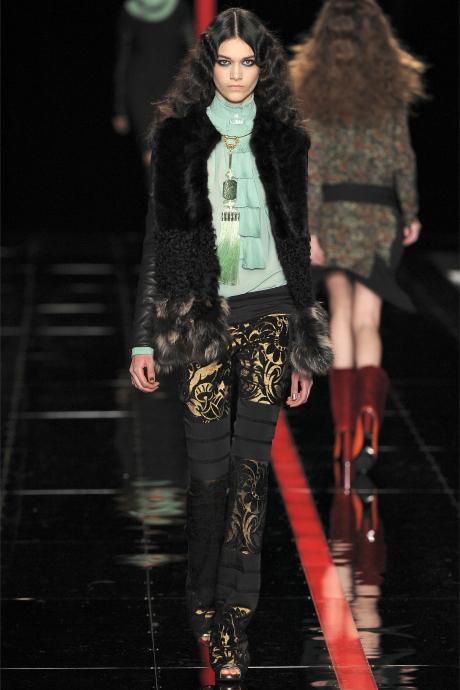 Just Cavalli Collection Fall-Winter 2013-2014, designed by Eva and Roberto Cavalli - a burst of energy and a pleasant surprise for fans of the brand. Fashion critics have recognized it as one of the best collections of Fashion Week in Milan. Inspiration looks to the East, particularly in the memories of the pair of Bhutan - a small kingdom, which is surrounded by greenery of the Himalayas between India and China. Designers have dared make in their works elements of Asian culture, using an infinite number of ethnic details and nuances. Bright, colorful, unconventional and a little extravagant - these words can be summarized as the autumn-winter collection of Just Cavalli 2013-2014.
It was a shocking number of interesting combinations of colors and materials and textures. Only the presence of a large number of layers of clothing and furs make it clear that it is a collection of autumn-winter. However, the colors bring us a totally different connotation. See for yourself, the designers used a kaleidoscope of colors: fiery red, yellow and orange, blue, green, and blue, white, gold and black, purple, burgundy and mint. In addition to the riot of colors, a collection of amazing variety of prints - it is a very specific image photo printing of temples, tigers, dragons and ubiquitous animals, and tiger and leopard print, stripes, flowers and imitation snakeskin.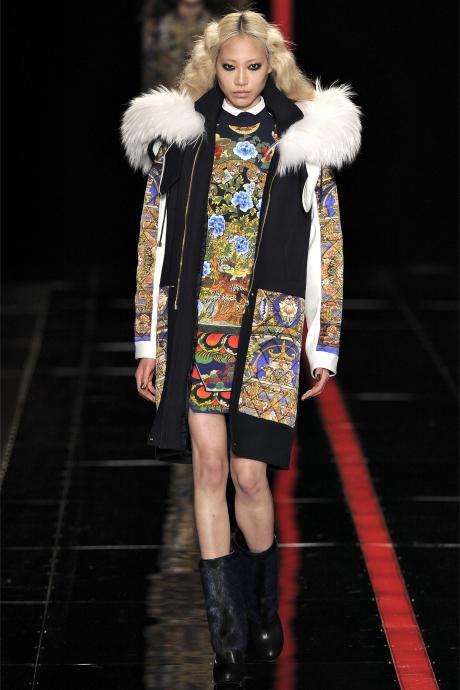 This collection combines different styles: rigid and structured forms of coats, jackets and jackets are alternated with soft flowing dresses and skirts. There are a collection of short and very feminine dresses - a clear remnant of summer collections. You can also find a variety of jackets, pants, skirts, however, they appear in the company of warm sweaters, coats or short fur jacket. What unites these products - this is what they are all colorful, bright and original, sometimes a little crazy, and, above all, a very unusual combination of colors and prints. Collection Just Cavalli autumn-winter 2013-2014 is a kind of rebellion against the gray and sad autumn and winter weather. Despite the fact that the heroine of the podium was the image of a woman in a jacket with sharp shoulders, buttoned all the buttons, there was no place for any seductive neckline or bare feet, the designers still managed to drown harsh and gloomy atmosphere of cold days in rich colors, soft fabrics and bright decor. The fine mesh of crossing silver threads, shiny beads, precious stones, fur color, colorful glass beads, massive necklaces, amulets, branched baroque patterns, shimmering velvet, shimmering silk, oriental embroidery and many other design techniques to make this collection of tune with all the colors of the East. Even elegant tuxedos were decorated with black-and-white prints.