For me, it's not a collection, but simply a celebration of some kind. At first glance, like a fairground same abundance as the Ford, but no - it turned out to be quite different, real exotic.
Show Just Cavalli Fall-Winter 2013-2014 - a scenic tour of Asia to paint the podium this extravaganza of cultural elements of Bhutan. This trip to the south of the Himalayan Kingdom, which was inspired by Eva Cavalli Rovereto and the creation of the new collection, the designers made at the invitation of King Jigme Wangchuck and Queen Jetsun Nam Gyel Pema. And judging by what was happening on the podium, impressions from exotic travels out over yarkie.Eta eccentric clothing for women. She (clothing) eccentric and eclectic - commented Eve backstage at fashion shows and in the end came to the podium to share her husband deserved applause.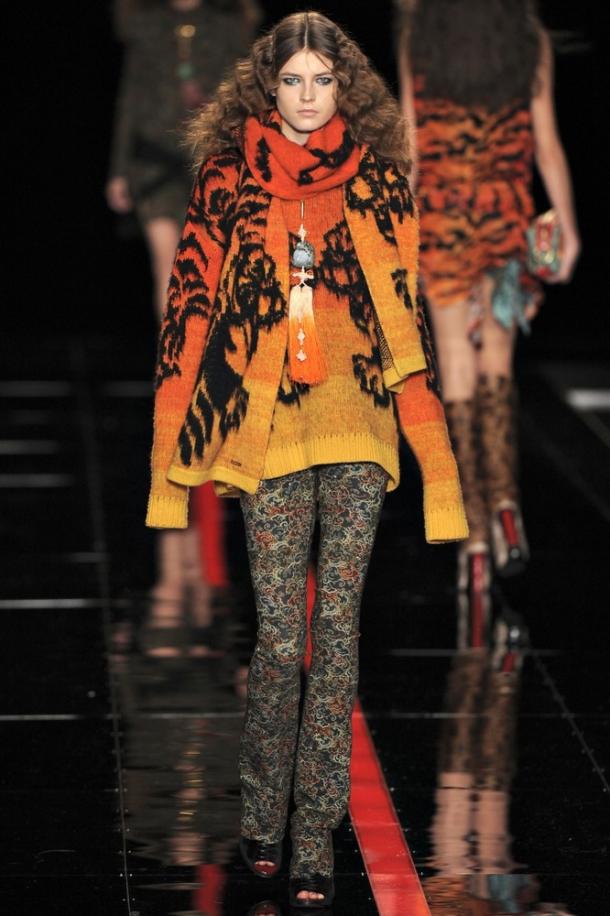 Interestingly, in the midst of the show there was a girl on the podium of the association Peta with the poster "Your fashion - their death." Journalists and editors immediately began to write about it on Twitter, momentarily forgetting about the show, and the very activist brought under the hand of the hall. But the model, as if nothing had happened, continued to pace the catwalk - because "the show must go on».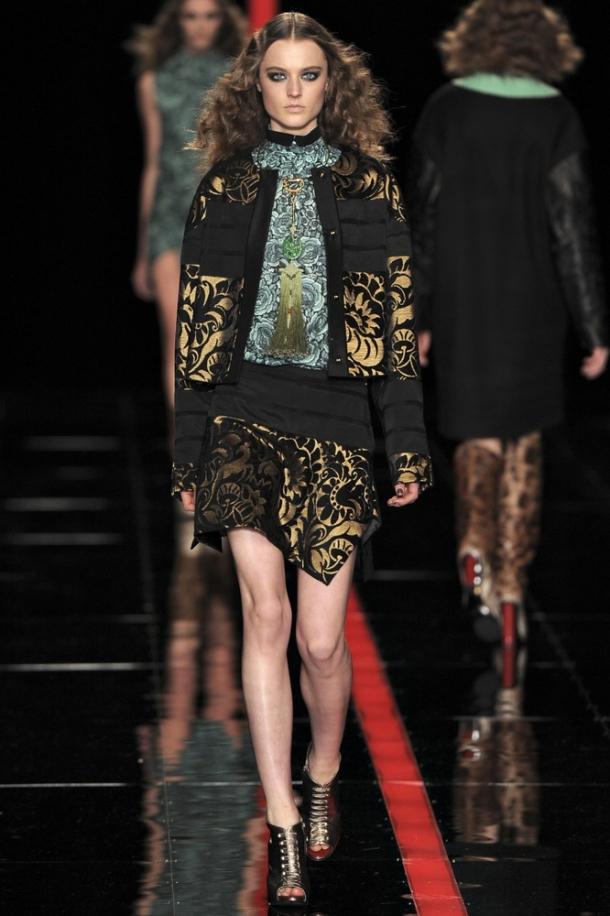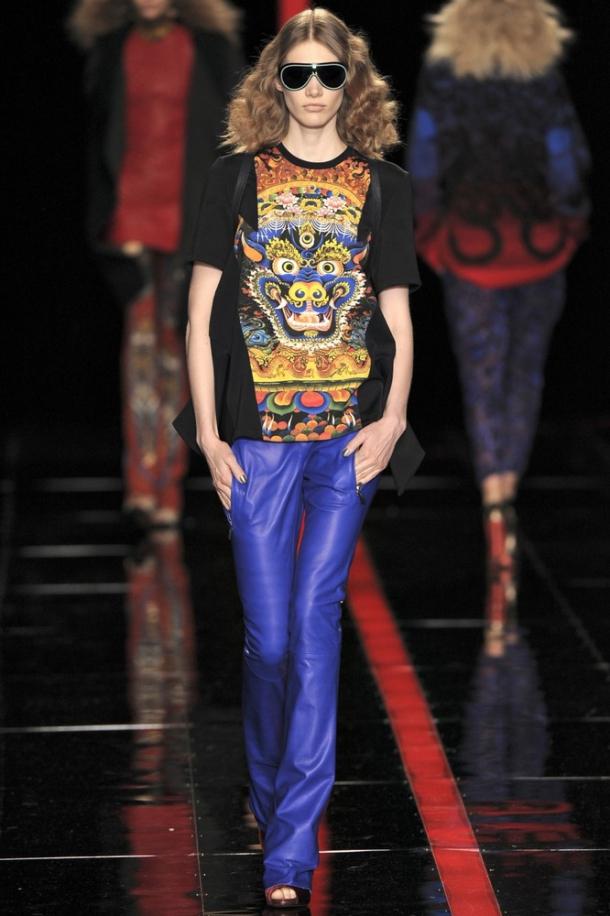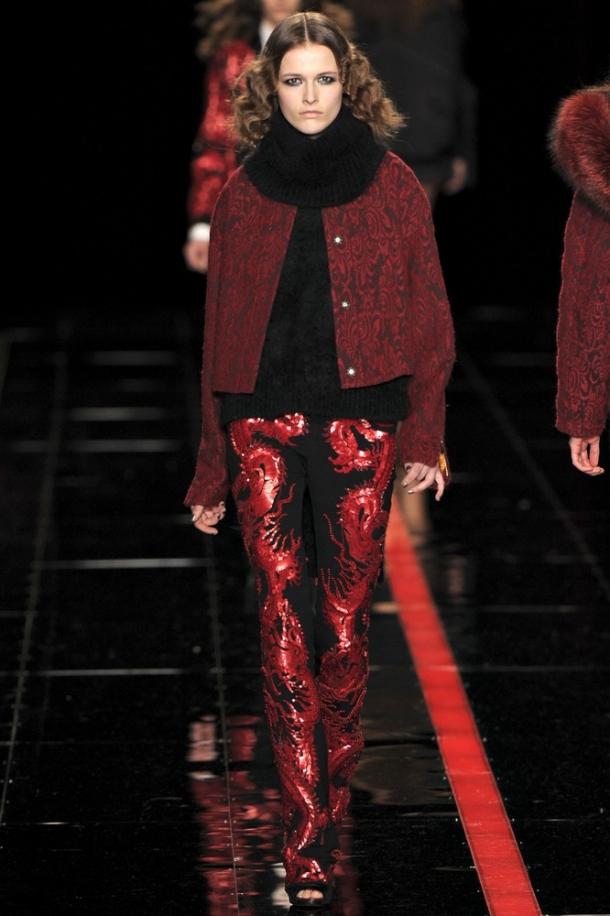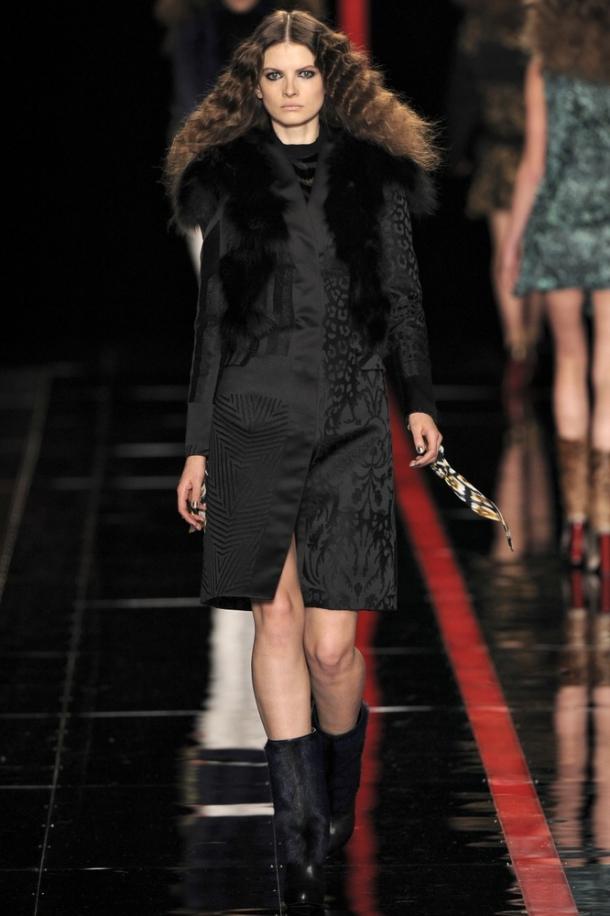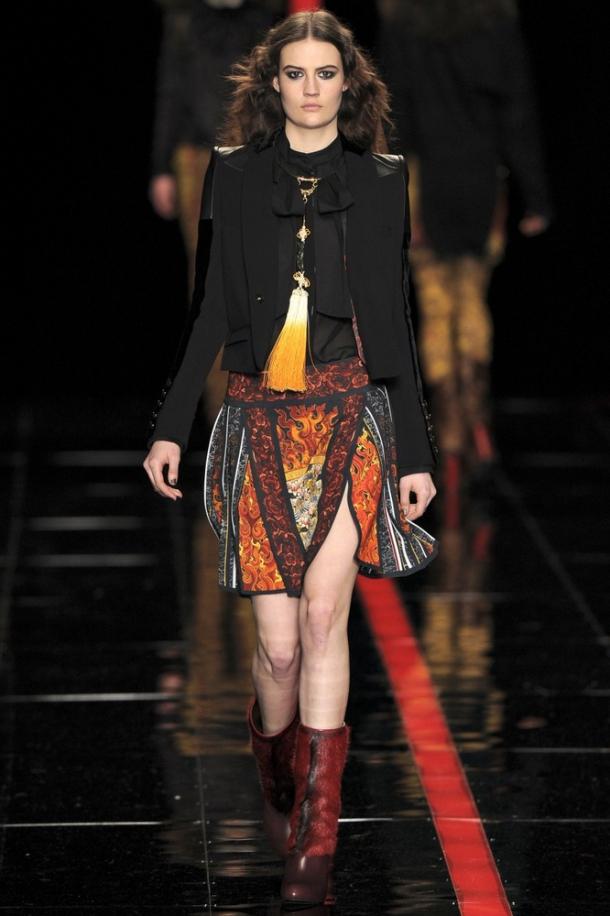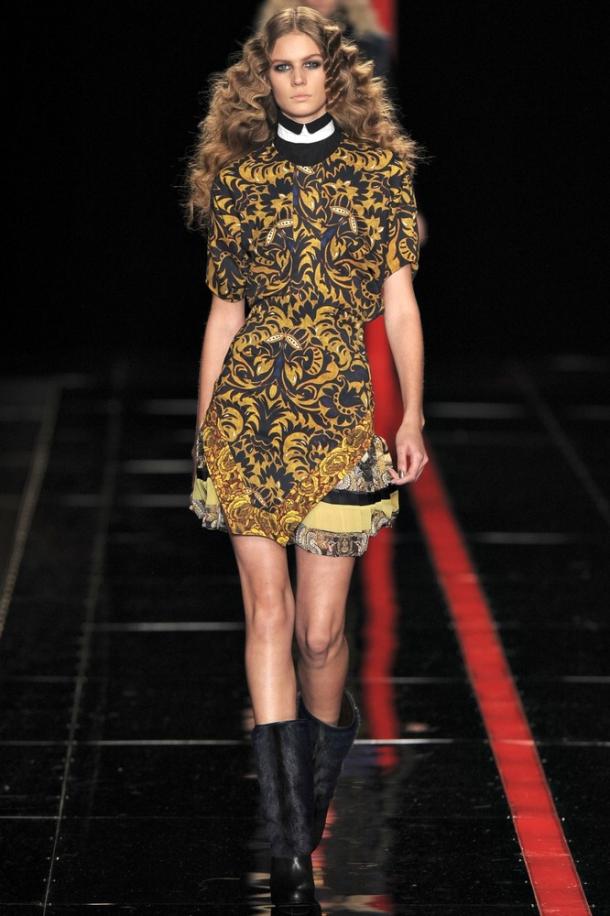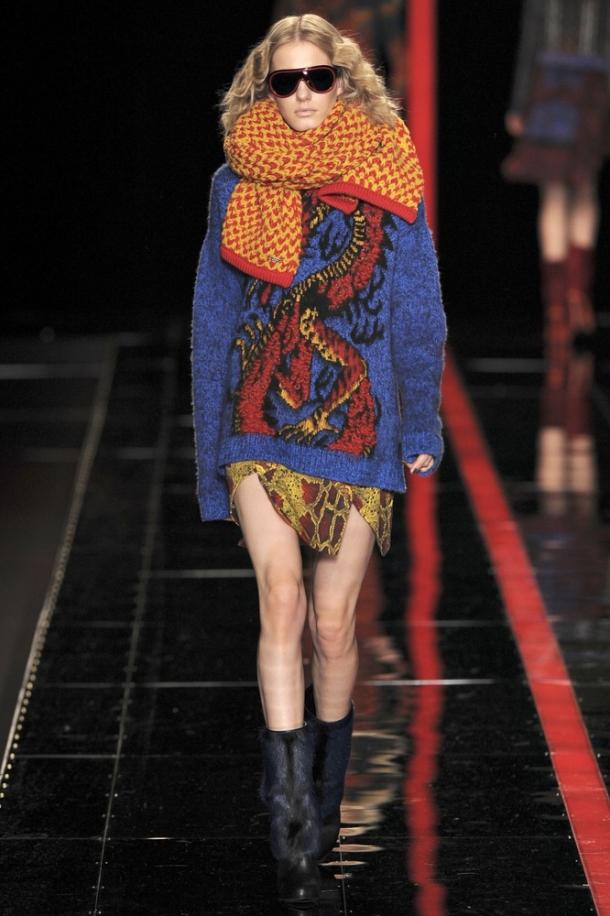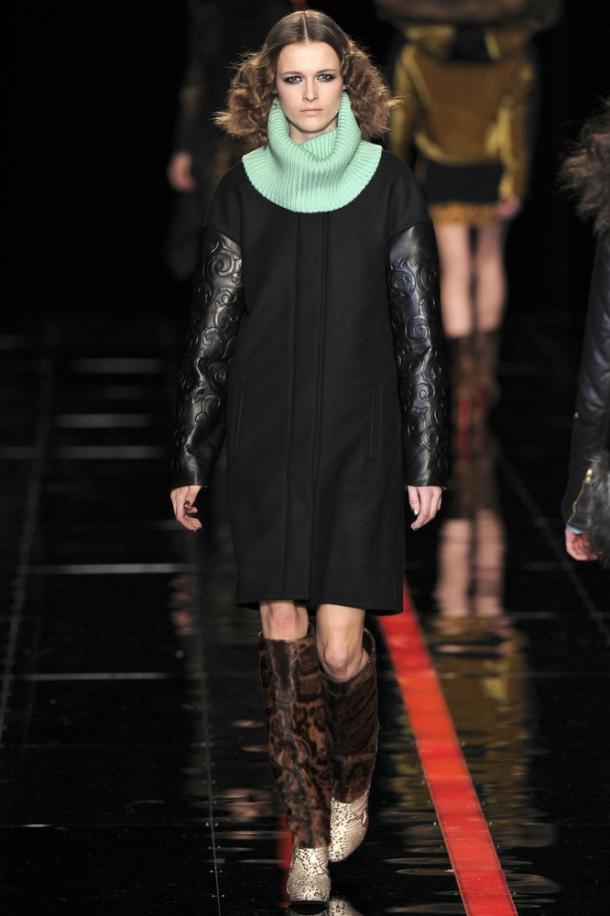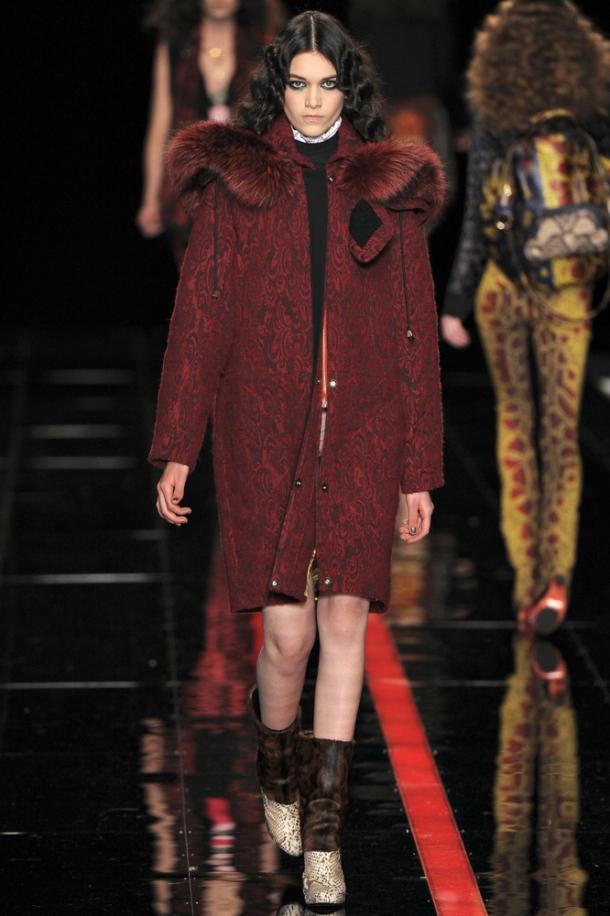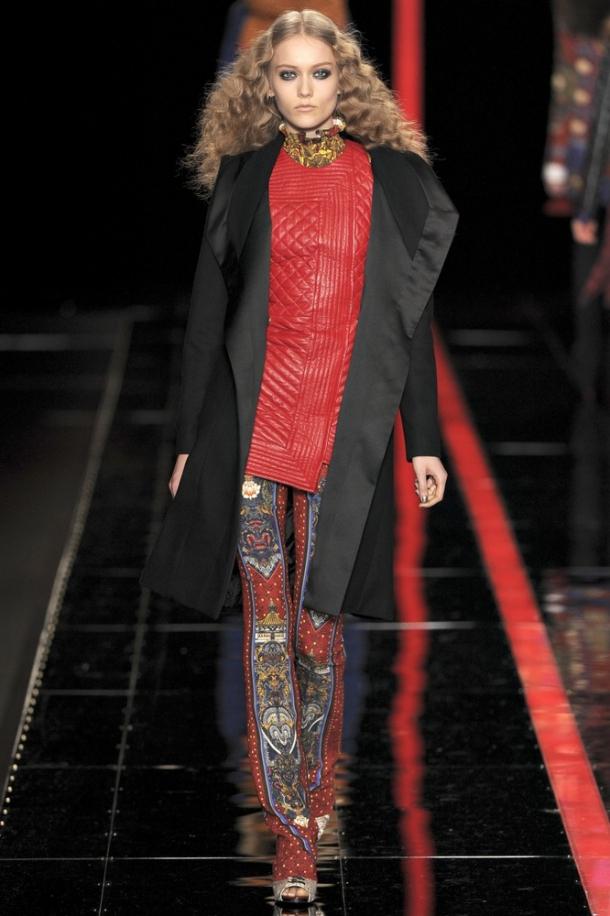 Roberto Cavalli is not afraid of no experiments, and boldly combines in a single image tiger prints, ethnic and serpentine, adding to them a host of other original parts.
Traditional brand aggressive sexuality designers have tried to mitigate that in more detail to convey an exotic flavor, which is reflected in a vast palette of saturated colors, decorated with golden ornaments based on baroque reliefs and finishing Asian temples.
The new line of clothes Cavalli includes silk colorful bombers, finished stitch tunic in tiger prints, leather skirts with slits, a fleet of golden brocade hooded fur, pleated mini-skirt with a touch of gladiatorial spirit, colorful coats and bulky pullovers that have become canvas for sketching the history of Asian culture.
A majestic image of the famous fiery dragon designers introduced to the collection using the red patent leather and flowing black silk. And, of course, its image integrity on blouses and T-shirts.
To heighten the effect, showing exotic issued shrill red light and a digital fire flame on the screen, as if the audience by promising a hot fashion season autumn-winter 2013-2014.