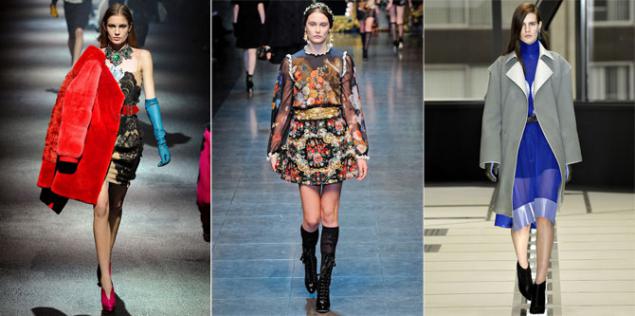 Guess trends thankless task. Designers generate one thing, the masses are something else. And very few people have the ability to see images of the podium in life. Catch and "lose" trend (wear easily, and not for show) is sometimes difficult. Each designer can find them new fashion trends for autumn-winter 2012-2013, at the rate that was made in the coming season. Let's try to identify clear trends in particular, are certainly pick up the mass market. We hope you anything like it too.
Clothing in men's style
Somehow, there is nothing that emphasizes the female nature as men's clothing. It is nature, not the shape. Clothing in men's style hides the female form, but at the same time it emphasizes the female character: the defenseless and strong at the same time. Probably? this is the main trend of the season autumn-winter 2012-2013. Moreover, almost everything.
Hats in men's style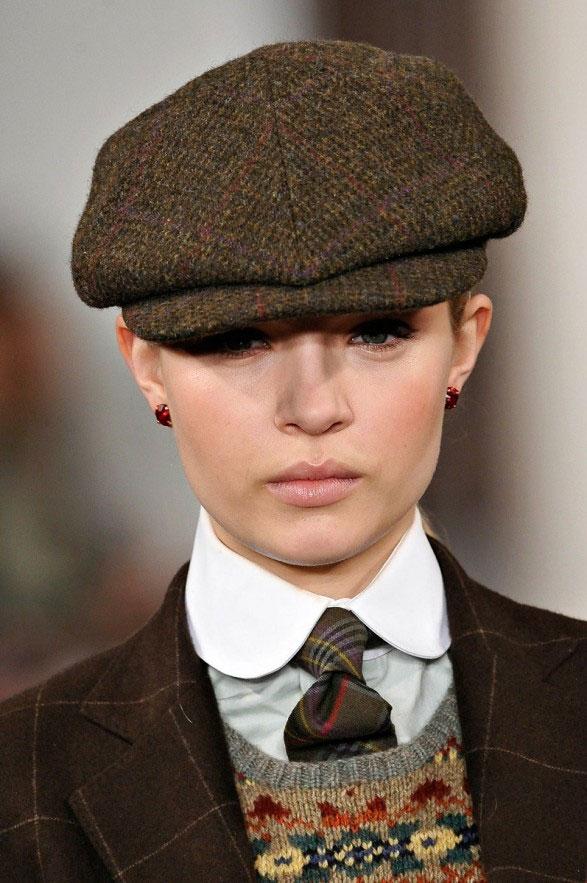 Coat in men's style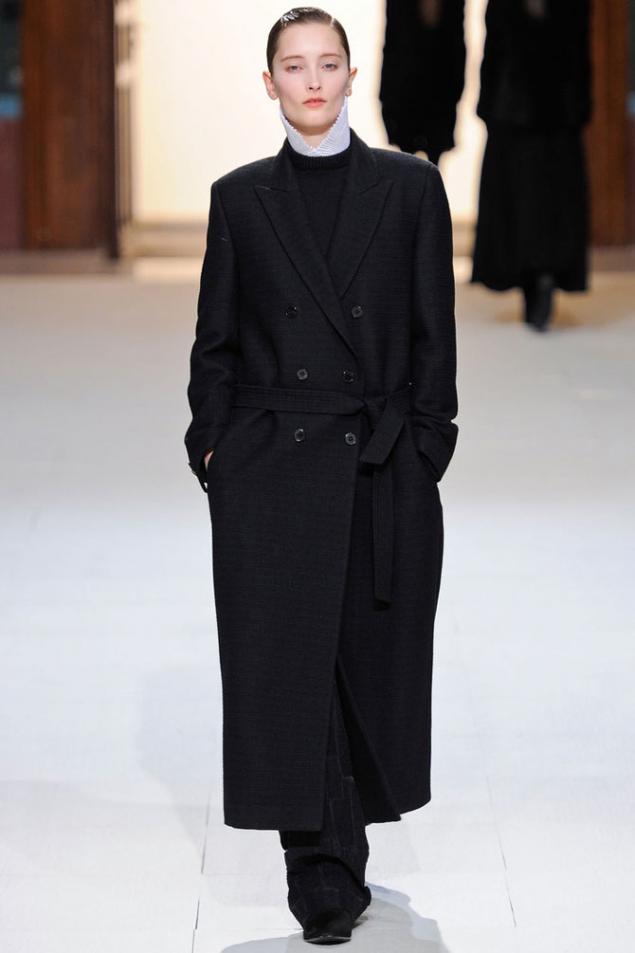 Costumes men's style
Exaggerated layering
One element of this trend - a skirt over trousers. By the way, this trend has not come up with designers and Soviet schoolgirl who donned uniforms in winter sports over the trousers to dress up quickly to physical education, and in general, the heat :)
Another element of the multi-layer: two jackets at once or jacket on the coat. Often seen such images in the blogs about street fashion. Is fashion gone in the opposite direction from the street on the podium, or am I missing something?
If earlier the air layering was almost invisible, present in such styles as boho, folklore, street, grunge, romantic. Now the multi-layered clear, with lines clearly viewed, most direct, and it can be attributed to the classical style. It seems that designers fetters female body in cloth, folding it as origami. Try to guess what's under your clothes!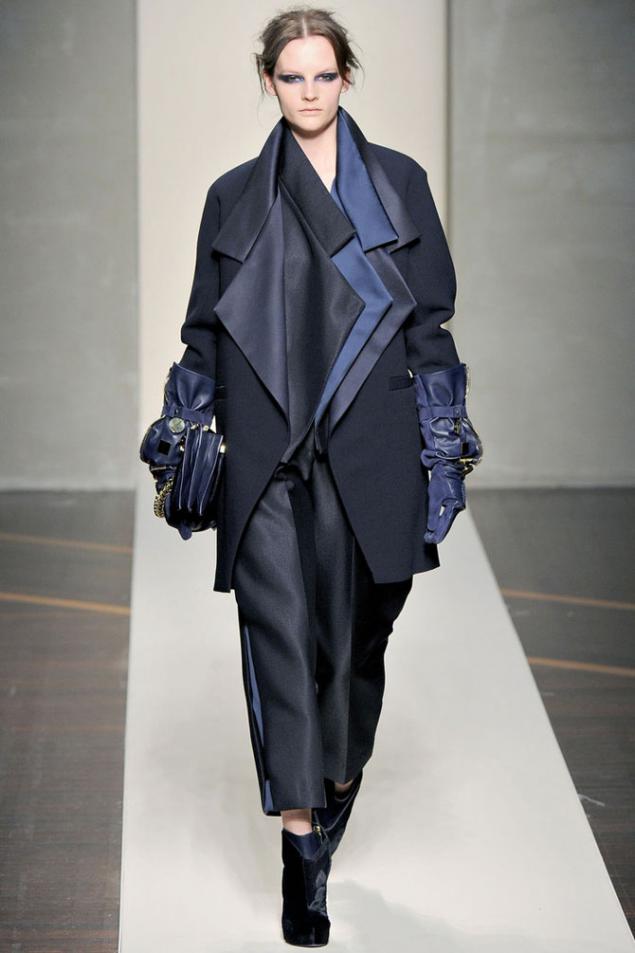 Fabric: bright fur and leather
We are against the use of fur without excessive need and painted including, but within the framework of the upcoming fashion season will have to say: coat should be short, bright and voluminous. There are options in the form of removable Boas, collars and boas various colors in addition to the most common everyday images.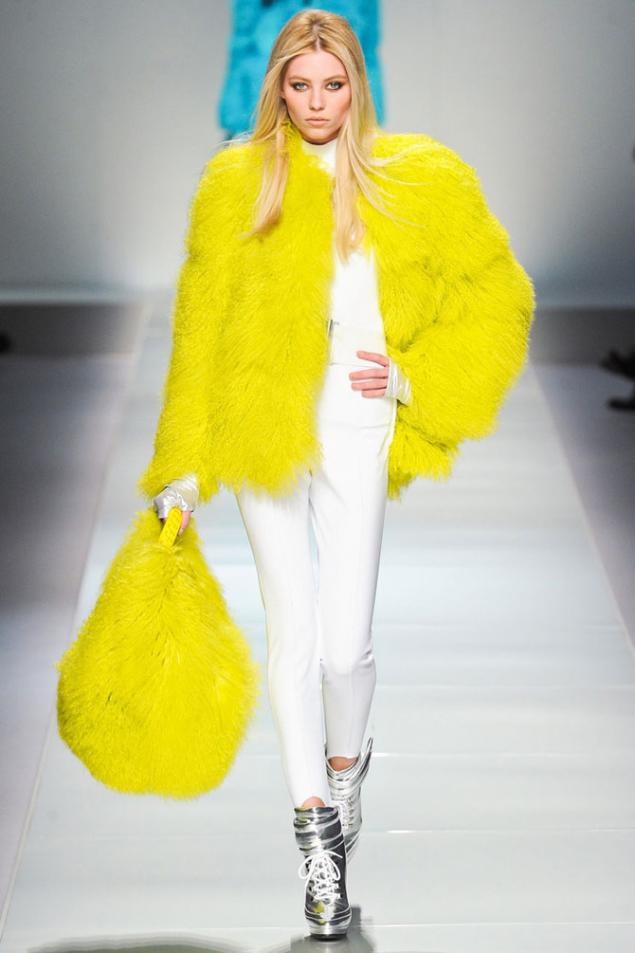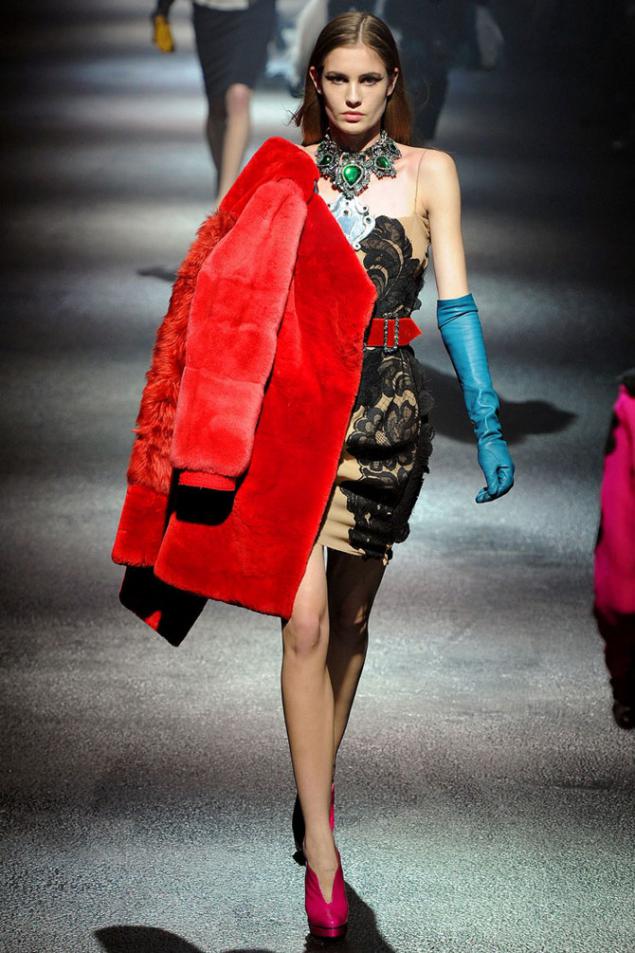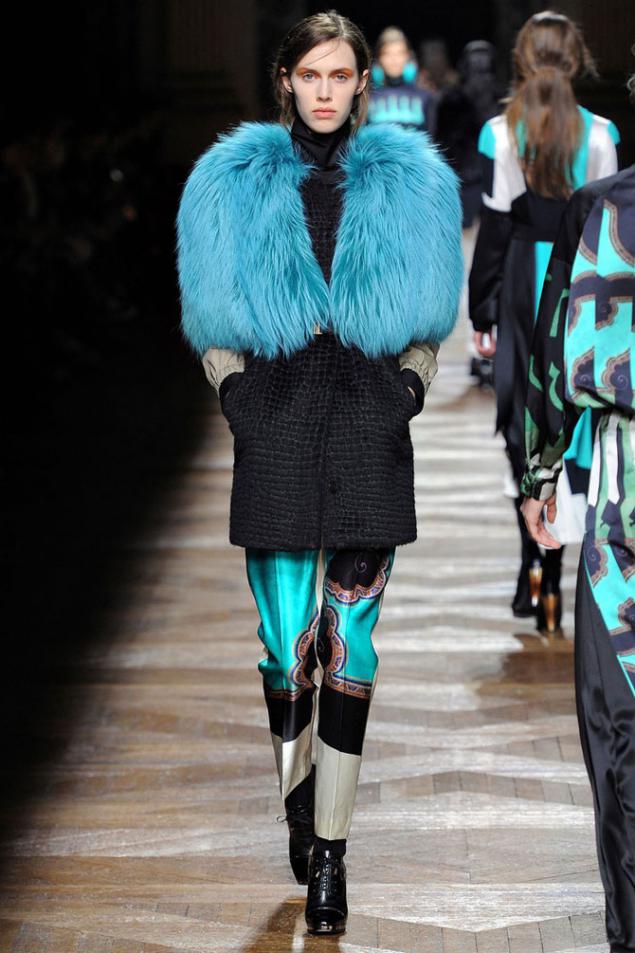 Besides designers fur not paid attention and genuine leather, denoting the fashion trends of autumn-winter 2012-2013. Leather coats and raincoats, skirts and dresses, pants and shorts. The fabric is not limited to the shape. The most feminine dresses and skirts, shorts sport style, draperies, flounces, even cutwork on the skin. All the appropriate thing to go. Color leather clothes for the upcoming season or natural brown-green range, or win-win options of black, red and white.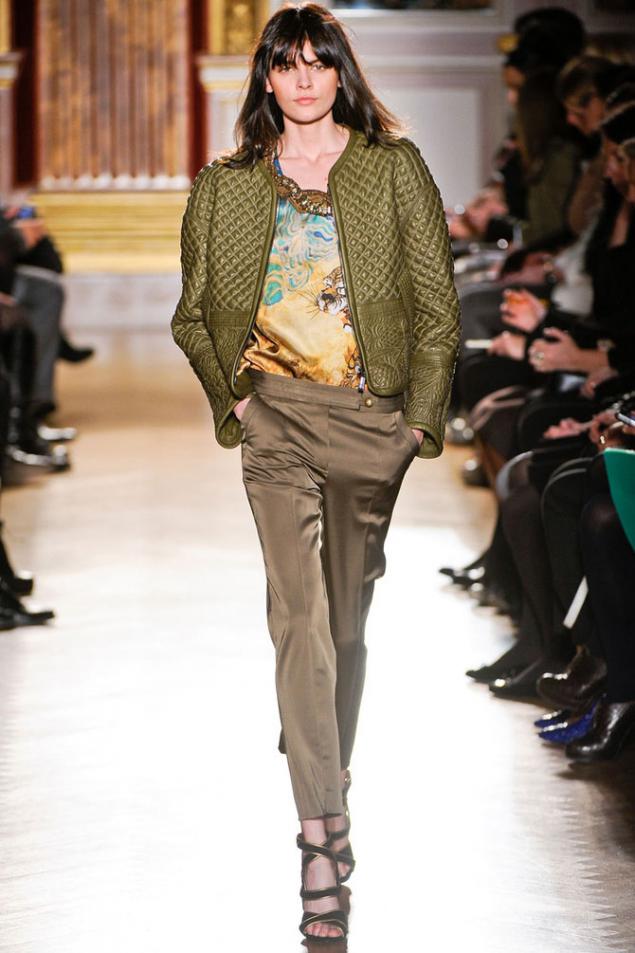 Vests 2012-2013: direct extended shoulder
Vests in themselves do not pass the second season of fashion items. They trend and decorated with embroidery, sequins, appliqué, plain and austere, and knit, and in military style, folk, casual, safari, glam rock. In general, any vests, but this time the designers have found them a new form: extended shoulder line and made it tough. This can be achieved by using a tissue or shoulder pads. That kind of thing creates a triangular silhouette, very stylish, sporty and smart. Therefore, the best of his companions tight pants, shorts, skirts.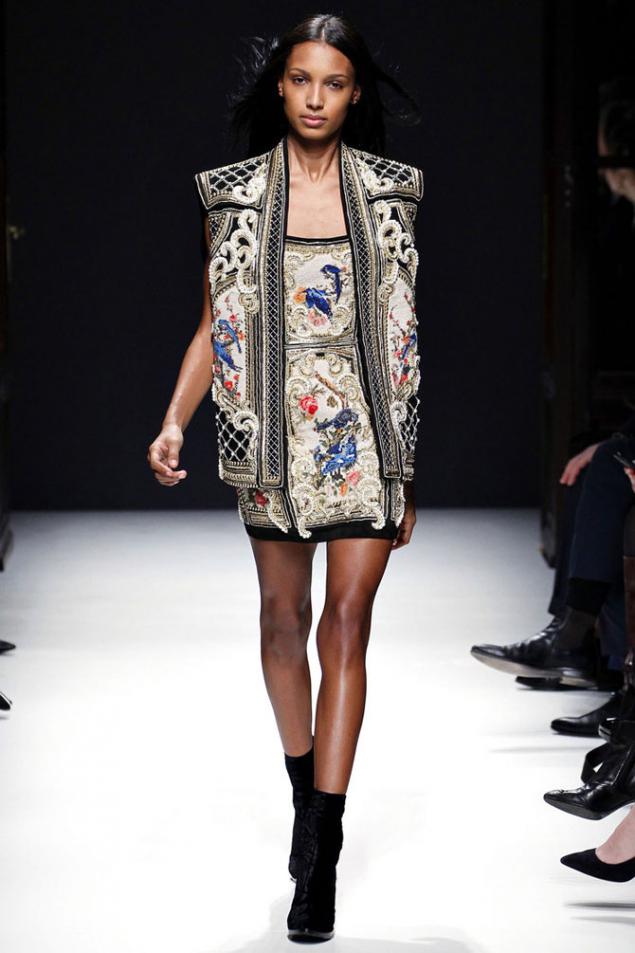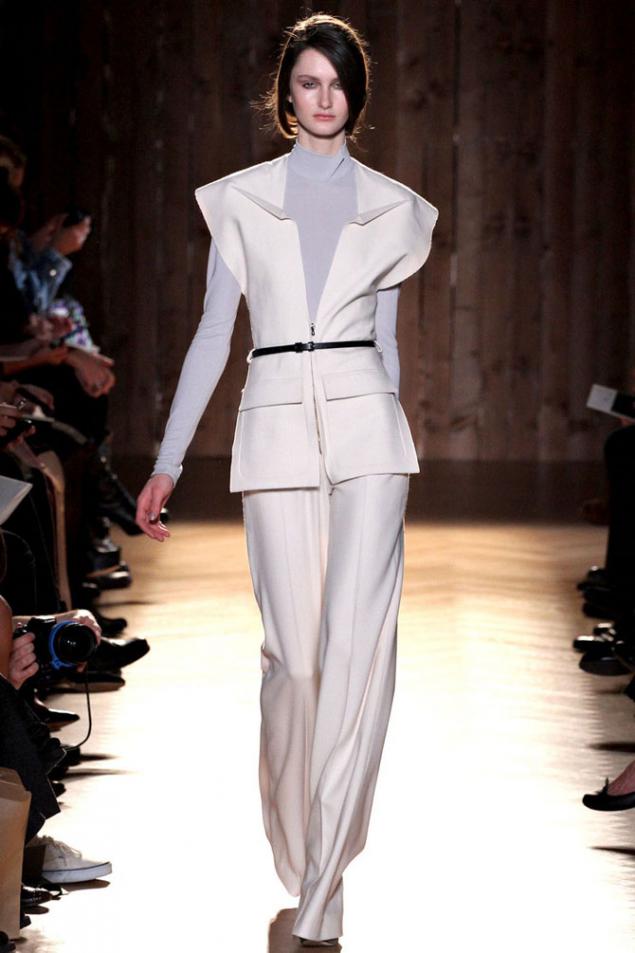 Skirts: focus on hips
Trend 2012 stated strengthening feminine lines of clothing using simple techniques. Skirt-barrel, large prints, sweaters with baskoobraznym bottom, overhead and large welt pockets. Skirts descend on hips, dresses tightened belts at the waist. Large soft folds and trapeze silhouette - the most fashionable skirts of the season autumn-winter 2012-2013.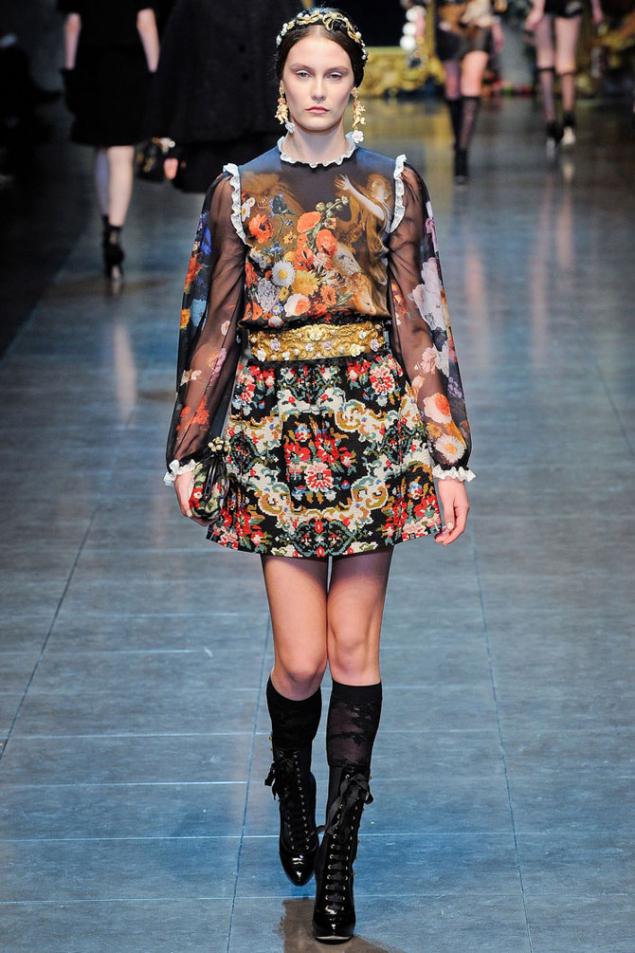 Outerwear 2012-2013: stocking armhole
This form of coats and jackets have a huge advantage. They are simply created for women with a figure of "droplet" or "pear". The broad sloping shoulders attracted the attention and visually balanced with the hips. Narrowed bottom clothing (such as at the shoulders even outright coat will look narrowed), and makes the thigh already stricter, straighter. And just in this coat cozy, comfortable and, if necessary, you can hook sweater.
To coat or jacket in 2013 looked not only fashionable, but also elegant, the emphasis is on the fabric (which in general should always be done with the simple silhouettes of clothes). High-quality woolen cloth, tweed, cashmere, easily draped and receiving soft silhouette line.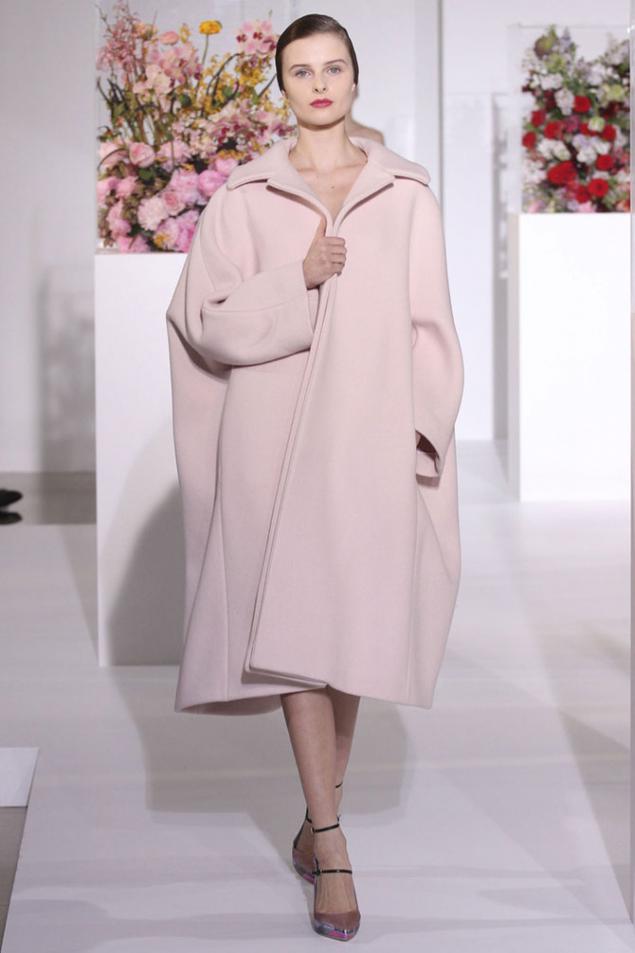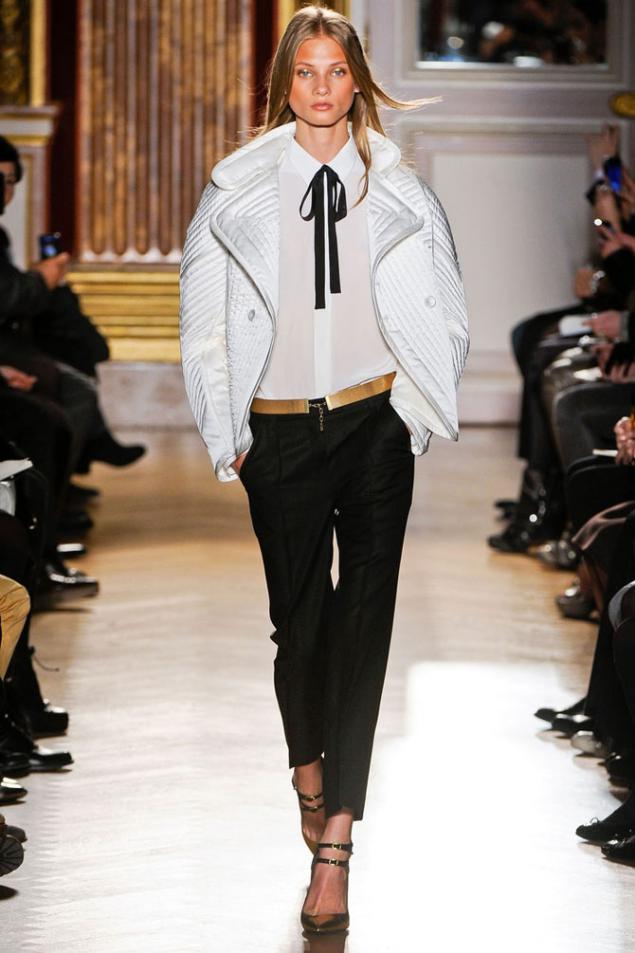 Shorts
Shorts Fall-Winter 2012-2013 can be anything. They are quiet glanders made their way to the podium, they are everywhere shorts shorts, leisure wear and sports. The fact that the best trend of them - is not small. They are similar to circumcision foot formal trousers. Wonderful, in my view, the replacement of office skirt. The most fashionable option - leather and all kinds of tёplenkih materials. They look great to be obtained in the style of a dandy, which is suitable for work and leisure. The length of the cut and allow wearing trendy shorts not only girls.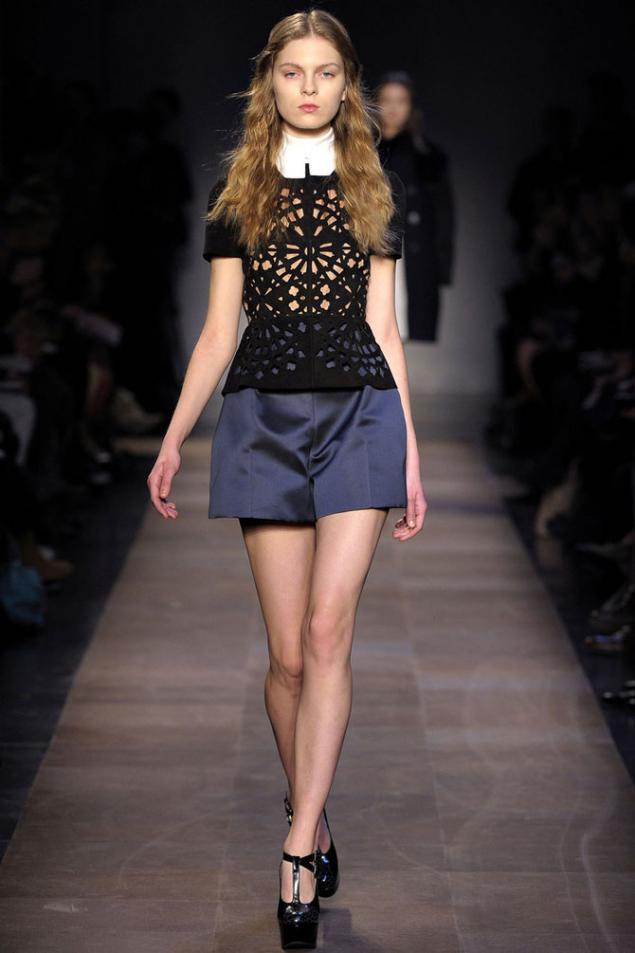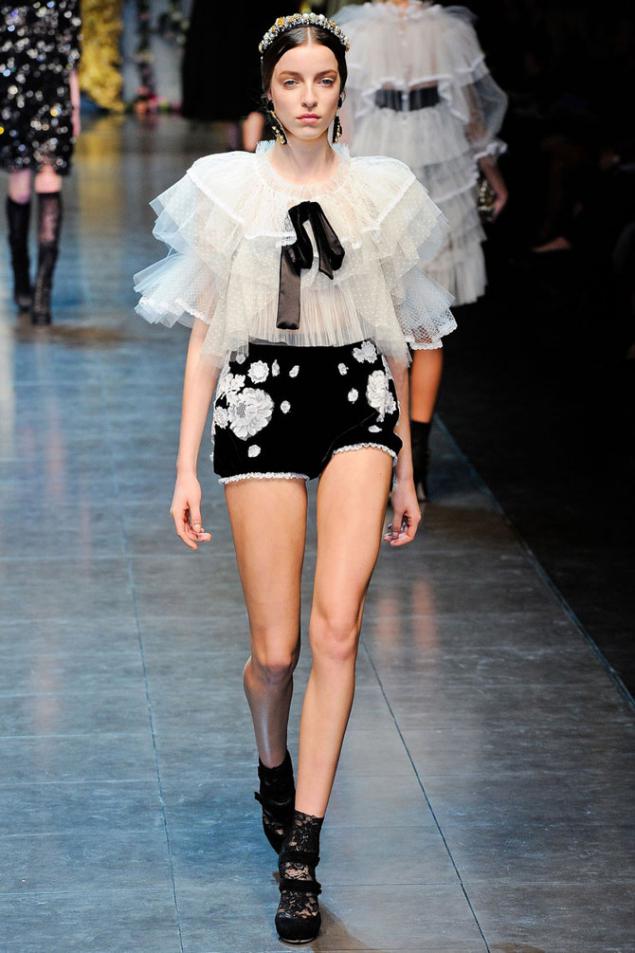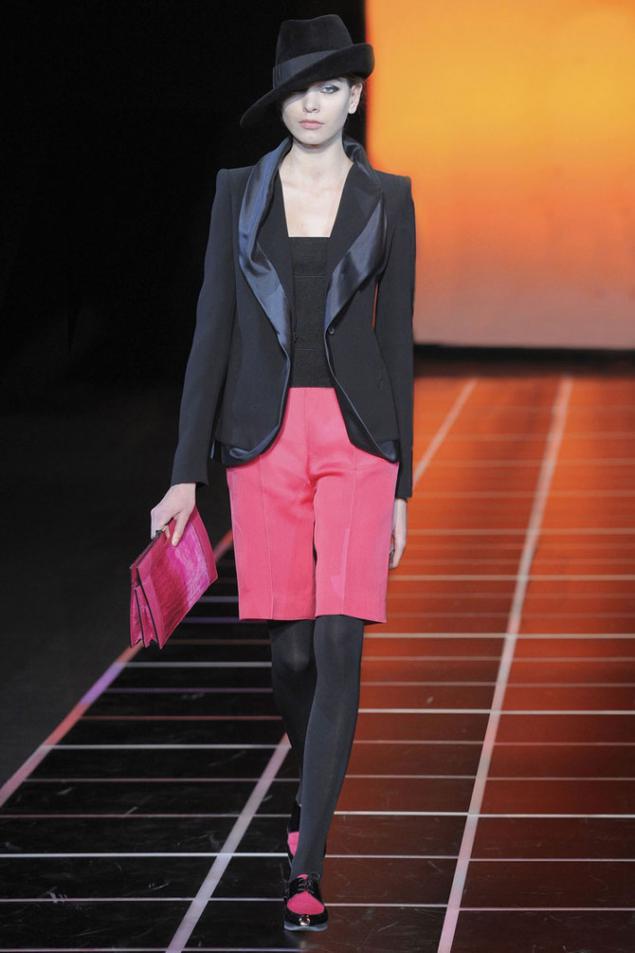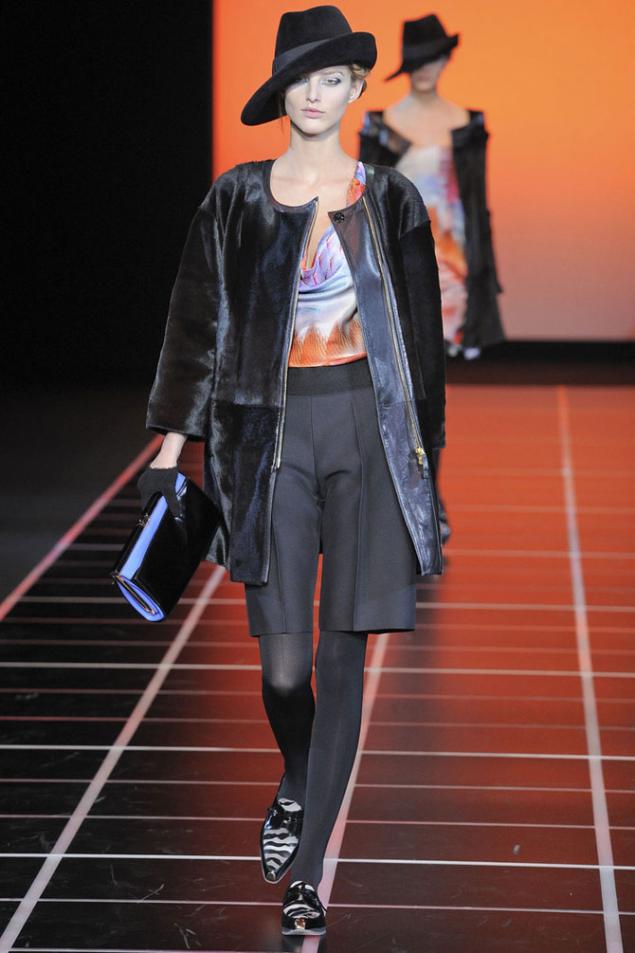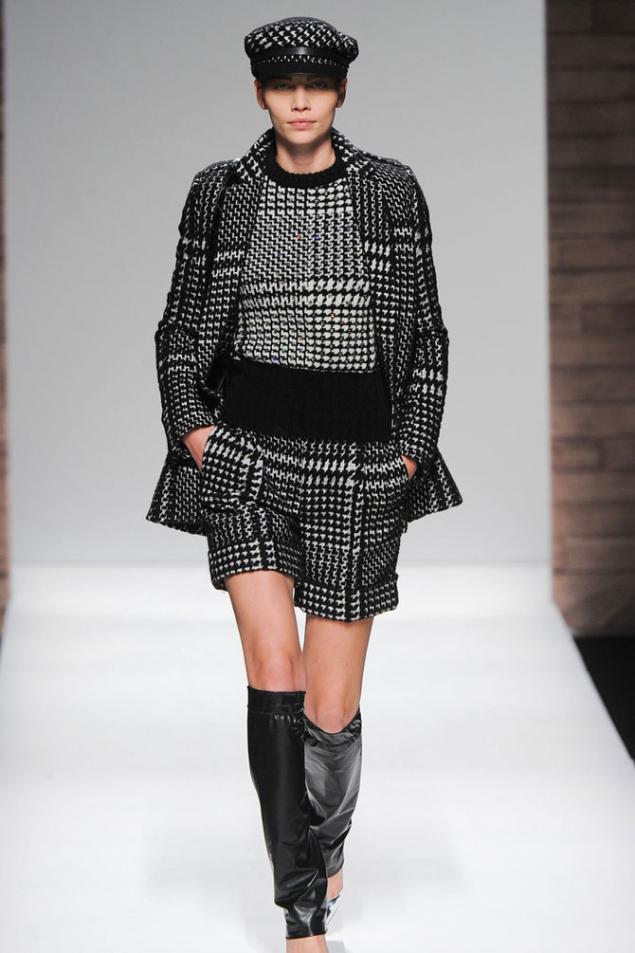 Overalls
By fashion trends autumn-winter 2012-2013 and include overalls. They have a strict clear silhouette, almost indiscernible line between the top and bottom, constructedness belt trompe l'oeil. Such models are good "pull" figure. Colors exceptionally restrained, natural. Again, the heel needs and created the image of a discreet form, but expressive and emotional content.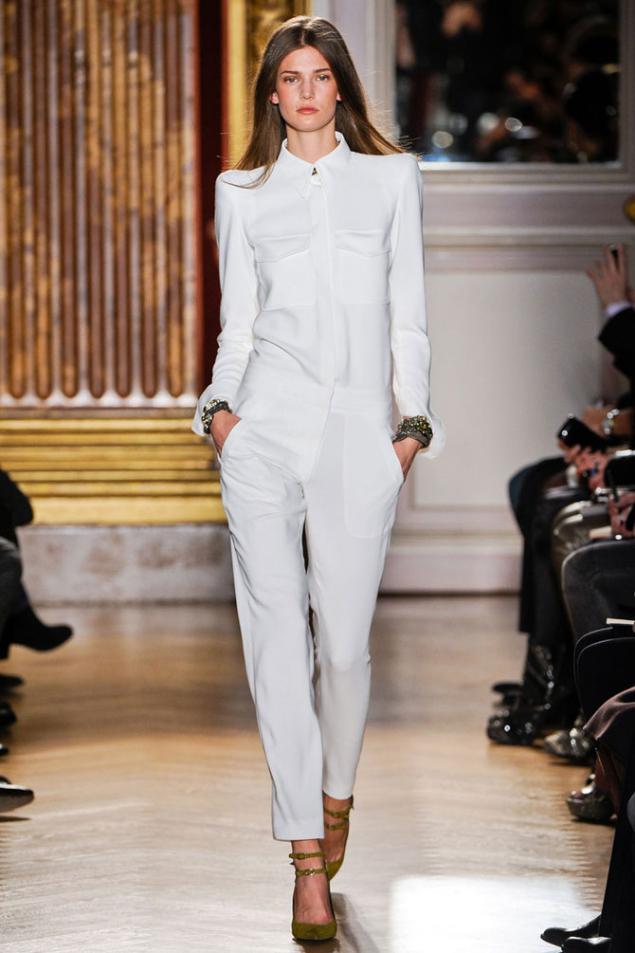 Trousers 2012-2013: narrow
A controversial option. It is clear that the high and thin dlinonogim everything goes. But we do not live in the world of models. So we try on. kabulk to such to such pants required, preferably on the platform podnosochnoy parts, shoes with bridge and the strap at the ankle. Line hip camouflage sweater large knitted, jacket, jacket or coat. We fix the waist, it is desirable quality wide leather belt.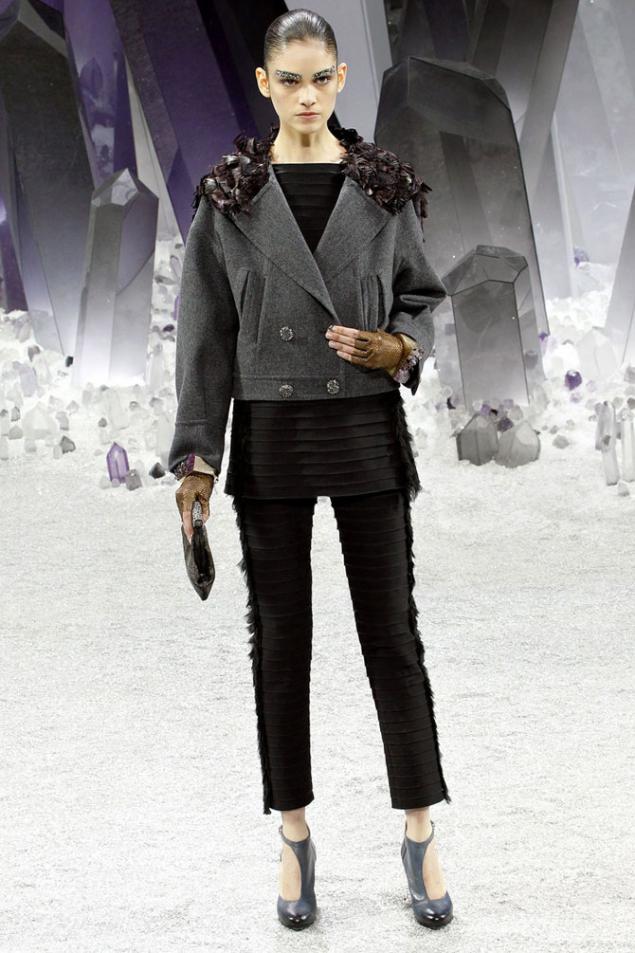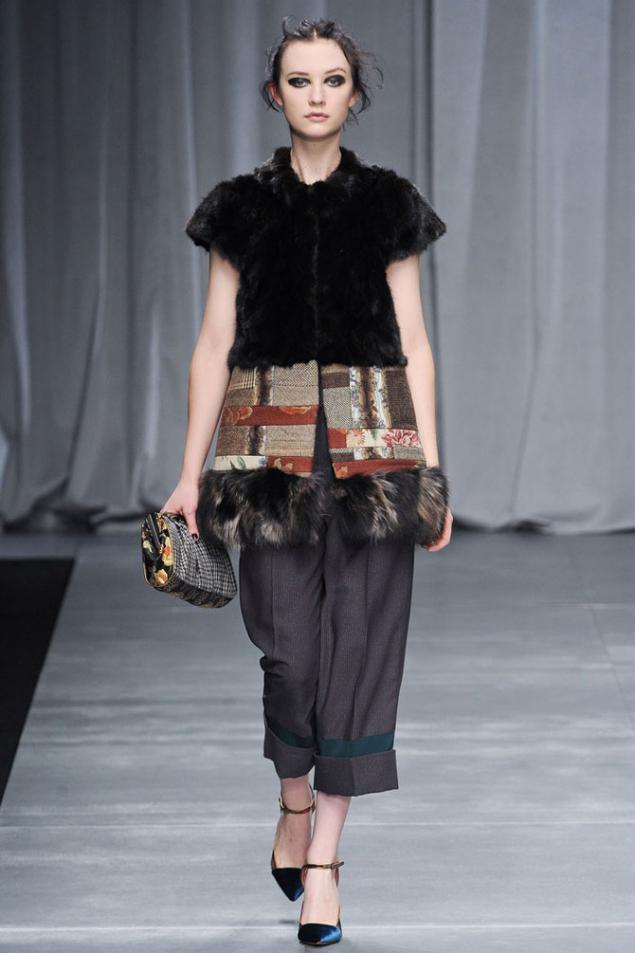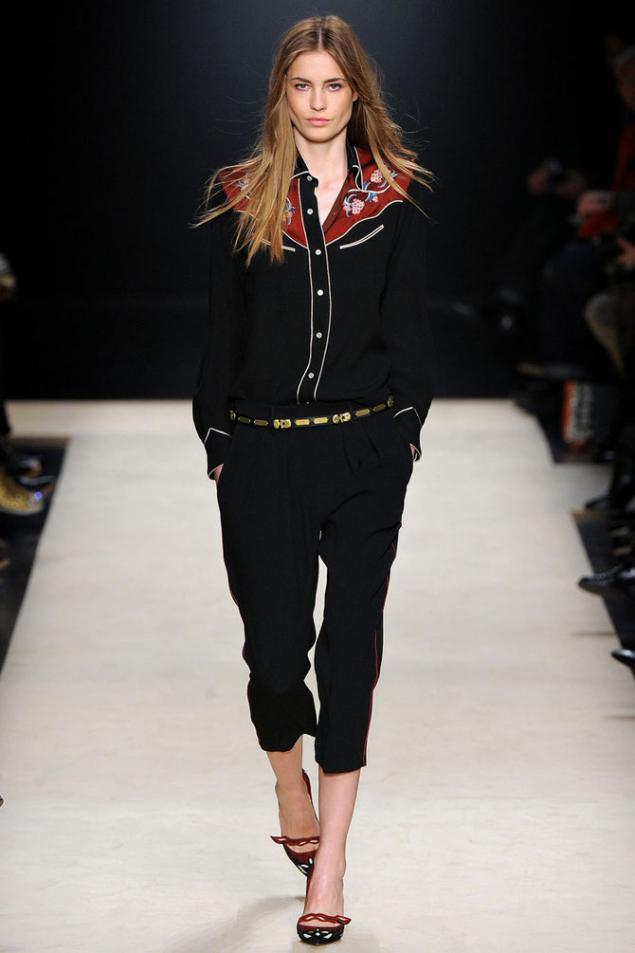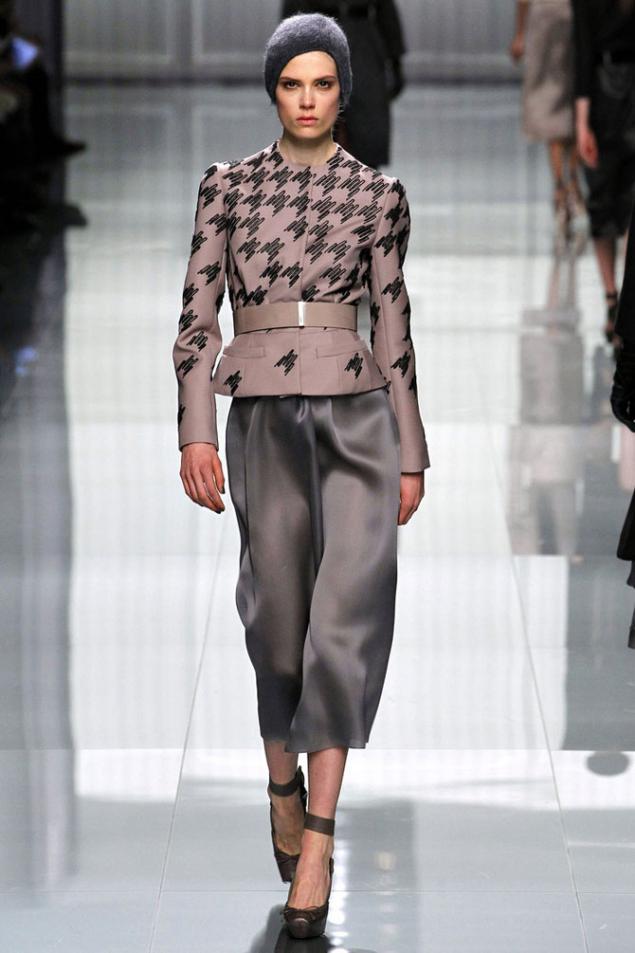 Travel bags
Wanderlust and appropriate manner - a fashion trend autumn-winter 2012-2013. To achieve the desired effect may be merely due to the bag. Sacs, leather luggage, a large bag postman wearing large satchely can and should be every day. It is desirable in the hands, the handle and not over the shoulder.