The Cannes Film Festival is gaining momentum! Last night on the Cote d'Azur held loud premiere of Arnaud Desplechin "Jimmy Picard", which was attended by dozens of Hollywood stars. The film tells the story of World War II soldiers, Indians from the reservation, which seeks the help of a psychoanalyst. Suddenly, the relationship of the two men grow professionally friendly ... the main role in the film played by Benicio Del Toro.
In addition to the "Jimmy Picard," the fourth day of the Film Forum has become the premier for another two paintings - Japanese drama "Bends" and the melodrama of French director Rebecca Zlotovski "Grand Central" with Lea Seydoux in the title role.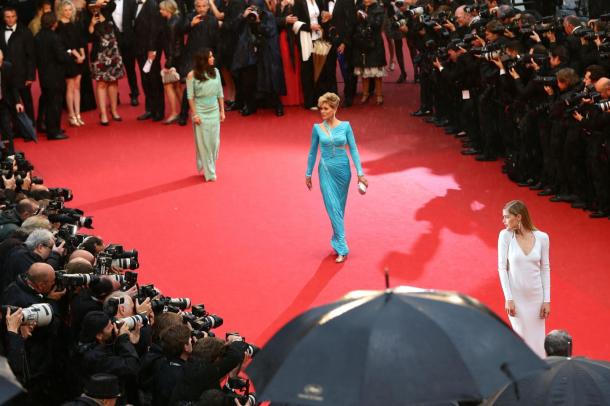 Yesterday evening at the Cannes Film Festival greeted guests rainy weather, but this fact does not spoil the mood of stellar ladies outfits which painted red carpet with all the colors of the rainbow. The most prominent guest of the evening, of course, was the Jane Fonad. Hollywood diva arrived to the premiere dressed in Versace exquisite azure. And though I do not particularly like this outfit (he would not like me at least on someone), but I can not deny the fact that Jane looks simply stunning in it! A delightful woman - everyone would look like 75!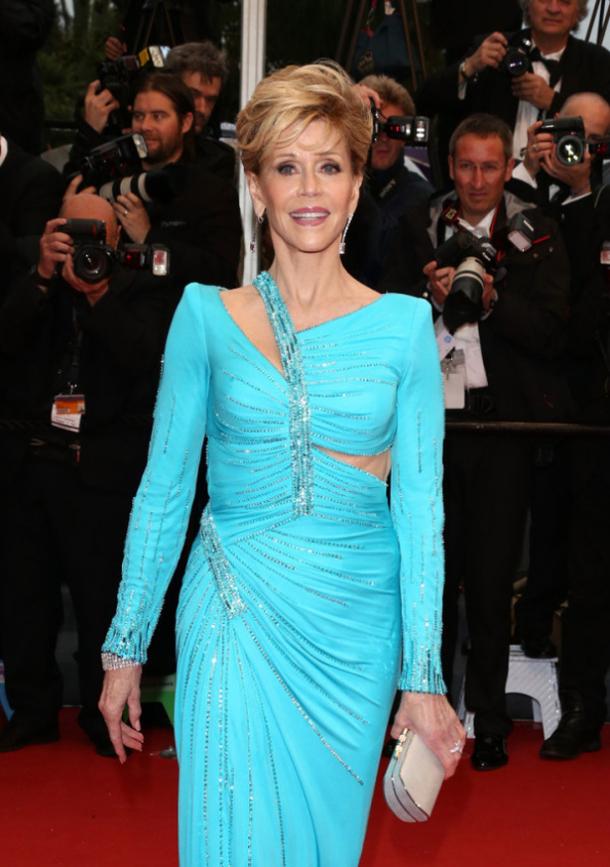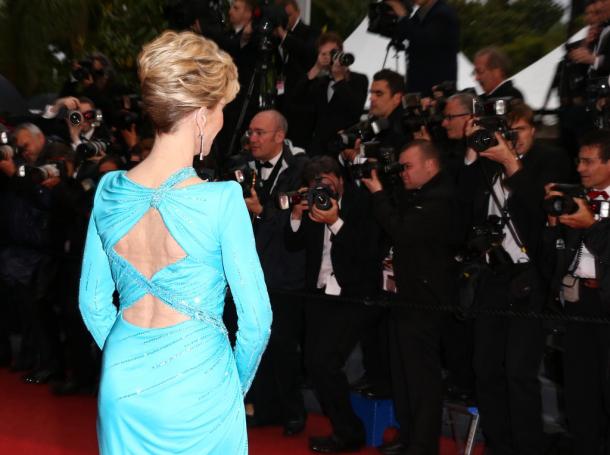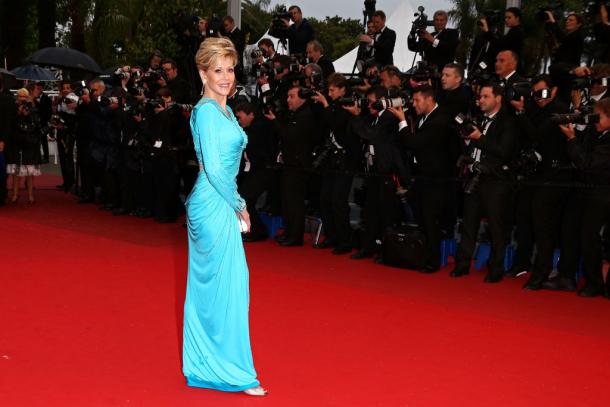 Behind Jane Fonda, which, incidentally, is the film festival cosmetics L'Oreal, on the red carpet out her colleagues - Doutzen Kroes and Eva Longoria. The Swedish model posed for photographers in a white dress Calvin Klein with impressive neckline on the back. In general, the image of good, but if you look closely, you can find this dress a few drawbacks. First of all, the silhouette. Though Doutzen is renowned model with a perfect figure, she can hardly boast a wasp waist, which would not be superfluous in this dress. And, secondly, length. The skirt looks kutso, and especially looks unattractive, combined with platform sandals that make your feet very powerful.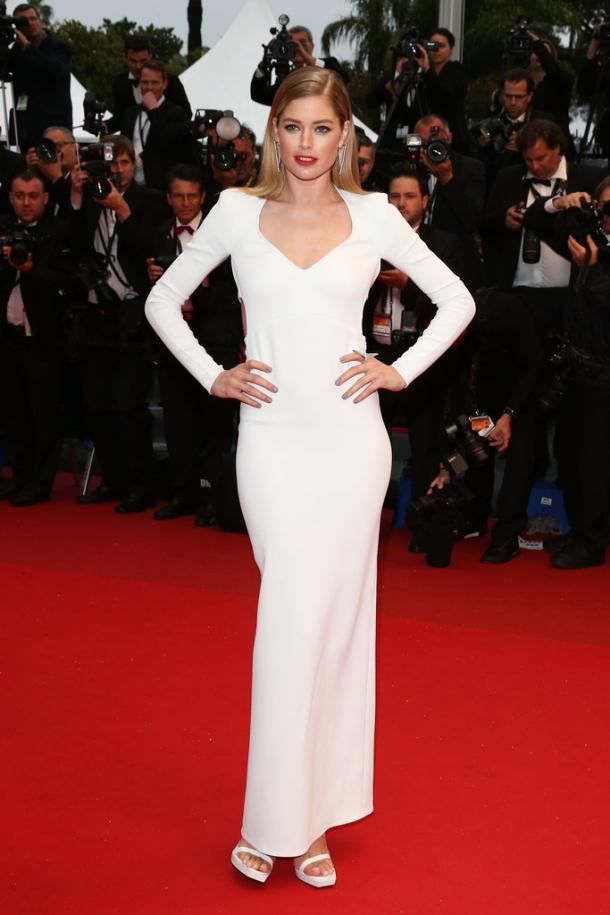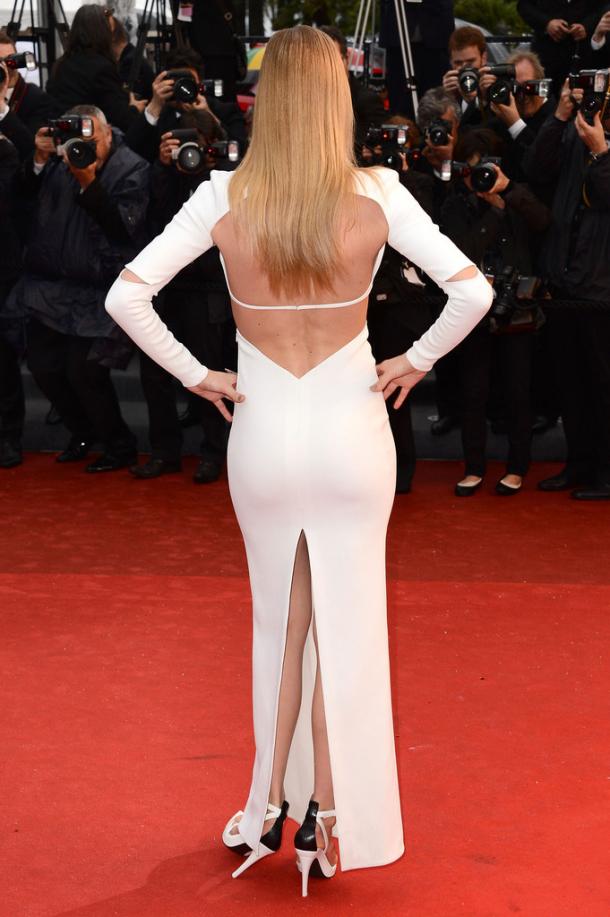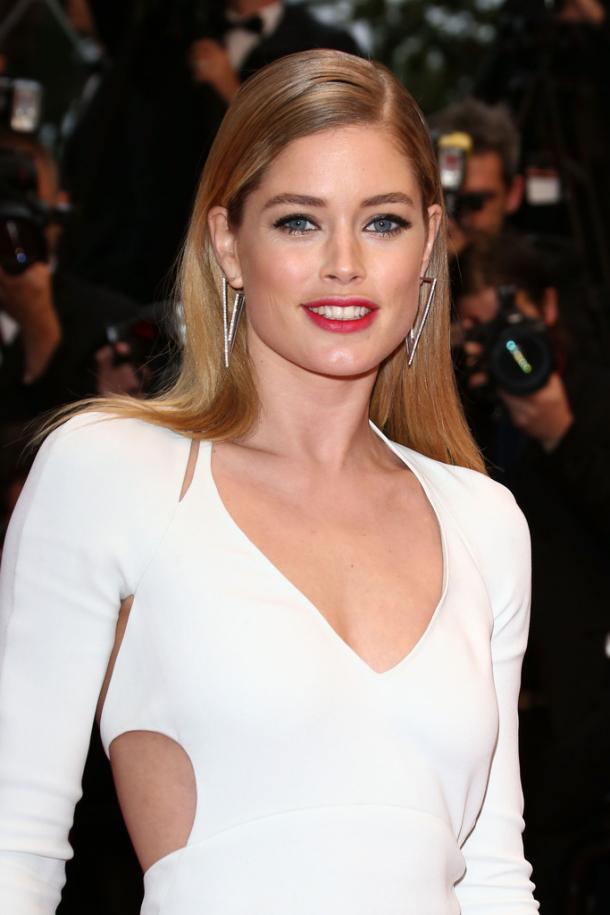 Fashion critics tore dress Eva Longoria by Versace to the nines. Like, dress her look fat, tasteless and generally looks chic enough to Cannes. What I agree with them, but I can not call this output Longoria was a failure. Pastel shade of mint combined with her olive skin just magical, and I like the silhouette - fitted style looks at it much more effectively direct skin-tight outfits.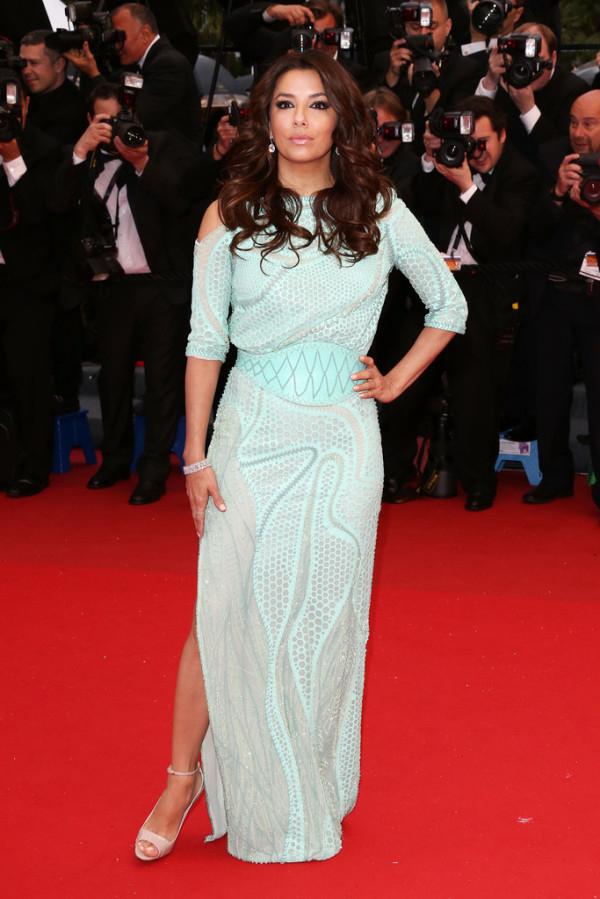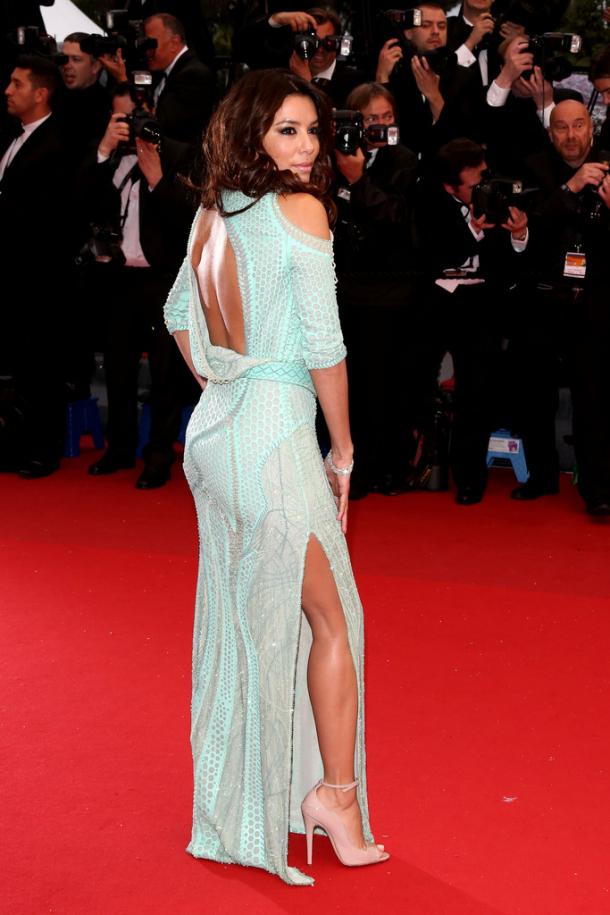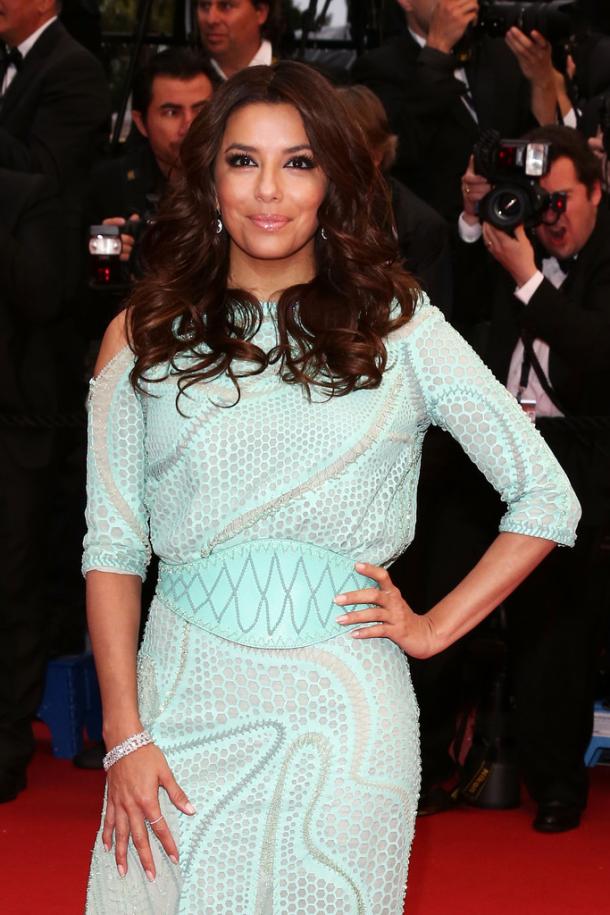 Very impressive outfit showed us the Spanish model Nieves Alvarez and actress. She appeared on the red carpet in an elegant crimson toilet Ralph & Russo Couture, who fashion critics unanimously called "unique". The fitted dress with a string of gold jewelry smoothly into the dramatic silk "tail", which, in turn, becomes a spectacular plume. In general, to describe this dress is very difficult, so just invite him to admire and make your own opinion :)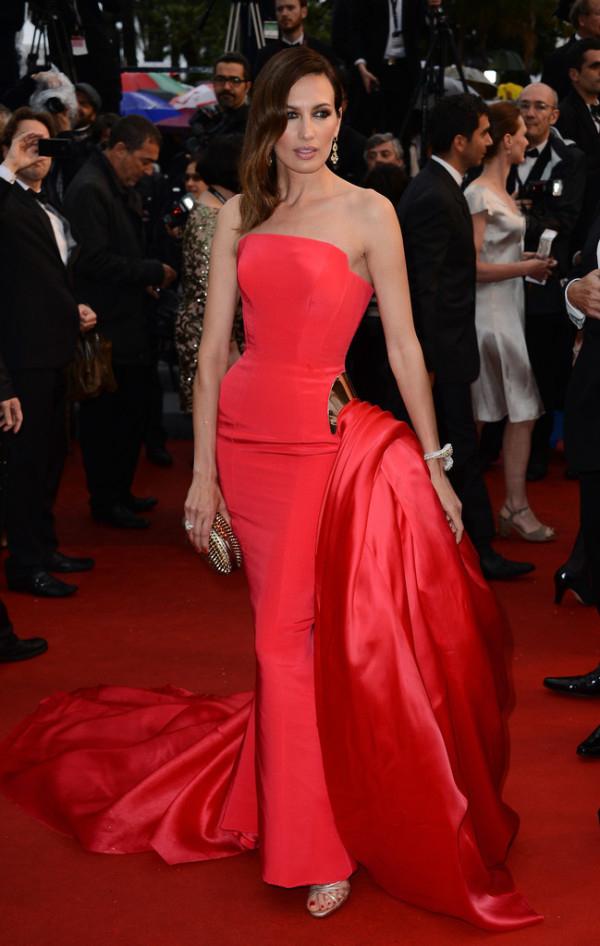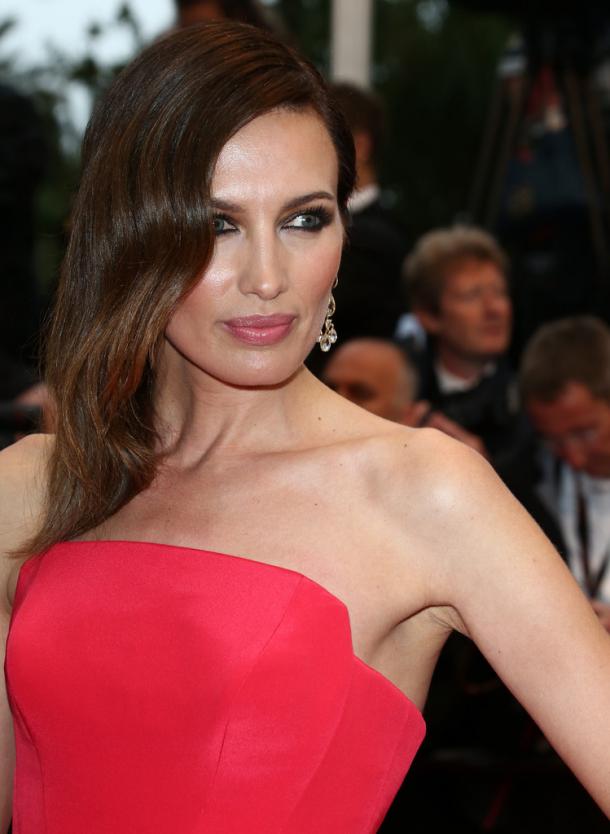 Welcome to the premiere, and the cast of "The Hunger Games." Jennifer Lawrence, of course, chose to pass on a path Dior, dressed in an elegant close-fitting dress with a graphic quality coloring. Overall, this dress fell to my liking, but personally I do not have it any dramatic or as they say in America, "wow-factor". I hope for his own premiere Jennifer chooses a spectacular way.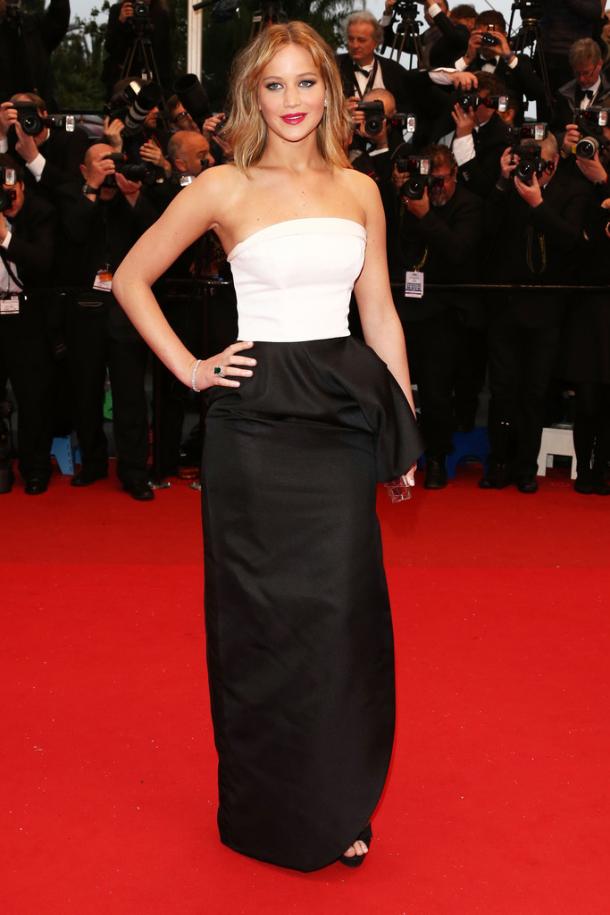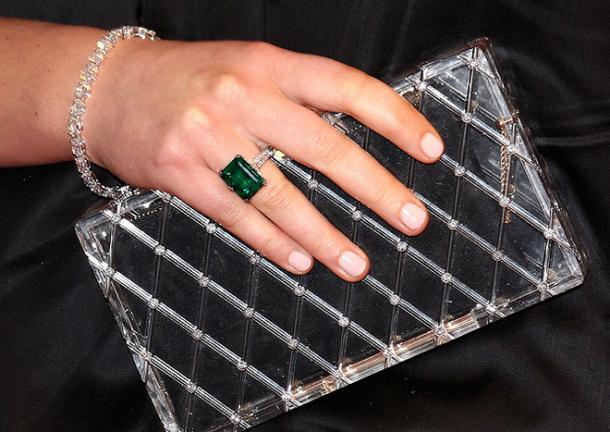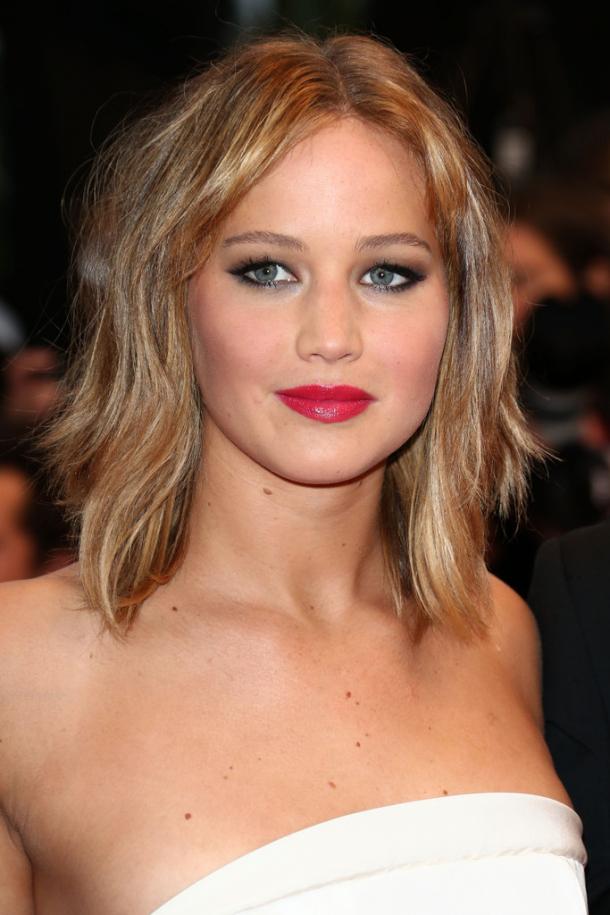 Even I, a lover of the different elements in the original evening gowns, dress Paz Vega was not to the taste. This dress Stéphane Rolland Couture - one big chaos. Transparent insert the hips looks very strange, and a custom bra is something sloppy, baggy-unfinished.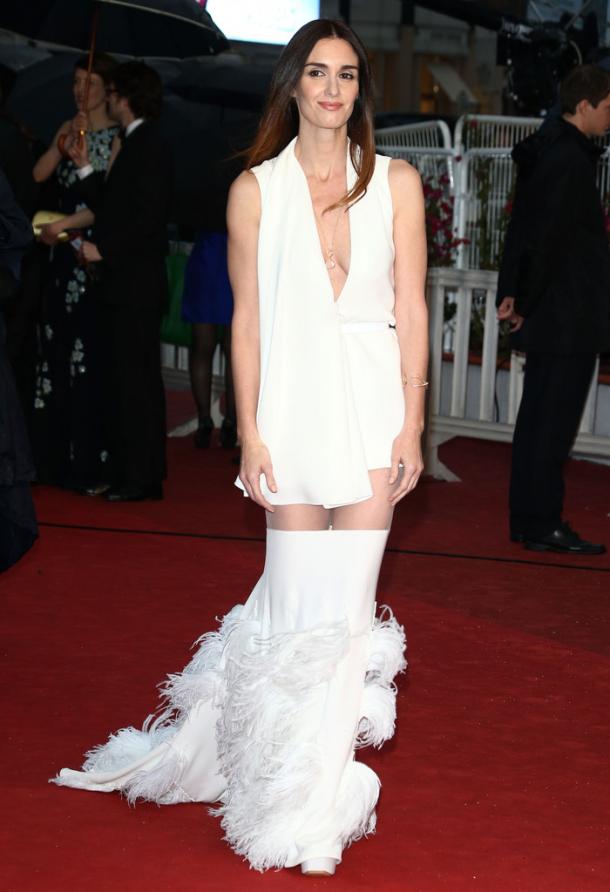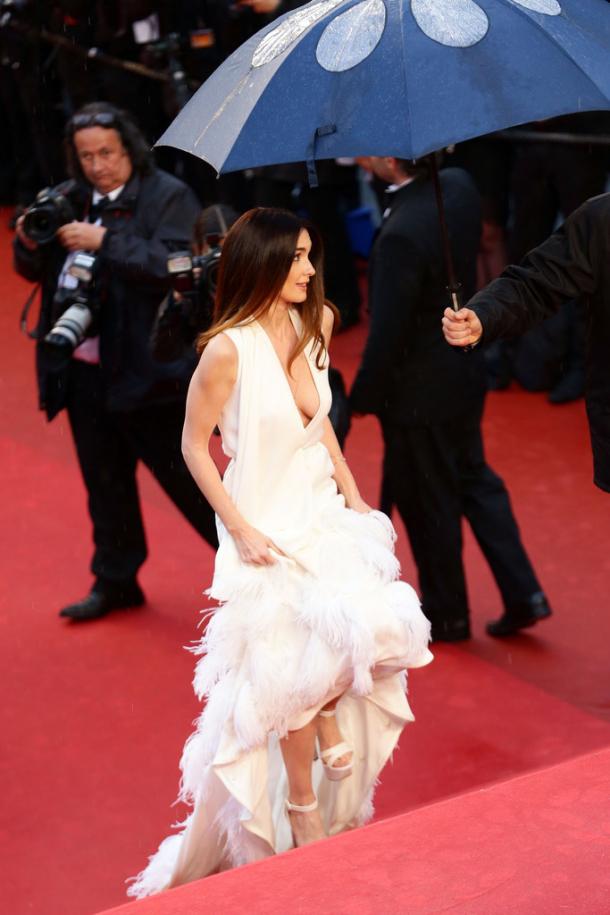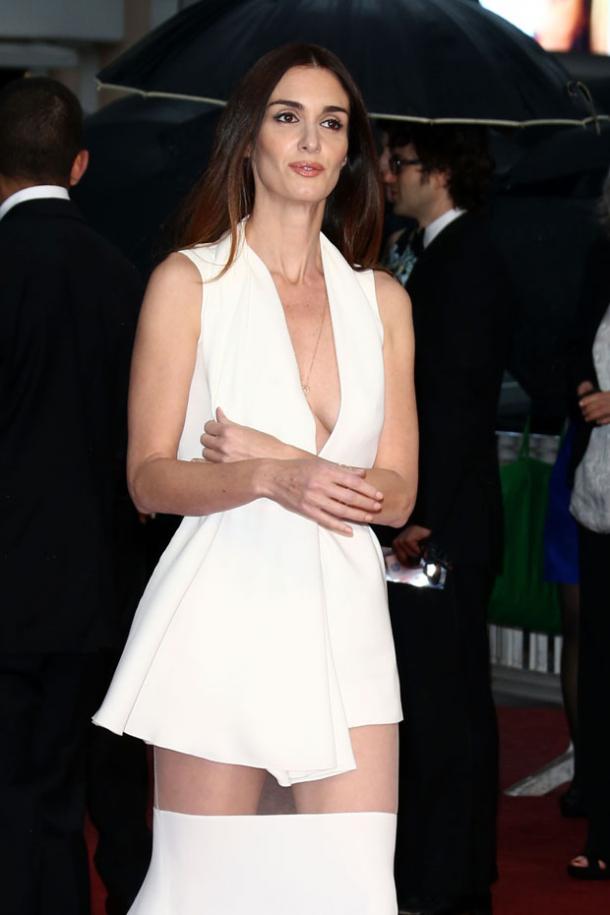 Cheryl Cole, which traditionally puts on a festival of creation Stéphane Rolland, this time changed his favorite designer and went on the red carpet in Zuhair Murad. And, you know, I did not disappoint her choice - lace dark red dress with an open back to the singer looked just fine. I am particularly pleased with the choice of hairstyles - sloppy spit perfectly complement the image.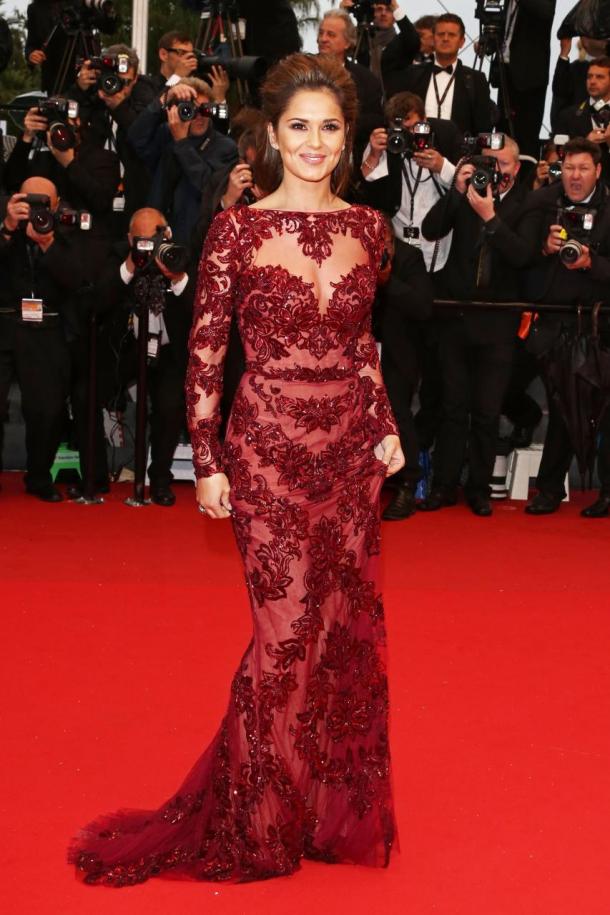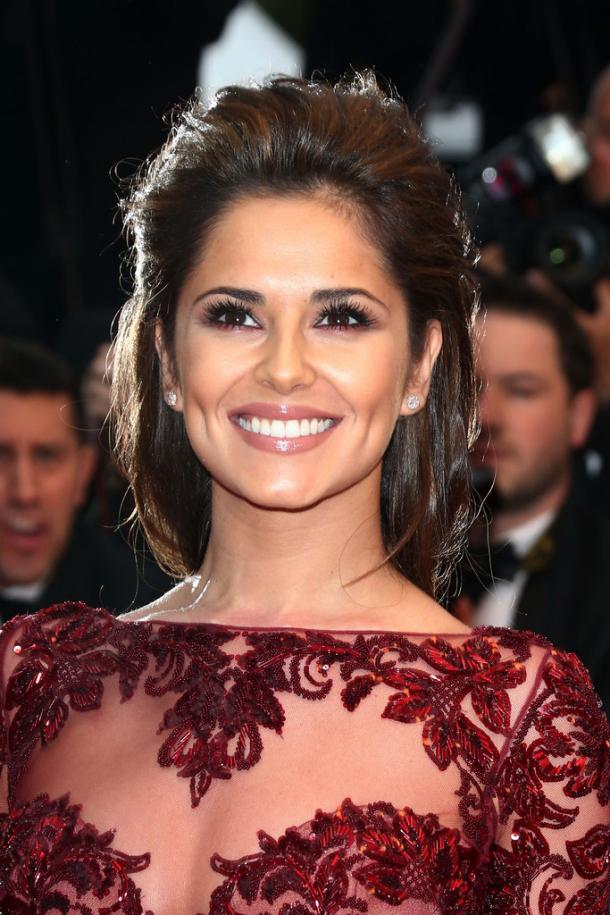 Megan Gale has chosen for the official premiere sexy outfit with interesting decorative elements. Decorated with black floral applique "transparent" bodice blends in black skirt with a small train, and is a real transparent inserts along the thighs.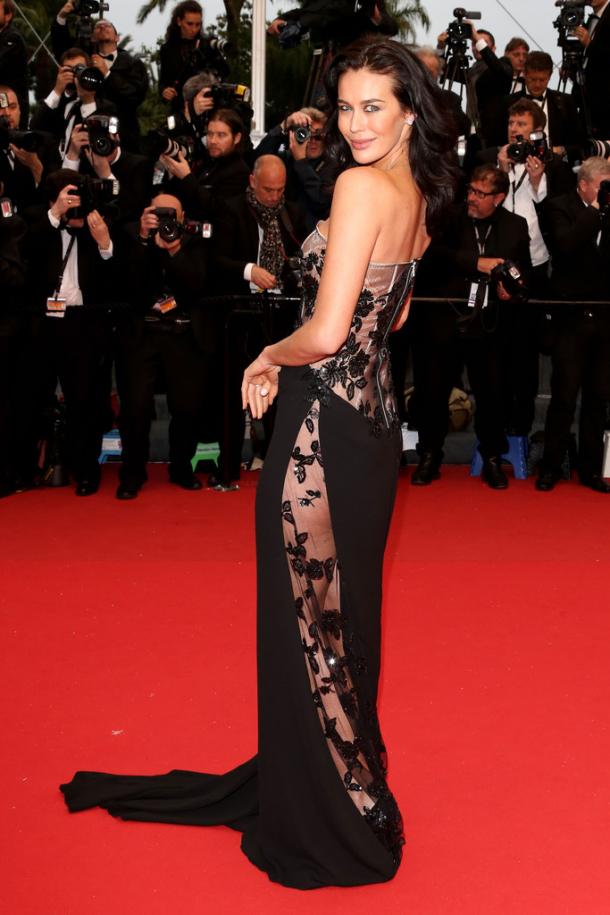 Finally, finally, the creation of a fresh collection of Elie Saab couture on the red carpet! Actress Carina Lau appeared on the premiere of "The Bends" with his participation in a white dress with silver trim, supplemented shortened Cape. Elegance, style and originality in one package.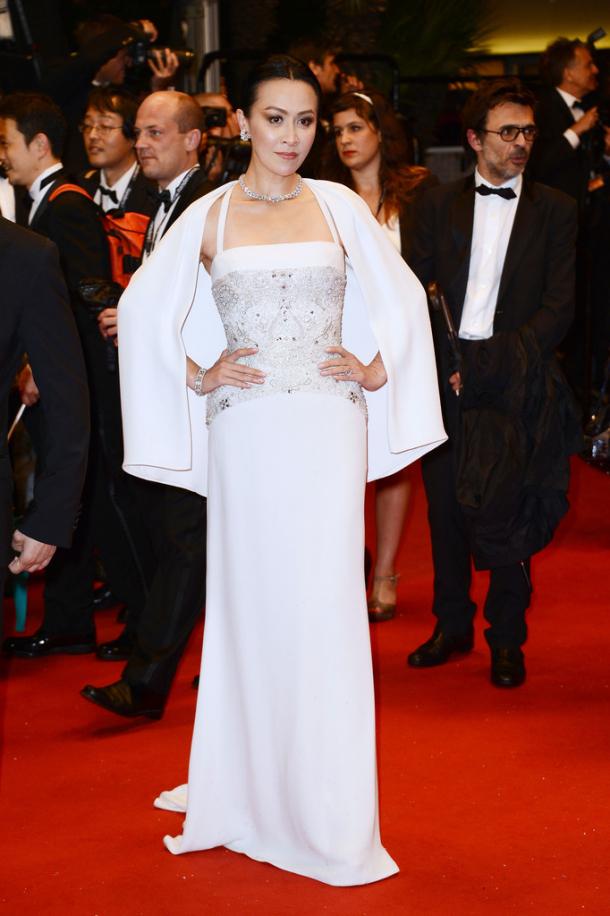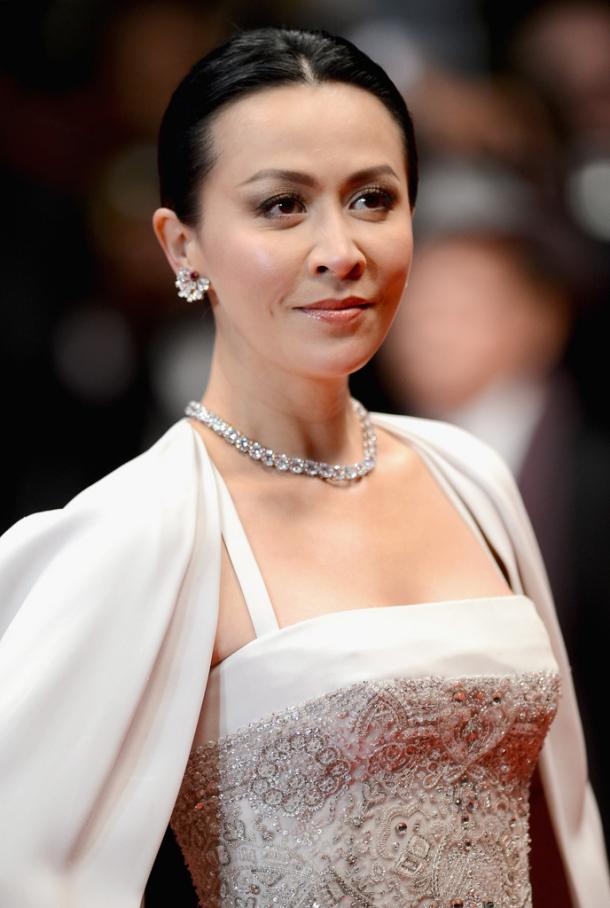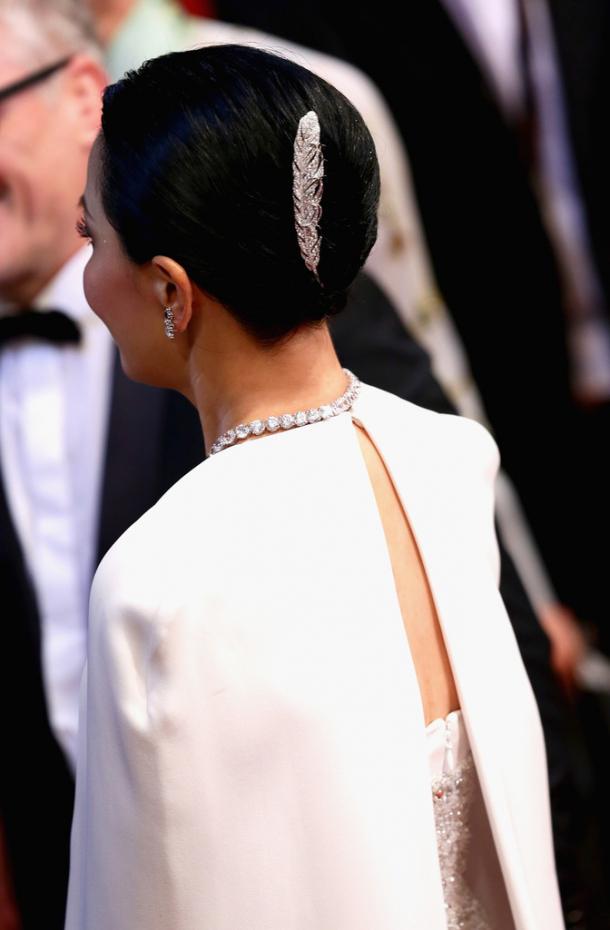 Refined French Léa Seydoux to the premiere of the film "Grand Central," where it is, incidentally, starred in a dress Louis Vuitton. Attire unusual lavender-blue shade with trim degrade and playful bow on his back staring at the red carpet, though not particularly dramatic, but it is very elegant and cute. I like it!