The resort town of Cannes French leave of the 65th Film Festival. Hundreds of beautiful dresses of famous people and, of course, good films to see is there, but the magazine «Glamour» decided to go a little further into the past and be called the best dresses «Festival international du film de Cannes» since the first event (1946) until last festival (2011). What came out of it, see the post.
Angelina Jolie grabbed just two honorable place among the best-possible 30. The first dress - Versace creation, which is a light, delicate and definitely sexy outfit (a notch has every right to be sexy). This dress that Jolie has demonstrated in the day of the premiere of the film "Inglourious Basterds" with Brad Pitt in the lead role, the actress was incredibly good, especially because the light color dresses successfully contrasted with the color of plump lips of Angelina. In 2009 it was rumored that the couple's relationship cracking at the seams, but appeared in this dress on the arm of Brad and Angie debunked all the myths absurd.
A little earlier - in 2007 - Jolie was more bold and easy-going. There was the mourning clothes and faceless bows, and were bright and juicy dress. At the Cannes Film Festival 5 years ago, the actress showed all that capable of being charming and sexy at the same time not only in arms, but without it in a sunny dress by Emanuel Ungaro. Canary yellow face refreshed Jolie style concealed the lack of waist and hairstyle very well underlined the beautiful facial features, but the bad luck that his hands not going anywhere ... they have it, of course, such as if her age 70.
"I bet it's perfect!" - Says the photographer in the background. In 2010, Cate Blanchett and really became a star of the red carpet of the Cannes Film Festival, poyavivishis in creative dress by Alexander McQueen, who died recently. At this point you want - you do not want, and will be in the spotlight because of the death of the designer wrote a lot and often. Dress creative, especially like the design - the eagle and roses.
How long ago it was ... 1997: Kate Moss in a silver dress in fashionable now "pajama style". Although there is a dress, because next Johnny Depp - the best and precious jewelery model.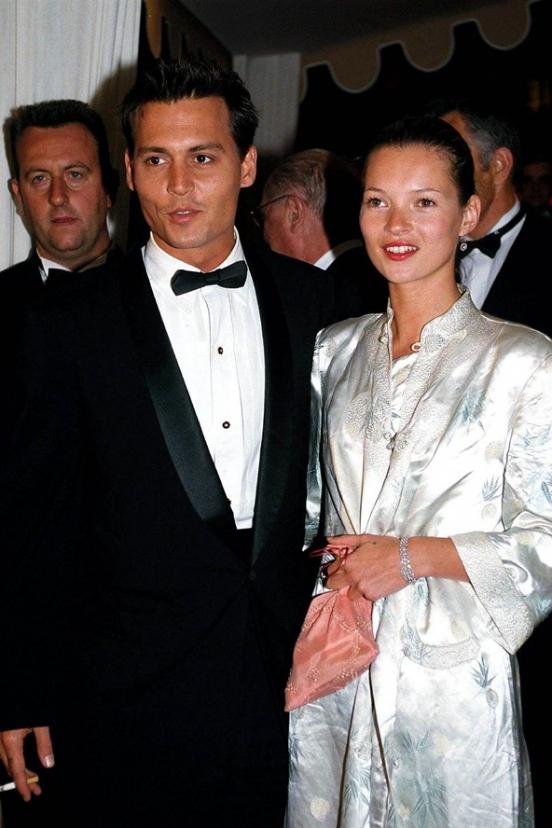 2011. Rachel McAdams received a lot of unflattering comments about his attire, but it did not bother her because she knew that she had a kick-ass figure and the red goes very blonde. Dress original and as usual with c Marchesa lace trim.
Diana Dors was the true epitome of old Hollywood in 1956, appearing in a brocade dress with a long fur cape.
White swan dress by Givenchy more than ever had in 2008 when Natalie Portman was preparing for the role in the film "Black Swan." Designers of the French fashion house seemed to know what to actress and she chose this white robe. Beauty, and only!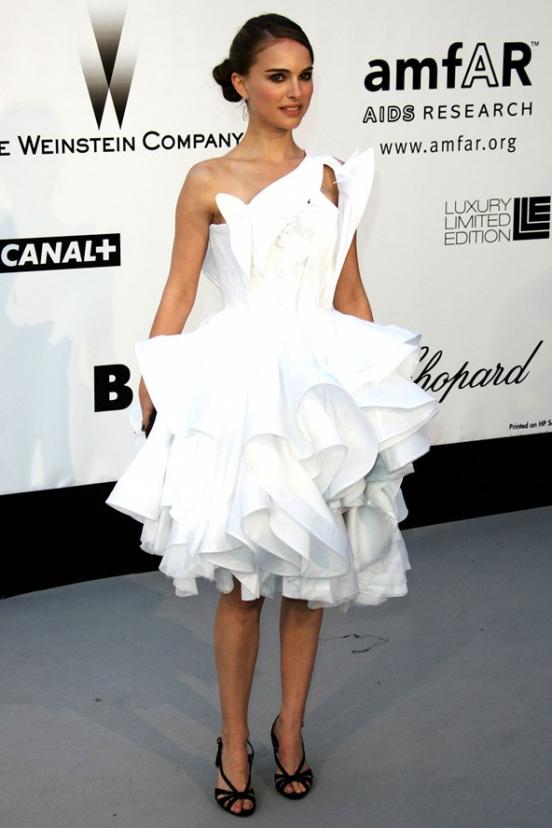 For Zoe Saldana Cannes Film Festival 2011 was held under the banner of Giorgio Armani. The dress maestro Interior design at the premiere of "The Tree of Life" Zoe looked in particularly vulnerable, but we must admit that her dress is not very suitable. Everybody noticed that there it looks like a crab sticks :)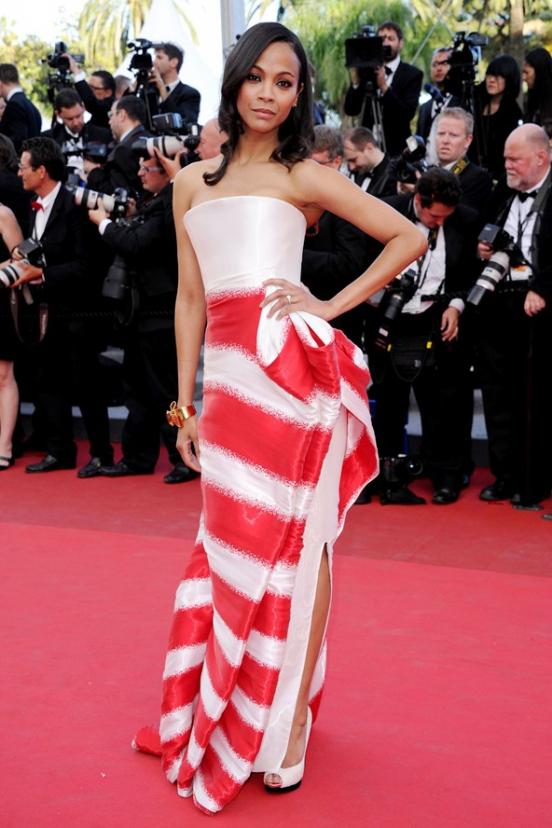 Extravaganza color of the dress from Dolce & Gabbana Rose McGowan and drive - it's cool!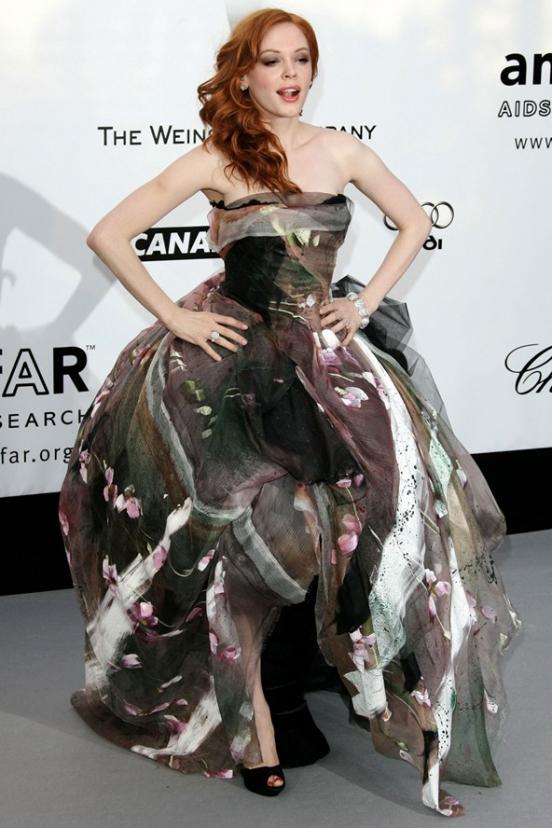 In 2006, "chocolate" Beyonce appeared at the premiere of "Dreamgirls" in an exclusive blue dress that creates her mother Tina Knowles. Tina - designer, so all ideas home little girl, she may realize. Dress nice, but Beyoncé is so magnificent woman, that it is quite simply looks too.
If the figure allows, and not rumbling behind her husband, and it is possible to wear revealing outfits such as Cheryl Cole in 2010. His appearance at the Cannes Film Festival, she confirmed that is still a star and does not intend to be in the shade. The dress, created by Donatella Versace, is beyond praise. Open back and compromising recess - this is exactly what needed to Cheryl at the moment.
Here it is a fish of my dreams! Stately Linda Evangelista in asymmetric gold dress by Lanvin proved that top model 90 do not grow old, only prettier with age. Here Linda at the Cannes premiere of the film "Indiana Jones and the Kingdom of the Crystal Skull" in 2008.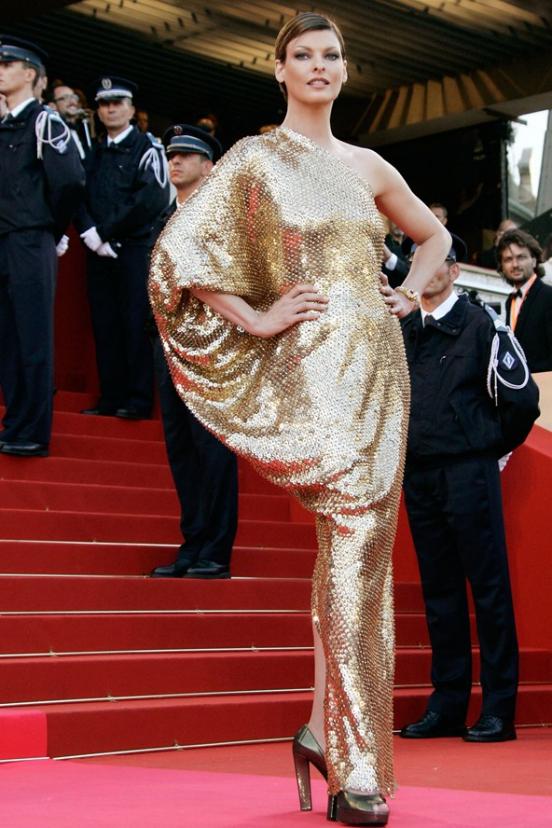 1987. One of the most famous moments in the history of fashion: Princess Diana in the air pale blue chiffon dress with exactly the same scarf appeared at the Cannes Film Festival with her husband Prince Charles. Dazzling woman with a very kind heart.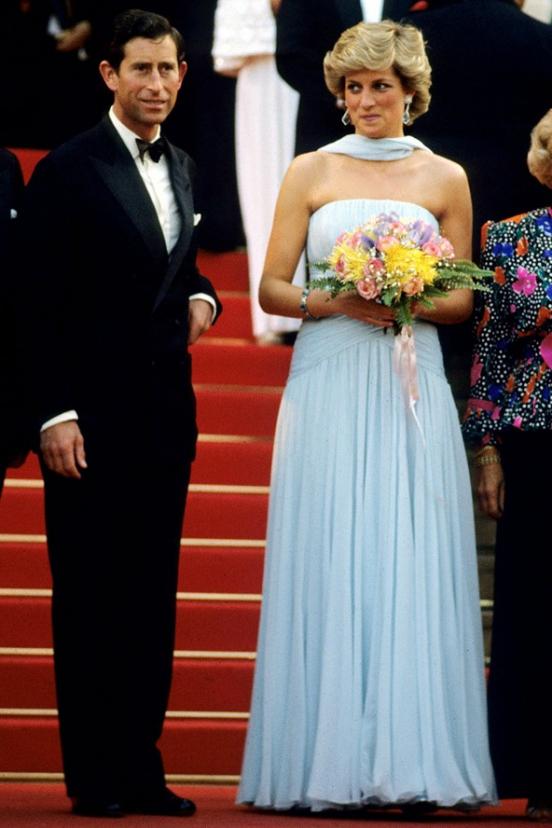 At the party «amfAR» 2002 model Naomi Campbell appeared in excellent form-fitting dress with gold accents. In dark-skinned Naomi similar colors looks great, but too much makeup ...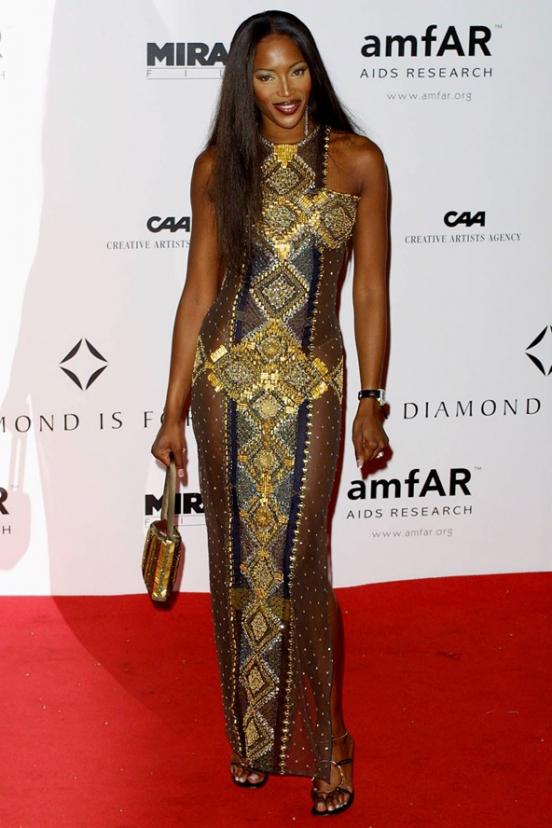 Screen couple movie "Troy" and Diane Kruger Orlando Bloom arrives at the Cannes Film Festival in elegant ensembles. Bloom dressed to the nines, and Diana in flying white dress with a multi-layered skirt decorated with feathers. Dress Diana created Chanel Couture, and jewelry made Chopard. Yes, it is no wonder Kruger cast as the most beautiful woman in Greece.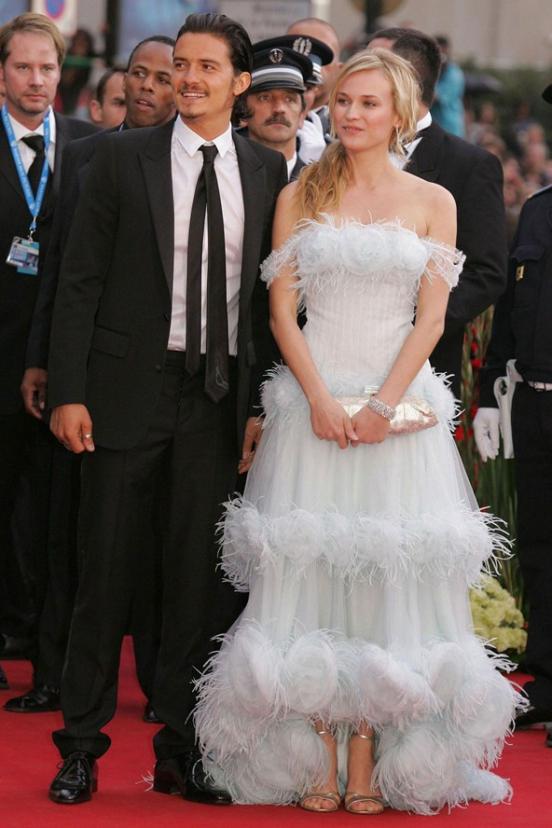 They say it is a shame when you can see, but it's clearly not about Brigitte Bardot. A young 22-year-old Frenchwoman has given food for sudachestv media and show the audience how her dress flutters. Great classic dress, but even better legs Bardot. The picture of 1956:
Editors «Glamour» named this way Hilary Swank in 2005 elegant and the closest to perfection, but I'm boring monochrome outfit, which distorted the figure, I do not see anything good.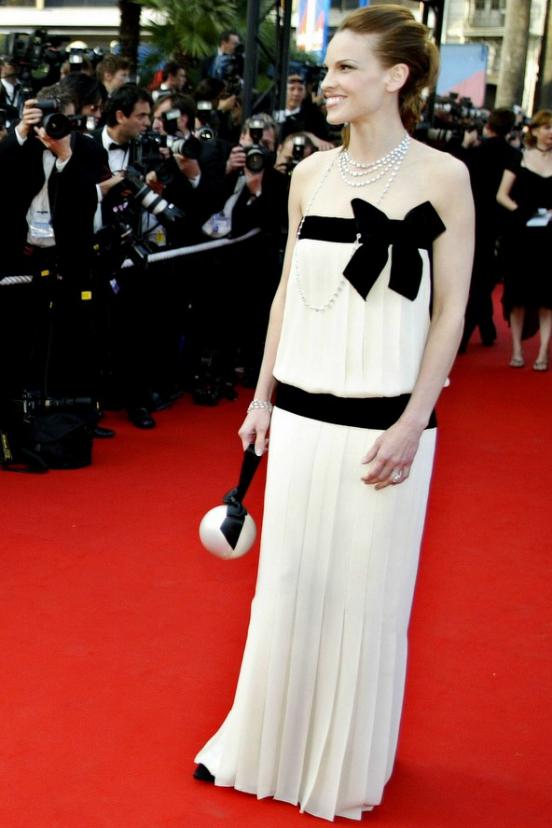 Penelope Cruz is very beautiful woman, and that she no dress - everything will stay the way it should. The lilac dress from Marchesa if she dreams of a girl, Miss dream. By the way, this image reminds me of Pan image Katy Perry during «Teenage Dream». Notice is 2011 and Cruz had just given birth to first child.
In 2003, Chloë Sevigny arrived for the premiere of the picture "Brown Bunny" in a very modest fee, although in the film got her extremely frank and provocative. Chloe would hint at the fact that in life it is not so, and promiscuous sex, alcohol and drugs are not about her.
We have much to be proud of: Natasha Polevschikova from Perm, better known as Natasha Poly, dressed smartly. In the west, many in awe of her taste and feminine charm, but what we talk about our compatriots - they too are slain. Luxurious steel gray dress by Roberto Cavalli, interesting clutches in his hand and a bow to the Cannes Film Festival in 2009 (premiere of "Inglourious Basterds") is ready.