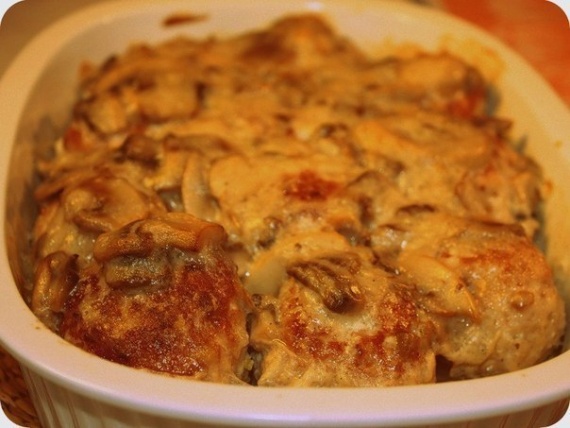 Ingredients:
 - 600g chicken breast
 - 300 g mushrooms
 - 1 onion
 - 2 cloves garlic
 - 1 carrot
 - 1 tbsp. vegetable or chicken broth
 - 50g of cheese with low-fat (I have a Polar 5%)
 - Pinch chili petsa
 - A pinch of curry
 - Salt to taste
Preheat the oven to 180 ° C.
Chicken breast washed, dried, cut, salt and pepper.
Put out in 1 cup water 5-7 minutes after the boil.
Transfer to a baking dish.
Mushrooms washed and coarsely chop.
Onion, cut into half rings.
Crush the garlic with the flat side of a knife and chop finely.
Grate the carrots.
Onions, mushrooms, carrots, fry in a dry frying pan without oil. Share this page broth, salt and pepper, and let the liquid evaporate by about a third.
When the sauce is almost ready, add the garlic.
Pour mushroom sauce chicken, cover with a lid or form tighten foil and send in a preheated oven for 15-20 minutes, then remove the foil, sprinkle with cheese and bake another 5 minutes to get a golden crust.
Bon Appetite!