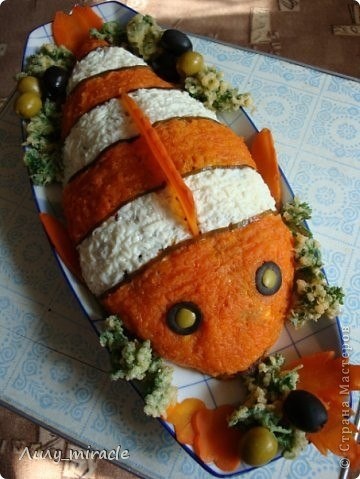 We will need:
Seaweed 200g
Krill meat 250g
tuna in brine 250g
5 pcs eggs
4 salad, 1 batter
Crab Sticks 6 pcs
boiled carrots 3 pcs
(Average)
120 g mayonnaise
parsley 1 Puig.
better curly
milk 1 tbsp. l.
Step 1
Carrots and boil 4 eggs, 1 egg postpone it useful for raw batter.
Step 2
Egg yolk to get proteins postponed. Chopped egg yolks. Crab sticks cut. Carrots and protein grate in different dishes. Slice carrots leave for fins.
Step 3
Seaweed, krill meat, tuna, egg yolks, crab sticks and combine mayonnaise.
Salad put a fish on a platter.
Step 4
Fish spread finely grated carrot, using a teaspoon, while leaving room for white strips. Then lay eyes make proteins from olives, cut the fins of a carrot. White stripes pave seaweed. Knife to make the mouth and just lay seaweed.
Step 5
Make the batter, beat 1 egg 3 tablespoons milk, 2 tablespoons flour. Oil warm up in a small iron bowl. Parsley disassemble into small bundles. A small bunch of parsley dipped in batter and deep-fried at once, fry. Carefully lower the parsley in boiling oil.
Step 6
Ready corals lay on a napkin to stack the excess fat.
Corals are put around the fish.
Treat yourself and your children!