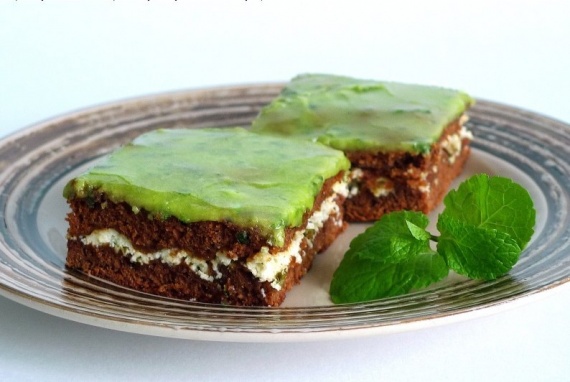 Dough:
 - Eggs - 2 pcs
 - Sugar - 160g
 - Butter - 80g
 - Cocoa powder - 3st.l.
 - Flour - 120gr + add a pinch of salt and baking powder
 - Vanilla essence - 1 / 2ch.l.
Filling:
 - Low-fat soft cheese - 200g
 - Sugar - 40g
 - Mint - leaves with 6-7 sprigs
Icing:
 - Powdered sugar - 140g
 - Milk - 2-3st.l.
 - Mint - leaves with 3-4 sprigs
 - A few drops of green food coloring
Preparation:
20 santmetrovuyu square cake pan with parchment paper and lay a lightly greased. Heat oven to 175gradS.
Beat the eggs and sugar until light fluffy masses. Melt the butter (in the microwave or in a saucepan on the fire) and mix it with cocoa powder. Add chocolate mixture to the egg and whisk everything together.
Pour the sifted flour with baking powder and salt. Beat with a mixer until smooth. To prepare the filling mint grind in a blender or finely chop finely with a knife.
Mix cottage cheese with sugar, mint and vanilla essence. Pour half of the batter into the pan and smooth the surface. Carefully spread over the dough cottage cheese (this is useful for confectionary syringe), then pour the remaining batter.
Bake for 35-40min. Cool in the form.
To prepare the icing mint grind in a blender (or cut with a knife), mix with the milk and pour into sugar puduru with constant stirring. Add green food coloring and mix thoroughly. Frosting should get the consistency of sour cream.
Apply the icing on cooled cake and allow to grab.
Trim the edges of sponge cake and cut into squares.
Bon Appetite!