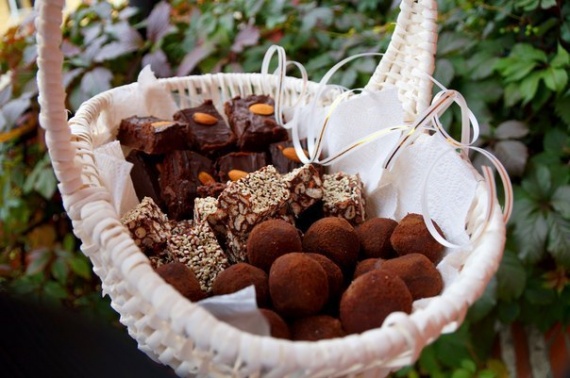 -classical brownie with almonds
-pirozhnye crispy
-Home truffle  
classic brownie with almonds:
brownie cake with soft filling)
200g butter, 200g of chocolate, cocoa 100g, 50g flour, 4 eggs. half teaspoon salt, 150 g sugar ie, 180 degrees, 30 minutes. icing sugar on top and pencils.
Lida Demin
Butter and chocolate drown in the water. bath. Yaytsa.muku, cocoa, sugar, vanilla sugar (a couple of spoons of tea), salt, beat with a mixer. gently intervene chocolate mass in a thin stream. all mixed. dough liquid. in an oven at 180 degrees for 30 minutes. decorate as you please.
crispy cakes:
300g chocolate
100g drained oil
puffed rice or wheat
your favorite chocolate is melted with oil drain. pour there puffed rice (wheat) and put into shape. a couple of hours in the freezer. then get it, cut into cakes and enjoy.
homemade truffles:
Your favorite cookies
condensed milk
cocoa
vanilla sugar
rum - 50g
oil drain. 50g
take all the ingredients except the rum as you want and oil.
hands knead until the consistency of plasticine.
Kata balls. inside each of almonds or hazelnuts.
decorate with cocoa.
help yourself))