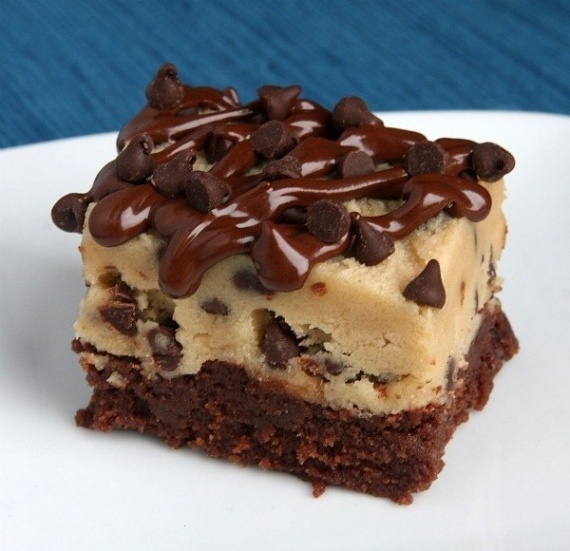 Preparation: 30 minutes + cooling time.
Preparation: 25 minutes
Ingredients:
Brownie:
120 grams diced good unsweetened chocolate
1 cup butter komantnoy temperature
2 cups brown sugar
4 eggs
2 teaspoons vanilla
1 cup flour  
Cookie dough (no eggs!)
3/4 cup oil temperature komantnoy
3/4 cup brown sugar
3/4 white granulated sugar
3 tablespoons milk
1, 5 teaspoons vanilla
1, 5 cups of flour universlanoy
1, 5 cup mini chocolate chips
1, 5 cups semisweet chips + 1 teaspoon short for spraying
1. Prepare brownie. Preheat oven to 160 degrees. Spray non-stick baking sheet for spray. Take a glass bowl and melt in the microwave finely crumbled
Chocolate for 30 seconds. as soon as the chocolate is melted and becomes thick, stir it, remove from the microwave and set aside to cool.
Take a large bowl and mix it in butter with brown sugar with a mixer. Then intervene eggs and vanilla extract. Mix in the melted chocolate.
Then add the flour and stir until smooth (but do not overdo it).
Butter a baking sheet prepared in advance and bake for 25-35 minutes. Follow the process closely and remove from the oven once stuck a toothpick will
be removable completely clean. After extraction, allow to cool completely.
2. Make cookie dough. Take a bowl, using a mixer and mix the butter, brown sugar and white sugar.
Stir in milk and vanilla. Stir in flour until smooth
mass. Mix in the chocolate chips.
3. Place the cookie dough on top of the cooled brownies. Chill in the refrigerator until the dough is quite strong. To expedite the process can put it in the freezer.
The harder the dough is, the easier it will be cut into neat squares. Use a sharp knife to cut brownies. You may need to wipe the knife paper towels in between cuts, because pieces of brownie dough and will probably stick to the blade. These brownies best served in paper molds for cupcakes together with a fork.
4. If you want to add chocolate drops on top, melt half a cup of chocolate chips with 1 teaspoon short in the microwave.
mix until smooth paste state. Put the mass in a piping bag and apply on top of each brownie.