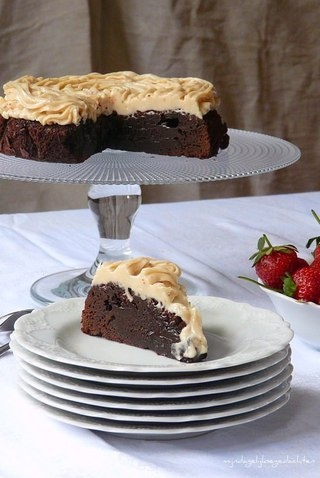 Brownie:
100g milk chocolate
50g cocoa
150g sugar
3 eggs
120g flour
150g plums. oil
vanilla  
The cream of the cream cheese and white chocolate with strawberries:
50ml strawberry Lurais
200g cream cheese
160g white chocolate
100-120g vanilla icing sugar
Melt chocolate with butter and cocoa in a saucepan with non-stick coating. Cool slightly, add sugar, eggs and flour and vanilla.
Prostelit paper 20cm split mold, pour it into the dough and bake at 150C ok.30 minutes (until the middle, do not grasp). Cool completely in the refrigerator for 2-3 hours.
Beat the strawberry puree, cold cream cheese and melted and slightly cooled white chocolate. Apply to Brown (using a pastry bag or Spatula). Cool before serving.
Stretching with the consistency of toffee brownie and strawberry cream upper absolute hit!