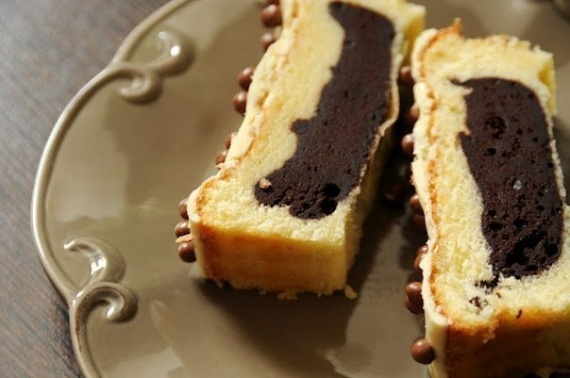 Ingredients:
170 g flour
0, 5 tsp soda
0, 5 salt
125 g butter
200 grams of sugar
3 eggs
150 grams of yogurt
40 g cocoa powder
60 ml of water
Preparation:
Heat the oven to 180 degrees.
The form must be sufficiently deep and large, I had 2 disposable molds, so I got 2 cake.
So, mix the salt, baking soda and flour.
In a separate bowl, mix the sugar and butter, gradually add the eggs and stir again all mixer. Now add half portion of flour, stir, then half servings of yogurt, stir, then the remaining flour and mix again and yogurt. Get a very delicate mixture.
1/3 of this test, we shift to another container. Mix cocoa with water and then mix it with this part of the test.
Now begin to fill out the form: pour a little white dough, then pour the chocolate, then again white.
Bake for 45-55 minutes, it is necessary, I checked the match.
Top can be lubricated with white chocolate.