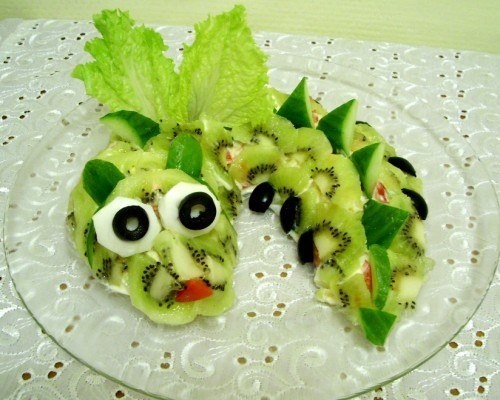 Ingredients:
chicken fillet - 200 g
leeks - 1 pc.
Shrimp - 200 g
eggs varenye- 4 pcs.
sour cream or thick yogurt (original mayo) - 200 g
canned corn - 1 bank
apple - 1 pc.
soybean oil 1 tbsp. Spoon
soy sauce 1 tbsp. Spoon
To decorate the salad:
Lettuce - 2 leaf
olive
cucumber - 1 pc.
Kiwi - 3 pcs.
Preparation
Cut into fine julienne chicken and fry in a pan with soy oil and soy sauce.
Peeled and core the apple and cut into small cubes.
Immediately mix the sliced ​​apples with mayonnaise, otherwise it will darken.
Cut in half along the light of the onion and cut into thin half-rings.
Eggs and shrimp cut into small pieces.
Corn mix with other cooking ingredients and add more mayonnaise.
We spread the resulting salad in the form of dragon on a platter.
Slices of kiwi use as flakes "hides" the dragon, laying them on the surface.
Eye circles of eggs and olives.
As the "wings" take the lettuce.
Triangular slices of cucumber use as spines on the "ridge" Dragon.
Also, elongated pieces of olives place on the "legs" in the form of claws.