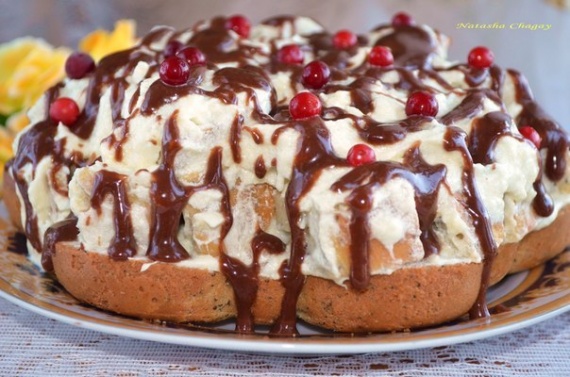 Tasty, again easy to prepare, cake with poppy seeds and butter cream custard)
Ingredients for the dough:
eggs 3 pcs
sugar 150g
butter 90g
sour cream 70 g
soda 0, 5 tsp
vanilla 1 pinch
200 g flour
1-2 tbsp poppy
Ingredients for cream:
250 ml milk
sugar 100g
egg 1 piece
flour 1, 5 tbsp
butter 100g
To decorate with melted chocolate or icing
Cream mix with soda and leave for 10 min. Next, beat 3 minutes eggs, sugar, sour cream. Add vanilla, butter melted, whisk. Add poppy seeds and sift the flour. Put in shape with a diameter of 18-20 cm. The oven at 180 * approximately 40 minutes (see on your oven).
While cake is baked, cook the custard (it can be cooked before cooking biscuit).
In the aluminum saucepan grind whisk the egg, sugar and flour. Pour cold milk, stir and put on a slow fire. With constant stirring, cook until thick. Cool completely.
Whip butter, gradually add the custard cool, whisking thoroughly.
The cooled cake cut in half. Lower cake can be impregnated with syrup. Lubricate not thick cream. Top the cake cut into cubes. Stir biscuit pieces with the rest of the cream. Share on cake arbitrarily. Decorate with melted chocolate or boiled icing.
Remove soak for 3 hours or more.
Enjoy your tea !!!