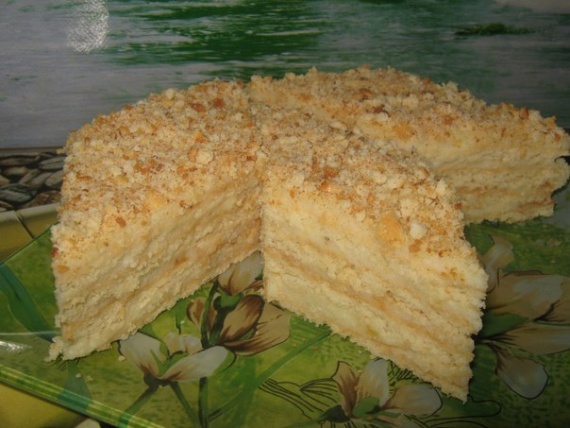 Very soft, tender and tasty cake with curd kremom.Prosto melts in your mouth.
Cooking for 1 hour and left to impregnation with a couple of hours.
Dough:
soft butter 100g.
egg 1 pcs.
100 grams of sugar.
1.5 tbsp honey
sour cream 3 tablespoons
baking powder 5/1 tsp with slide
flour 350-370 g.
Cream:
butter 100 gr.
sugar 150g.
vanilla sugar 1 tsp
egg 1 pcs.
5% cottage cheese 500g.
starch 2 tablespoons
For the dough mix all the ingredients one by one in the order as napisano.Testo get as soft plastilin.Ubrat dough in the cold for 15 minutes. After cooling the dough into 4 chasti.Kazhduyu of the roll thin (thick. 2 mm.) In kvadrat.Ispech turns cakes, hot off the edges (trimming needed for dusting) .Korzhi baked quick 3-5 min. at 180 degrees.
The last thing we do krem.Vse ingredients for the cream to put in a bucket and put in a water banyu.Derzhat in a water bath until thick, constantly pomeshivaya.Krem when it begins to heat becomes liquid, then the process begins to thicken.
Fluff cakes HOT !!! kremom.Obsypat chopped scraps tort.Ostavit to cool at room temperature for a couple of hours.
Cut into pieces a la carte.
Enjoy your meal.