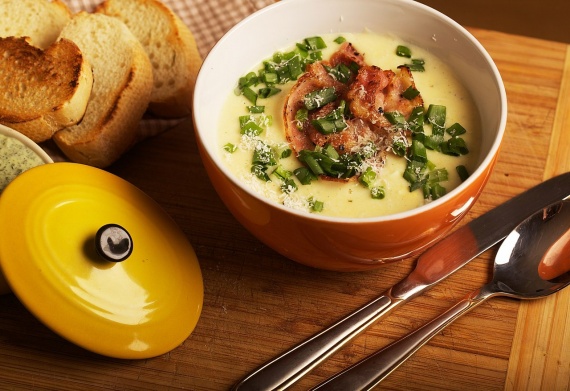 Ingredients
Potatoes - 6 large
Cream - 100ml
Milk - 0.7 liters
Bacon Spanish
Parmesan
Cheese Buko 100 grams
Chives
Eggs 3 pcs
Spices to taste
Oil:
Butter 250 grams
One bunch basil
1 bunch dill
Salt, black pepper
2 cloves garlic
Cooking recipe
Today I will tell you the recipe, well, very wonderful soup, I hope that you have in the kitchen, he is a frequent guest! Tasty fragrant light in the preparation will not leave anyone indifferent. Let's start to cook it soon!
We clean our potatoes, cut into small cubes and cook until tender ship.
Meanwhile, put the eggs cook for 5-6 minutes.
When and eggs and potatoes are ready, we will pre-heating the cream with the milk, pour them into the potatoes (all the water in which potatoes are cooked should be discarded) and begin to grind it all blender.
To get an array of beech, we add cheese, Parmesan, nutmeg, salt, pepper and oregano and stir again all the blender.
Almost everything is ready, it remains only finely chopped boiled egg, egg send in soup, fry a couple of strips of bacon and decorate our soup bacon, parmesan cheese and green onions.
For this soup I made a green oil mixed in a blender softened butter, basil, dill, garlic, salt, pepper, put it all in form and 1 hour in the freezer!