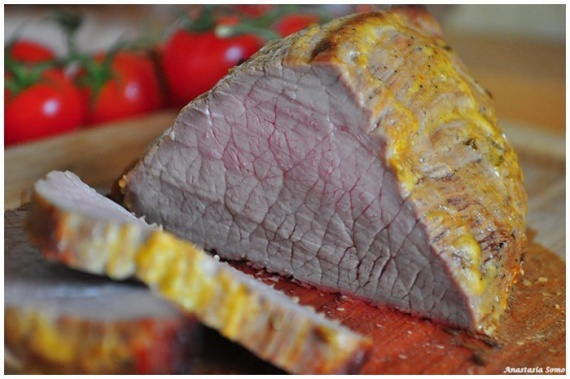 Juicy roast beef with mustard crust and spices. Remarkably eaten either hot or cold.
Ingredients:
500 g beef (ideally cut, but you can take part pelvis),
1. l. mustard,
Zira,
dry oregano,
salt,
black pepper,
paprika.
Preparation:
Preheat oven to 250 degrees.
If necessary, clean the meat of the film, and lived.
Heat the pan with vegetable oil and fry the meat over high heat on all sides.
Wet paper towel, rub the spices and mustard.
Put meat in the pan (if you want to lay) and put bake for 15 minutes.
Reduce temperature to 150 degrees and bake for 15 minutes more.