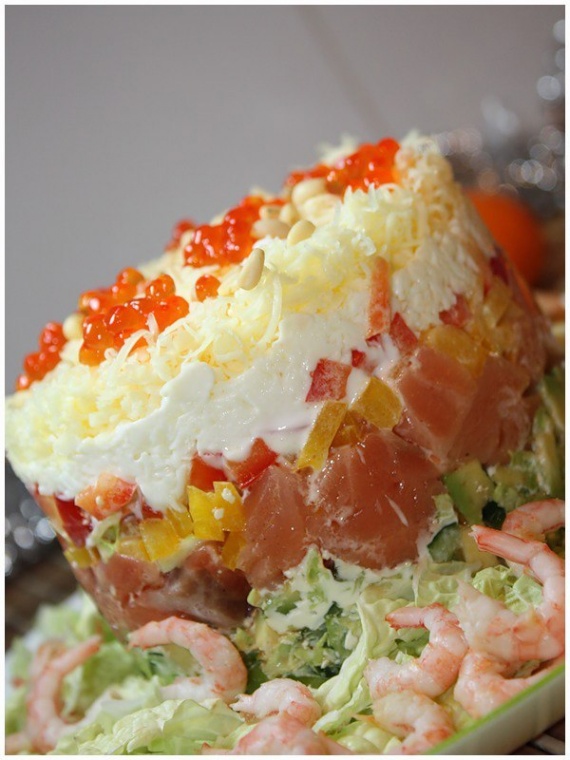 Ingredients:
salmon fillet salted (salted itself, add the brandy, which gives flavor sёmge) - 250 - 300 g,
Avocado - 1 pc.,
cucumber - 1 pc.,
Chinese cabbage leaves,
bell peppers (red and yellow) - for each ½,
Eggs - 3 pcs. (Only protein, egg yolks sent in a salad with cod),
hard cheese (I took "Olterman" 17%) - 50 - 80g,
cheese "Almette cream" - 2 - 3 tbsp. spoons,
shrimp (small, boil them with spices in a highly salty water and clean)) - 200 300 g,
eggs, pine nuts, mayonnaise.
Preparation:
1st layer: cucumber and avocado chopped leaves of Chinese cabbage and cheese "Almette creamy»;
2nd layer: salmon fillet, cut into cubes,
3 rd layer: yellow pepper and red pepper, cut into strips, peppers on a thin layer of mayonnaise;
4th layer: egg white, shabby on a fine grater, a thin layer of mayonnaise;
Fifth layer - cheese, grated shabby.
Chinese cabbage leaves to break arms, sprinkle the dish and put on leaves shrimp, sprinkle with lemon or orange juice freshly squeezed.
Decorate (I decorated eggs and pine nuts) and enjoy the taste !!!