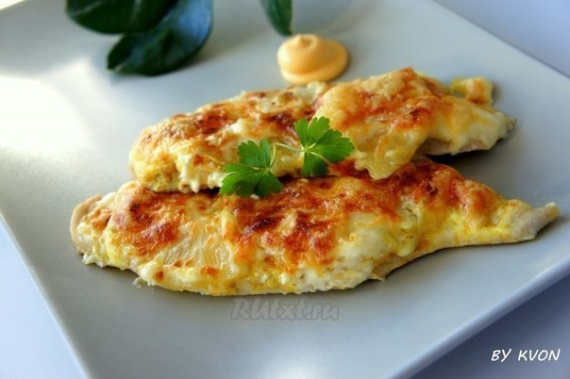 Ingredients:
 - 1 chicken breast
 - 3 "washers" pineapple (can use canned pineapple)
 - 50 g of hard cheese
 - 4 tbsp. l. mayonnaise or yogurt
 - 1 tbsp. l. vegetable oil
 - Sea salt, curry, paprika - to taste
Preparation:
Chicken breast cut along to get 4 pieces. Fight off a chicken breast on both sides.
Add curry and paprika.
Chicken breasts put in greased form. "Washers" pineapple cut along arbitrarily put on each piece of meat.
Add mayonnaise.
Sprinkle grated cheese on a fine grater. Bake chicken breasts at 180 degrees for 30 minutes.
Serve baked breast with your favorite hot sauce. Blends perfectly with any side dishes.
Chicken breasts get very juicy, tender and juicy.