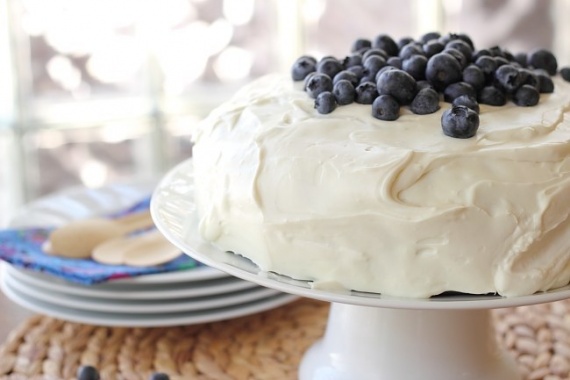 Ingredients:
Dough:
4 large eggs
1 cup sugar
2 cups flour
1 tablespoon baking powder
½ teaspoon salt
1 teaspoon vanilla
¼ cup milk
300g blueberries
2 cups cookie crumbs
Cream:
1, 5 cups of whipped cream cheese
110 g goat cheese
¼ cup milk
1/3 cup powdered sugar
1 teaspoon vanilla 5
150g blueberries
Preparation:
Heat oven to 175 degrees. Cover the baking pan with baking paper or grease liberally with butter.
Hand mixer, beat the sugar with the eggs and vanilla. Gradually add flour, salt and baking powder with milk, whisking until smooth. Gradually enter blueberries and cookie crumbs.
Pour the batter into the prepared form and bake for 30-32 minutes.
At this time, beat the cream and goat cheese at maximum speed until smooth. Reduce speed and add the milk, add sugar and vanilla.
Once the cake has cooled completely, apply the cream on the entire surface of a thick layer of fat. Garnish with blueberries, and serve.