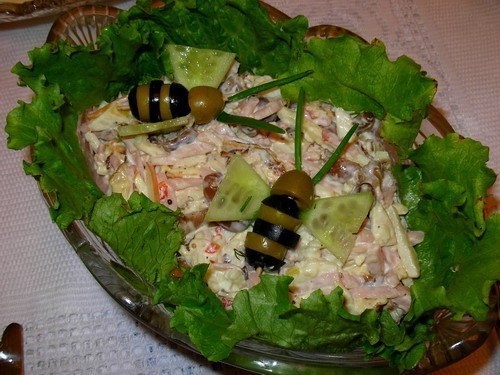 Preparation:
1. Boil the meat and eggs. Diced boiled meat, put it on a dish is not thick, brush with mayonnaise and sprinkle with diced pickled onions.
2. Cut the boiled eggs into small cubes, sprinkle with pickled onions and grease layer of mayonnaise.
3. Grate the cheese on a coarse grater, sprinkle with onion and mayonnaise grease.
4. In order to prepare pickled onions need to cut the onions, and fold it 0, 5 liter jar. Sprinkle with allspice, add 1-2 pieces. spices cloves, 2 tbsp. l vinegar and add water to the bank was full. Leave the jar overnight.
5. Laid layers salad garnish with fresh herbs and serve immediately.
Bon Appetite!