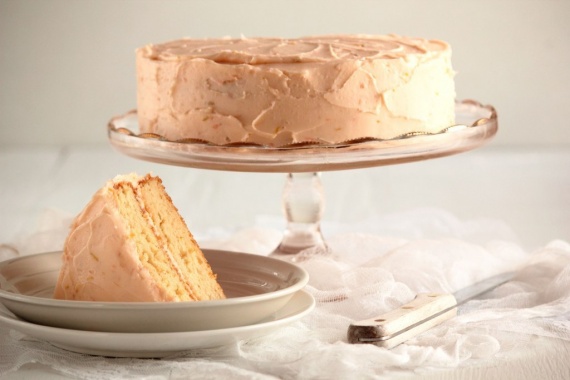 Preparation:
Heat oven to 175 degrees. 2 forms for the cake grease with butter.
In a large bowl, rub the sugar and zest fingers. Beat in the eggs, whisking after each addition. Put the yogurt, butter, vanilla and 2 tablespoons juice, flour, baking powder and salt. Knead the dough.
Pour evenly between the two forms, and bake for 35-45 minutes.
Brush brush with remaining cakes grapefruit juice, so they soaked. Cool to room temperature.
Glaze:
In a saucepan, bring the juice to a boil and let boil until it is reduced to ¼ cup. Cool to room temperature.
In bowl, beat the butter with the zest until smooth creamy mass. Pour the thickened juice, gradually sprinkle in the powdered sugar and mix until smooth. Start adding 1 tablespoon of cream until you reach the desired consistency. Apply the glaze between shortcakes and over the entire surface outside.