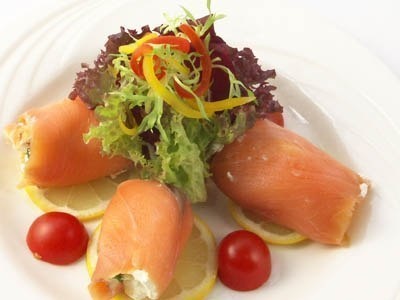 Composition:
salted salmon - 300 g,
cream cheese (Philadelphia, Almette) - 200 g,
Garlic - 4-5 cloves,
cucumber - 1 pc.,
lemon
Salmon rolls - a great appetizer for the holiday table!
1. salted salmon cut into large thin slices (you can buy already cut).
2. Cucumbers are washed, cut the tails, cut into very small cubes or thin strips.
3. Garlic Peel and finely grate and squeeze.
4. Curd cheese mixed with garlic and sliced ​​fresh cucumber, mix thoroughly.
5. On the edge of each slice of salmon spread 1-2 teaspoons of the mixture and the spinning tube. Serve on a platter with slices of lemons, you can sprinkle with lemon juice.
Tip: When applying you can decorate a dish of rolls lettuce and cherry tomatoes.