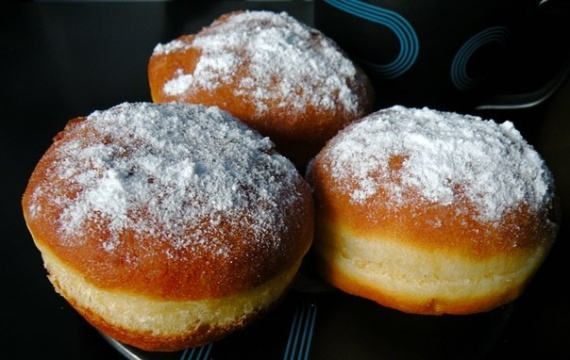 Preparation:
1. Rub fresh yeast with a spoonful of sugar (dry mix with a flour)), 20 g of flour and 1/2 cup of milk and leave to rise. Sift the flour.
2. Egg yolks and sugar beat, add the flour, yeast risen, vanilla, lemon juice, zest, and the rest of the milk, a pinch of salt and alcohol. Knead the dough until it is smooth and shiny, and appear on the surface of air bubbles. Add oil (if the butter, then melt), even hybrids that oil absorbed into the dough and leave in a warm place until they grow (if yeast is good, the missing 15-20 minutes).
3. The part of the test dial spoon of each part makes a small cake in his hand, which I put half a teaspoon of the filling, zaschipyvaem and rolls it into a ball. Such balls stacked on a lightly floured board, cover with a cloth and leave to rise (in a warm place). You can use another method: roll out dough about 1 cm thick (about the meal do not forget, otherwise the dough will be glued), cut glass circles, and further still.
4. Fry in oil on both sides until golden brown. Remove to paper towel to the fat stack and sprinkle with powdered sugar or icing to spread.
Get a lot of donuts, never considered, but somewhere around 30 - 40.