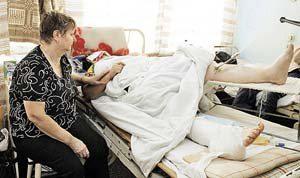 Tuesday night in the Tver Regional Hospital, died a passenger minibus "Volkswagen Transporter", which collided with a car well-known TV and radio Gennady Bachinskogo. Recall that in that terrible accident January 12, 2008 he Bachinskii who tried the oncoming lane to overtake a truck, died on the spot.
On the death of 35-year-old Julia Merkulovoj "Komsomolskaya Pravda" reported in-law Gennady Bachinskogo Eugene Nagdaev. As it turned out, when Julia died, a neighbor in the ward scored the first available number on her mobile phone. It was a phone-in-law Bachinskogo.
As told Yevgeny Nagdaev, he called up the day before Julia and asked about her health. According to him, a woman felt fine. Incidentally, the medicine for the family of Julia Bachinskogo allocated 10 thousand rubles. Relatives of TV and radio are also going to pay a woman to her upcoming surgery.
The accident Julia Merkulov had fractures ejected from the battery acid burned face and eyes. Doctors say there is no threat to her life, you can try to restore vision, the woman also had a plate in the hip implant.
According to preliminary data, the cause of death of Julia Merkulovoj became detached thrombus of the pulmonary artery. The doctor on duty Mikhail Bogomolov suggests that a blood clot formed in the accident. The exact cause of death will be known only after the autopsy.
In a recent interview with Julia KP he said that he would not sue and seek compensation for medical treatment. Yulia has left two children - 5-year-old Makar and 13-year-old Ilya. She was divorced from the father of the children. Over the past two years, she raised her children in a civil marriage. According to the newspaper six years ago Merkulov already has an accident when returning from her first husband from Moscow. She also broke her hip.
TV and radio Gennady Bachinsky died in an accident on January 12 at about 16:00 on the 69-kilometer road Sergiev Posad - Kalyazin in the Tver region. Bachinskii, operating a motor vehicle Volkswagen Golf, tried to overtake another vehicle and drove into oncoming traffic, which collided with a minibus.
The driver and two female passenger minibus injuries of varying severity and were hospitalized.
As explained Bachinskogo-law, the family has already allocated funds for the treatment of minor victims, to help them plan and continue.
At the initiative of a multi-year creative partner Gennady Bachinskogo Sergei Stillavin account was opened to collect money - writes in his blog Stillavin funds will be distributed among the victims in the accident, the widow Bachinskogo with a small daughter Lizaveta and Katya Bachinskogo - daughter of TV and radio, who lives in St. Petersburg . As it became known, had already collected about 300 thousand rubles.
Source: FaktNews