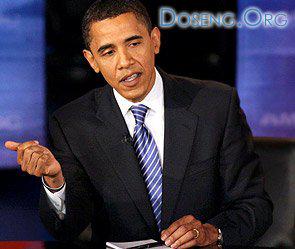 Barack Obama. Photo: Reuters
US presidential candidate from the Democratic Senator Barack Obama said that if elected he would pursue "tough, direct diplomacy" to curb Russian aggression. He promised to restore the country's armed forces to be ready for future conflicts and curb Russian aggression.
Barack Obama has included an item on "direct diplomacy" in his election program, thus responding to the position of his rival Republican John McCain. Senator McCain supports the policies of the Bush administration. Democrat believes that, in terms only harsh statements can not be "truly stand up for Georgia." "If John McCain wants to follow the footsteps of George W. Bush, strictly speaking, but, while having a weak strategy, that is his choice, but something we do not need it," - said Obama.
So, John McCain really allows himself harsh statements against Russia. Thus, in connection with the decision of the Russian leadership to recognize the independence of Abkhazia and South Ossetia, he accused Russia of "de facto annexation". "Moscow's actions deserve condemnation of the entire international community, and Russia must understand that the violation of international law on its part has implications" - RIA "Novosti" words of a Republican.
However, the position of the US presidential candidates are still a part of their election programs. While the US and the EU have denied any training whatsoever sanctions against Russia. According to Itar-Tass, the White House is not yet ready to talk about the measures that can be taken to our country. Also, information about upcoming sanctions deny representatives of the French, convenes in the European Union.
Meanwhile, Prime Minister Vladimir Putin said in an interview to CNN, that we should not try to resist Russia. "I do not need any of whom sculpt the image of the enemy, that enemy does not need to scare its own people and trying on that basis to rally some allies. You just need to openly and honestly work to resolve the problem. We want and we are ready for this, "- said the head of government.
Putin added: "We want to live in peace, harmony, want to trade normally, to work in all directions and to ensure international security and disarmament topics, counter-terrorism, drugs, on the Iranian nuclear issue, on North Korea, which is now tends to exacerbate certain. We are ready for all of this, but we want this work to be honest, open, partnership, and not selfish. " Full version of the interview is available on the official website of the Russian government.