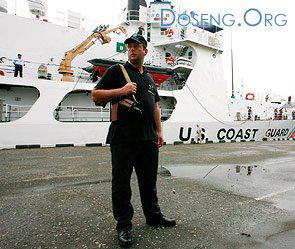 Photo: Reuters
In the port of Sevastopol on Monday joined the Coast Guard patrol ship of the US Navy, "Dallas", which previously was on duty in the Georgian port of Batumi. The visit of the US military Korablin at the invitation of the Ukrainian side, said a source in the city administration of Sevastopol. "Dallas" has arrived in Sevastopol from the Georgian port of Batumi & quot ;, - he confirmed RIA "Novosti».
Note that the "Dallas" is a warship on board are several artillery systems with a range of up to 16 kilometers, heavy machine guns, helicopter. In addition to performing combat missions he is able to conduct aerial reconnaissance, search for submarines and is also designed to conduct electronic warfare.
Meanwhile, group of NATO ships in the Black Sea has reached the previously announced figure of 18 vessels. Among them representatives of the US Navy, Spain, Germany, Poland and Turkey. As previously reported by the representatives of the Alliance ships arrived for humanitarian assistance to Georgia, which it needed after the attack on South Ossetia.
It should be noted that the General Staff of Russia has a certain kind of doubt on the fact that under the pretext of humanitarian aid being taken to Georgia NATO ships. "They will unload, and then trick. Invisible weapons systems to date have not yet invented. So we will know exactly what guests have come, "- said the deputy chief of the General Staff Anatoly Nogovitsin. How, in turn, informed source in the Russian military intelligence, armed group of NATO ships included in the Black Sea, there are more than a hundred cruise missiles drum type "Tomahawk", as well as missiles "Harpoon».
It is worth noting that if the American ships to the Ukrainian authorities to welcome in Sevastopol, the Russian Black Sea Fleet, based in the city of military glory, is facing growing problems. Earlier, Ukrainian President Viktor Yushchenko issued a decree tightening the rules for the Russian fleet crossing the border and raised the question of increasing the rent for his presence on the territory of Ukraine.