Diet Juche
At the end of last week it became known that North Korean leader Kim Jong-un overweight due cheese "Emmental". The head of the DPRK so carried away favorite cheese that his health deteriorated.
Former chef of the family Kims, Kenji Fujimoto, said Kim Jong-un is also very fond of the shark fin dishes. That shark steaks treated former head of the DPRK cook during his visit to the country in 2012.
Kenji Fujimoto, who escaped from North Korea to Japan in 2001, noted that even in the age of 14, Kim Jong Eun tried vodka and could drink a whole bottle. At the last meeting of the leaders of the DPRK drinking sake.
American-style fast food
US President Barack Obama as a true democrat, prefers simple food - fast food. In 2010, in Arlington (a suburb of Washington), regaled Obama Dmitry Medvedev at a diner Ray's Hell Burger. The American president then chose burger with cheddar cheese, onion, lettuce, tomato and pickles. In addition, state officials ordered the fries, though, one for two.
Obama would not mind a beer. In 2012, he equipped the territory of the White House mini-brewery, where brews its own beer under the name "El Honey White House» (White House Honey Ale). In addition, the president's wife Michelle Obama after moving into the White House broke on the lawn of the residence garden. Later it was reported that she was able to collect about 700 kilos of vegetables. Especially good Michelle grows broccoli, spinach, cabbage, lettuce and other greens.
In 2008, when Obama was still a senator from Illinois, The New York Times published a list of his most favorite and least favorite dishes. It turned out that Obama is crazy about fried almonds, pistachios, Protein Bar MET-Rx with peanuts, milk chocolate and vegetables. A mayonnaise, chips, asparagus in her mouth does not take. Soft drinks and other beverages Obama does not use - to wash down a meal prefers plain water or tea.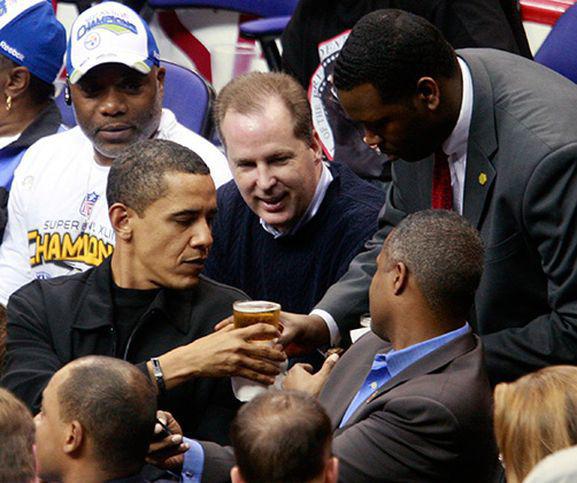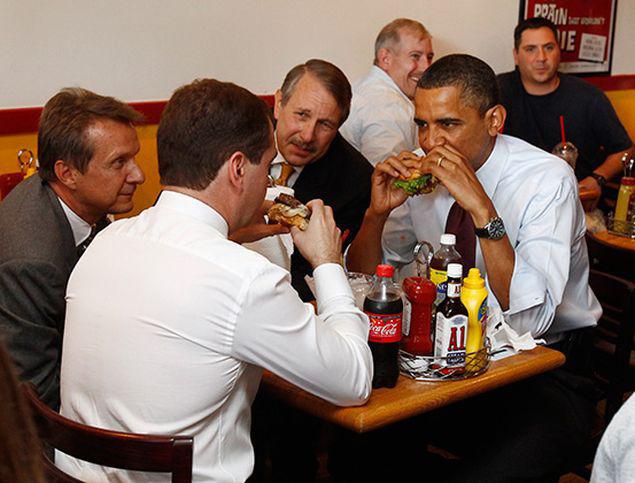 Locale
About the taste preferences of Vladimir Putin is little known. The president himself once shared that food is not fussy. "If there is a choice between meat and fish - prefer fish, meat like lamb. For sweet is generally indifferent, not counting the ice cream. When somewhere to come, happy to try the local cuisine. Pretty long accustomed to green tea, "- said Putin.
In 2012, the Russian leader had breakfast with NTV journalists. It turned out that the president of Russia in the morning eating porridge and cottage cheese with honey, drink raw quail eggs. In addition, Putin is drinking a cocktail prepared by his own recipe. Among the ingredients beet and horseradish.
In the working visit of the President likes to try local dishes, dine in catering establishments. In 2003, the Kaliningrad cafe "The Road," he ordered soup, pies with red caviar, smoked eel and pancakes with strawberries.
In 2008, during a visit to Tatarstan ordered in the dining room of a special economic zone "Alabuga" salad, chicken noodle soup, beef with rice and pie. Food cost the president in 37 rubles 60 kopecks.
In 2013, Putin and Kuban combiners dined soup. What else then treated to the head of state is unknown - the president asked reporters to leave, explaining that the camera "difficult to eat with gusto».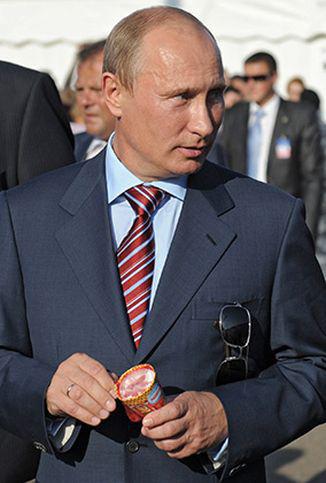 In Petrozavodsk, in April this year, Putin said that he likes the Karelian wickets (small cakes of rye dough). He also noted palatability Ossetian pies, chak-chak and Tatar Tat.
The former president's wife Lyudmila Putin, by contrast, argued that the president quite fussy eating habits and may refuse to eat lunch there at least he does not like a little dish. At the same time, Lyudmila Putin complained that the president never praises the food, even if she liked him.
In 2010, the Kremlin chef Anatoly Galkin told that because of strong drink Vladimir Putin prefers wine or beer. In addition, Galkin share recipes cocktail while the first person who is drunk at official receptions: a lot of ice, a drop of lemon juice, mint syrup and 50 grams of champagne. According to Cook, this drink "unusually quenches thirst».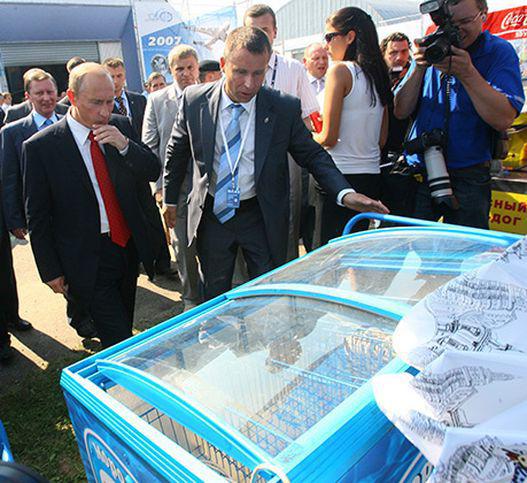 Russia's first president Boris Yeltsin their culinary preferences are not concealed. Very fond of meat, especially wild game, wild boar and venison. Anatoly Galkin recalled that the presidential family loved the dumplings with black caviar. Boris also highly valued veal sausage with pistachios. But from the exotic dishes, which the head of state were treated at receptions abroad, Yeltsin refused.
Drink former president preferred spirits, mainly vodka or brandy quality.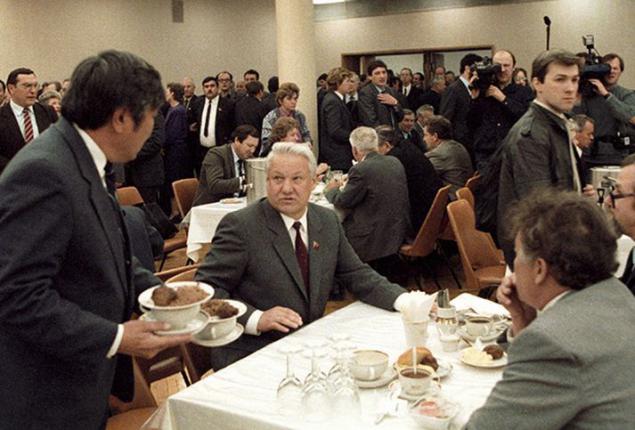 Teschin pancakes
Another fan of simple cuisine - Belarusian President Alexander Lukashenko. "I prefer fish to meat, black bread - white, the menu must include fruits, juices ... very fond of cakes and ice cream. But here's the latest goodies difficult: it is necessary to limit myself. Ate cake - be kind, otpashi 3-4 kilometers rollerblading or skiing "- shares a recipe for longevity Lukashenko.
Mother-in-law of President Zhelnerovich Elena told me that during the visits of feed-in-law pancakes, scrambled eggs, milk soups and pancakes. According to her, for many years in the food preferences of Lukashenko have not changed.
Oatmeal, Madame
In late July 2014 in London hosted the annual meeting ClubdesChefs, which brings together chefs preparing for heads of state. Following the meeting, became aware of the culinary preferences of Queen Elizabeth II. It turned out that she does not like shrimp and other seafood. But good to traditional British food - oatmeal, with which starts his day. Earlier, the former royal chef Mark Flanagan (Mark Flanagan) said that Elizabeth II loves potatoes.
It happens that before bedtime drink a glass of Dubonnet Queen (wine beverage consumed as an aperitif). Strong drink prefer gin.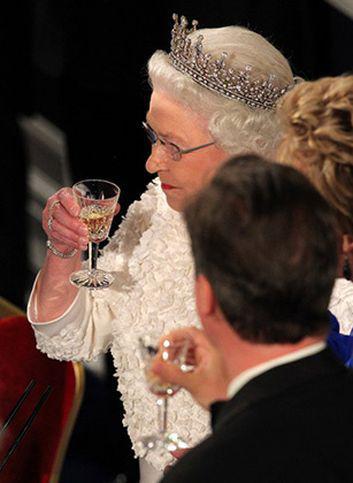 Not Frogs
It is rumored that the current French President Francois Hollande, unlike Nicolas Sarkozy does not like artichokes. Past President of the Fifth Republic, on the contrary, he called his favorite dish of pasta with artichokes, black truffles and foie gras. To wash down the food Sarkozy preferred wine. During his reign, Sarkozy dined at the restaurant in the Hotel Le Bristol, located not far from the Elysee Palace. Price for a portion of his favorite dishes at the time was 82 euros. At the same time, Sarkozy, in contrast to Kim Jong-un, can not tolerate cheese.
The most "refined" tastes among French presidents Francois Mitterrand had one of the favorite dishes of which were roasted ortolan. Small birds are considered a delicacy in France. To oatmeal gained weight, they are locked in a dark box with millet, where the birds continuously absorb food. After that they drowned in Armagnac and fry. There buntings rely without the aid of cutlery, you will need to cover your head with a cloth and take the bird with a napkin. It is believed that this is done in order to fully experience the flavor of the dish. In 1999, the use of garden buntings food banned in almost all of the European Union, but in mid-September of this year it became known that several famous French chefs were asked to cancel the ban.
Christmas dinner Frau Merkel
Angela Merkel is perhaps one of the few heads of state, which describes in detail about their favorite dishes. German Chancellor and she enjoys cooking when she is given free time. Especially manages Merkel potato soup, schnitzel and fish dishes. At Christmas she prepares traditional potato salad and roast goose.
Favorite dish bundeskantsler calls pork sausage with cabbage. Merkel also like pasta bolognese and soups. Private chef Merkel says she's crazy about cheese. Strong drink Merkel, like many politicians, prefers wine, but sometimes can not indulge in a glass of beer.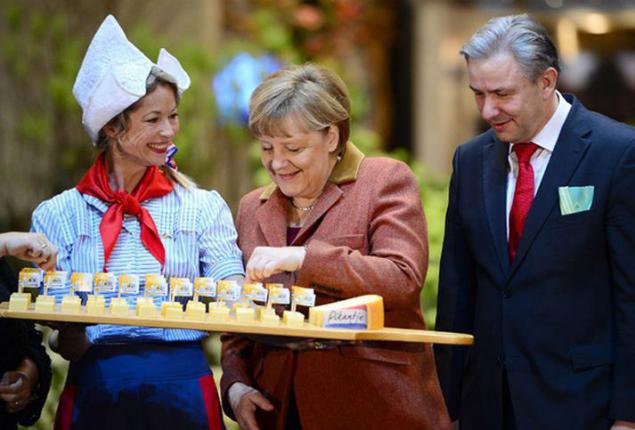 Source: lenta.ru