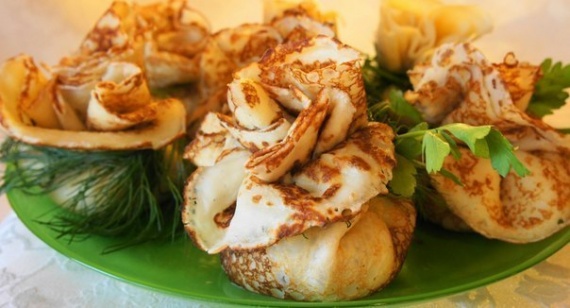 Ingredients:
Julien:
Mushrooms mushrooms - 400 g;
Onions - 1 pc;  
Sour cream 20% - 2-3 tbsp;
Semisolid cheese - 70 g;
Butter - 30 oz;
Herbs, salt and pepper to taste.
For the crepes:
Milk - 1 cup;
Egg - 1 pc;
Butter - 20 g;
Flour - 120 g;
Baking powder - 1/3 teaspoon.
Sugar - 1 teaspoon.
Salt.
Method of preparation:
1
Mushrooms cut and fry until pink in butter, add chopped onion, a little fry, salt and pepper and put the stew on low heat until tender. Add cream and cook for 5 minutes. Add chopped greens. Sprinkle with grated cheese and set aside.
2
Cook pancakes: a little warm milk, add the melted butter, sugar, salt and egg. All lightly beaten and add flour with baking powder. Beat, not to leave lumps. Fry the pancakes.
3
For each pancake put part of Julien collected in bag and tie a sprig of parsley or dill.