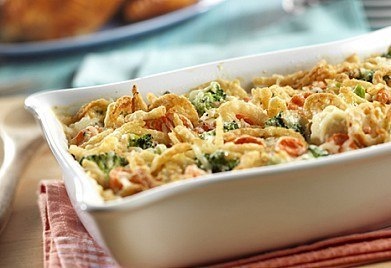 Ingredients:
 - 4-6 potatoes
 - 2 young zucchini
 - 2 eggplant
 - 3-4 peppers
 - 3-5 tomatoes
 - 2-4 cloves of garlic
 - 500g low-fat sour cream
 - 1 teaspoon of salt, pepper  
Preparation:
1. Potatoes must be cut into small slices and boil for 5 minutes in salted water.
2. Eggplant and zucchini and cut into slices and peppers - strips. Tomatoes can grate, can be cut into slices, chopped garlic.
3. Then put into a deep form of potatoes, zucchini (salt), then eggplant (salt and pepper), pepper and sprinkle with garlic. Pour sour cream and put it on top of the tomato pulp or tomato slices.
4. Put the form in the oven for 25-35 minutes.