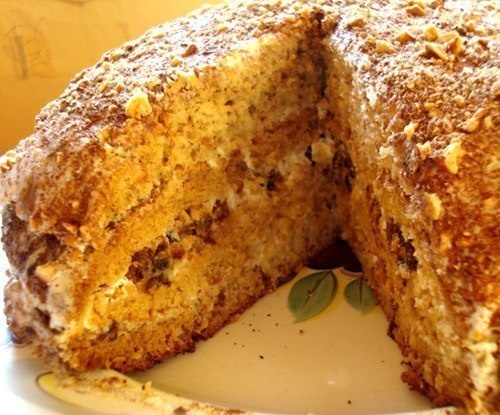 Required:
 - 100 g of cocoa
 - 250 ml of water
 - 15 g butter
 - 25 g of honey  
 - 3 eggs
 - 150 grams of oatmeal
 - 25 g cocoa powder
 - 60 g ground almonds or any other nuts
 - 110 g of apple sauce
For the chocolate glaze:
 - 20 g cocoa
 - 160 ml low-fat yogurt
Preparation:
Preparation:
1. Preheat oven to 180 C. greased round cake with a diameter of 23 cm and lay her parchment.
2. In a small miskesmeshat cocoa butter.
3. electric mixer beat the butter with the honey, still
whisking, add the eggs one at a time. Put the oats and cocoa and almonds
4. Pour the mixture into the prepared pan and bake for about an hour before
readiness. Let stand 10 minutes, then put on the grill and fully
cool.
5. The cooled cake cut in half, fluff applesauce. Put back on the rack and coat part of the chocolate icing. The remaining glaze and pour over warm cake.